If you're wondering is KashTree a scam or legit, then you've come to the right place.

Let me be completely transparent by letting you know that unlike some reviews that you can come across, this one is not going to praise the platform like it's the best thing that ever happened on the internet, because it's not.
If making $500 a day for completing easy tasks, and getting others to become part of this free platform sounds a little too good to be true, then congratulations, because you're right. 
By going through this review, you will be able to truly realize what KashTree is all about, and most importantly, within the next couple of minutes, you will know for sure if this website can make you money or not.
KashTree Review Summary
Product Name: KashTree

Product Type: Make Money Online Website

Product Price: Free

Product Owner: Unknown

Recommended: No!

Overall Score: 1/100

Summary: KashTree is a scam website that only wants to take your private data and sell it to advertisers.

They will not pay you, and the most disgusting part about it is that they will make you work for your money, by making sure to do some promotions about KashTree, which means that those who promote it, are helping this scam to go viral.

I don't blame them, because this is a well-crafted scam that's part of an even bigger data harvesting scheme that wants to sell your email, phone number, etc.

Do yourself a favor and don't get involved with this platform, because you will waste your time, AND you could potentially be dealing with breach of privacy issues.
What is KashTree?
KashTree presents itself as the #1 influencer network, that can help you make a lot of money fast and easy with social media. Why social media?

Because it's the perfect place for these types of data harvesting scams. It's also part of the reason why some of the many similar websites like Viral Points, Tap 2 Earn and InfluencerCash, have become so popular lately. 
All of the above-mentioned websites including KashTree promise you between $25 to $50 sing up bonus and guess what. None of them will EVER pay you. 
This is what happens to each and every person that decides to invest their time in this platform. Once you join and give them your email, that's it.
You can expect to start getting spammy messages from strange places that you did not opt-in to, and it probably won't happen right away either.
The process of KashTree adding your personal data into their massive lists, and then selling them to interested third parties, will take some time, but one thing is certain.
It's inevitable just like the fact that you won't get paid with them, no matter how good of a promotional job you do, and no matter how many other people join this network due to your efforts.
In case that you haven't signed up yet, but you still want to see what it's all about first hand, then I suggest that you go through this review until the end, and then use a temporary email or something. 
Is KashTree a Scam?
Yes, KashTree is a scam that's part of an even bigger network of look-alike websites, and they're all filled with fake testimonials, fake success stories, and fake promises of helping you make money online. 
In a nutshell, everything inside this platform is a big lie. They will try whatever they can to take as much personal data as they possibly can, while at the same time, getting you to refer more people into the network.
Given the fact that there's a big sign up bonus, I don't see how that can be an issue for people. 
Can You Make Money With KashTree?
Technically, yes you can. That's why you can see many people on social media claiming that they've made hundreds of dollars with this website, and they did.

They can see that amount in their member's dashboard.

What they DON'T know yet is that they won't be able to cash out these earnings just like everyone else that had to deal with KashTree and their nonsense.
So, if you come across people who are promoting this program, don't assume that they're in on the scam, because the odds are that these are just more unsuspecting victims of these vicious data harvesting scams.

There are too many of them to count but if you see any of the following, just know that they are part of the scheme, InfluencersEarn, Social Bounty, and CashCrates.
The only ones who can make money out of these scams are the ones behind them. When a VERY LARGE number of people give out their personal details, they will sell it, and make big profits out of that.
Who Created KashTree?
The person/people behind KashTree are NOT disclosed. That's often what happens when there are low quality or scam digital products being launched.

No one in their right mind will proudly stay behind a bogus product/service like this one.
Once you get a bad rep online, it can be really difficult to get over that, and once people stop trusting you, no one will take you seriously anymore with anything that you do online.
Once a scammer, always a scammer.
The people behind KashTree know that which is why they've made sure to make this offer look as credible, legitimate, and trustworthy as they possibly can. 
By doing a bit of digging using Whois, I was able to find out that KashTree was created in Panama, which is where all these other look-alike websites originate from.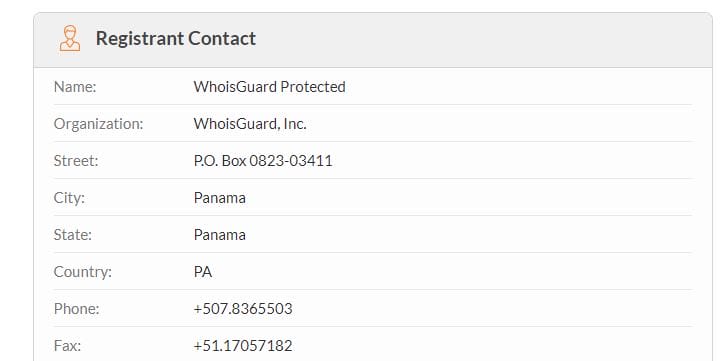 Does that seem like a coincidence to you, because I don't think so…
What's Inside KashTree?
Once you join, you will be able to access the member's dashboard, which is filled with different things that you can do such as:
1. Filling Out Surveys
2. Downloading Apps
3. Participating in Competitions With Prices
4. Promoting KashTree on Social Media
5. Getting Others To Become Members
It's important to understand that some of these tasks and surveys that you will be completing may ask additional things from you such as giving out your phone number or even leaving your credit card details for different subscriptions.

You should not do either of these things because, as I've mentioned many times already, KashTree is a scam.

They will sell your phone number alongside your credit card details, which may result in you losing a lot of money from your bank account or even getting a bigger phone bill.

Some advertisers can start sending you promotional messages at your expense, which can add up to more than $50+ per month, so you better NOT get involved with anything like that, it's just not worth it.
Even though there's a variety of tasks to be completed, for the most part, you will be encouraged to invite others, and spread the word about this opportunity.

Without knowing what this website truly is, you can start promoting KashTree to others like a madman, without stop. 
KashTree Payouts & Rewards
KashTree offers a $50 sign up bonus, $25 for getting someone else to join, $40 for each survey or task that you complete.

A lot of people can sing up with this platform, thinking that they can instantly take out their $50 bonus, when that's not the case. 
There are some requirements that you need to complete before you are eligible for a payout.

You need to have generated at least 20 links clicks, referred at least 5 other people into the network and completed at least 5 tasks.

When you've done all that, and have at least $200 in your account, you can ask for a withdrawal. 
There are a bunch of competitions that you can compete in, and the rewards are incredibly big such as earning thousands in Amazon gift card vouchers.

They do that in attempts to get your phone number but rest assured that you will NEVER get any of these rewards that are being "offered" inside KashTree.
If you decide to invest your time, and energy into getting to a point where you can cash out your earnings, it can take up to a few weeks, which means that you can recruit many people by then.
Once you're eligible for a cashout and try to get your money, you will get a message from one of the website's "moderators" saying that you've breached their privacy policy or some sort of other rules, which is why you don't qualify for your money. 
This is not something that can happen to some people, it's what happens to EVERYONE, and all of these other data harvesting scams such as PaidLeaf, and Referral Pay are the same.
What I Like About KashTree
1. There is not a single thing that I like about KashTree. The only thing that this bogus website is good for is opening people's eyes to all the potential threats, and dangers that lurk online.
What I Don't Like About KashTree
1. Fake Payment Proofs. Just as with all the other data harvesting scams that I mentioned, this one is no different when it comes to their payment proofs page.

They're all fake, with most of them being entirely identical to one another throughout a bunch of these influencer network websites.

2. No One Get's Paid. That's the biggest problem that EVERYONE has. Not a single person has been paid EVER by KashTree or any of the other scam websites.

They will try to get you to invite as many people as you possibly can while thinking that you're pushing through the requirement process that's needed to cash out your earnings.

When you actually get to that point, you will be rewarded with a system message saying that you're not eligible to get paid.

3. They Lie About Their Founding Date. If you go to the "about" section of KashTree, you will see it in writing that they claim this website was founded in 2015. As you can see below, their REAL date of creation was in 2019.
4. They Will Sell Your Personal Information. Once they get a hold of all your personal details, they will do whatever they can to sell it over, and over again to people who are interested, and trust me there's plenty of them.
Having a HUGE list of people who all have an interest in making money online can be sold for a hefty price on the market.
Even though that kind of practice, is not considered, ethical or legal, that won't stop many of these people that will do whatever they can to get their hands on that kind of data.
Do I Recommend KashTree?
KashTree is one of the many data harvesting scams that have no place on the world wide web. They try to lure people in by offering these massive rewards, and prices.

Once someone becomes a part of this, they will be prompted to recruit others and get them to join, in order to qualify for YOUR payout.

Once every requirement is fulfilled, you will get a message saying that you've cheated, thus no money for you.

People have wasted weeks and recruited hundreds of others without realizing what this scam truly is. 
Don't get caught up with their fake promises of making $500 a day, or all the fake testimonials and payment proofs inside. Not only will you waste your time with them, but they will sell your personal data to advertisers.
Making hundreds of dollars online is achievable, but NOT with KashTree. In fact, getting to a point of earning a full-time income online takes hard work, but if done RIGHT, it can be well worth it. 
Instead of trying to find easy ways of making a lot of money online (they don't exist) you can learn the LEGIT way of earning passive income online. 
If that sounds interesting then you should see how these people are banking profits using a simple, yet incredibly effective blueprint that so many neglect and lose out because of that.