Everything That You Need To Know About Backlinks!
"The average website that's on the first page of Google has 94 high quality backlinks" – Says one of the more influential people in the make money online industry.

Some people will tell you that backlinks are the most important part of the Search Engine Optimization process, but is it really TRUE?


There is a lot of contradiction and mixed opinions about it and that's what we will be discussing today.

There are more than 200 factors that help Google determine whether to rank your content on the first page or not.

Let's dive a bit deeper into the topic.
---
1. Are Backlinks Important?
---
What are backlinks?
They are links that go from one website to another.
In other words, the more website's that add links which lead to your own one, the better it is for you.
If I put a link to Wikipedia HERE, now wiki has a backlink from my article to it's website.

While what I did was I added an external link there that leads people OUT of my website.

Even if that's still unclear, continue reading as we will go into a more in depth explanation of the difference between backlinks, internal links and external links.


But are backlinks really THAT important?

As I said, there are more than 200 factors that make Google decide whether or not to rank your content.

In other words, there is absolutely NO WAY to get everything right.

While backlinks may be one of the factors that will help you get ranked higher, let me give you another point of view.

It can be quite easy to abuse this system.

So many people USED to buy high-quality backlinks so that they can be on the first page of Google.

That did work for a brief moment, until Google released the Penguin update and basically SHATTERED so many websites that were ranking high, because they relied solely on backlinks.

Why did Google did that, you ask? It's quite simple. A lot of these websites that used ONLY backlinks to rank, had produced low-quality content.

Which in turn resulted in low-quality user experience.

Google is a search engine after all and if it's users can't really find what they are looking for and are left unsatisfied with their search, why should they continue to use it?

Google quickly realized this and stopped giving backlinks a PRIORITY in their ranking system.


---
2. Is Quality Content More Important Than Backlinks?
---
In short – yes it is. High-quality content will get you further than any kind of backlinks or voodoo magic to your website.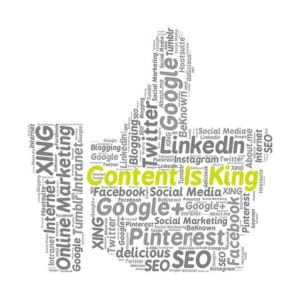 So the question here really is this: Would you rather spend your time building backlinks or high-quality content?
On the contrary of what most authority sites say about the importance of backlinks, it's actually possible to get ranked on the first page without spending time and energy on things that can easily be manipulated.
Click here for the source of this information
.
What I'm trying to say here is that if you write naturally and produce high-quality content, Google will take notice of your work and when you get ranked on the first page, so will other people.
This will naturally lead to more backlinks to your website, as people will start to share your links on social media and other authorities sites will link to your website as a source of information.
It all goes down to high-quality content and correct keyword distribution. 
Content is king and there's no substitute to that
, read my article below that shows you how to do SEO In Content Writing and get ranked on the first page faster.
3. How To Get Backlinks To Your Website?
---
As I mentioned, high quality content should be more than enough to get your content ranked on Google.


The more content that you produce the better it is for your ranking stats because Google loves it when you post frequently.


This can take a lot of time and effort on your part because you also need to do things like Keyword Research.


Consider this before you continue to read my article.


If you are determined to get some backlinks to your website this is how to do it.


First of all you need to realize that every kind of link that takes a user from website "A" to your own can be considered as a backlink.


Even comments on forums.


Having said that, you should consider doing forum marketing.


This is when you join different topics and discussions in online websites like quora and reddit and post your links as source of information.


Keep in mind that while this can be done as long as you produce high quality and relevant content, not just spam your links

around, some threads have strict rules that forbid you from advertising your website.
You should look out for that.


Another thing that you should consider is guest blogging.


That's when you write blogs on other high authority websites in your niche.


This can help you to get noticed from other people outside your website, and will give you chance to promote your own website, thus creating a backlink.


Keep in mind that any website that is worth doing guest blogging for, will require that you produce high quality content.


This means that you basically are giving high quality content to another website just for the sake of having a backlink.


This may not always be worth it because you can spend your time producing content on your own website.


Like i said quality content is more important than backlinks.


This is what you need to consider if you want to do guest blogging.
---
4. Quality Links From Related Websites
---
Overtime when you build and develop your website, your domain's authority in your respectful niche will increase, which will 
ALSO
 lead to higher rankings.
This is what you should be doing when looking to do guest blogging and building backlinks.


Another thing that definitely needs to be mentioned here is that the quality of the backlink will depend on the relevance of the website that leads back to your own.


Let me give you an example of a POOR QUALITY LINK. If a website that's all about "Dog food and nutrition" links back to your website which is all about "muscle building"…


That's not going to work.


Why?


Because it's irrelevant and Google will distinguish this a poor quality link and this will probably hurt your rankings rather than help them.


Now that we know what NOT to do, here is what Google considers a high-quality backlink.


Let's say for the sake of this example that you have a website that is all about the latest gaming technologies (PlayStations, Nintendos, etc).


Now if a high domain authority website like the official PlayStation store website, adds a link that takes the users from their site to your own, this will definitely help you in your rankings.


See where I'm going with this?


These kinds of things usually will happen naturally over time if you keep writing QUALITY CONTENT.


Website owners need to include external links to show their traffic (visitors) where they get their source of information.


This also helps for Google rankings.


Which leads me to the final chapter of this article.


---
5. Which SEO Factors Will Best Determine If Your Website Is Going To Rank On The First Page of Google?
---
Internal linking is when you add links which take users from one part of your website to another.
External linking is when you take your users out of your website and into someone else's website.


Backlinks are when people come to your website from other people's websites.


I hope this makes sense.


All of this contributes to your Google rankings.


That's why I keep saying that if you produce high-quality content, other website owners will naturally add links of your content as their source of information because it helps them as much as it helps you.


See how everything is connected in the online world?


So, To summarize everything that we discussed today in a few short sentences.


In order to get ranked on the first page of Google, you will need to produce the following:


– High-Quality Content that is relevant to your website's niche.


– Keyword Research – You can learn more about that HERE


– Backlinks, which can be achieved naturally as you keep producing high-quality content.


– You will also need internal and external links, they increase your website's authority and is part of showing Google that you actually have High-Quality Content.


– If you want to speed things up and take backlink implementation into your own hands, then you can do things like, forum marketing and guest blogging.


– Guest blogging should only be done within websites that have already achieved a high domain authority in your respectful niche.


These are only a few of the things that you should consider if you want to master SEO, get ranked on the first page of Google and stay there…
If you liked this article, do share it with people who might benefit from it. Comment with any questions and discussions about the topic. I will answer to each and every one of you.