Welcome to my 5iphon review. Before we find out what is 5iphon all about, you should first realize that, unlike some reviews that I managed to find out there, this one is not trying to push the product for the sake of making money.
You see, the whole concept of 5iphon is to refer as many people as they possibly can to the program (kind of like an MLM scheme). That's why there is a pretty big chance to see a lot of biased and one-sided review posts that praise this program like it's the best thing ever made online.
Before you even think about joining, you should know that there is one crucial thing that everyone seems to neglect which can get people into a lot of trouble, I will be talking about it in this review today. 
Disclaimer:  I'm not affiliated with 5iphon any way. This product review has been researched with testimonials and/or information that is available in the public domain. Any recommendations and conclusions are opinion based and may not apply to or agree with all persons and situations. 
With that out of the way, let's find out if this program can REALLY help you generate more than +11K within the first month of signing up or if it's just another hardcore scam.
5iphon Review Summary
Product name: 5iphon Reloaded 

Created By: Tom E Mcting & Bryan Winters

Product Type: List Building Software

Price: Free version or $20 + Upsells

Recommended: No

Overall Score: 45/100

Summary: 5iphon Reloaded is an updated version of the original product called 5iphon and they are basically the same thing. In a nutshell, when you register for a free account, you will receive a free page that is set up and built to collect emails.

You will then be encouraged to promote that page to others and get them to sign up to 5iphon by giving their emails under your referral link. When they do that, you will get to claim the first 5 emails that each of your referrals acquires plus 10% of all their leads go to you moving forward.

This ultimately gives you the opportunity to build out a big email list as you get more people to sign up for the program which is really similar to how multi-level marketing systems operate. You end up chasing people and convincing them how great and beautiful this system is.

Oh yeah, there are also levels and paid upgrades within 5iphon and the higher you upgrade and get your referrals to the same the more you will get paid.  
Quick Navigation
What is 5iphon Reloaded all About?
This platform is all about getting people to sign up for free, then they are strongly encouraged to get other people to sign up and so on down the line. The free version gives you a small percentage of the emails that your referrals get, so the more people that actually sign up because of your efforts, the more emails you get.
For some people, this may seem like a win-win situation. You're building an email list and you're spreading the word about this software which essentially increases the opportunity for the creators of this product to profit by offering paid upgrades to everyone down the pipeline including you.
However, by passing on people's emails like that, you are violating their privacy which can lead to legal issues and problems that can come since the new GDPR law was issued. By sharing and giving out personal data of people from the EU without their permission, such as emails, names, etc, you can get into a lot of trouble.
Let me give you an example. If I give out my email to Bob, and then Bob decides to give out my email to Joe, that's a violation of my personal data. This is exactly what's happening when you take this 10% of your referrals acquired emails. Now, do you see something wrong with the system that 5iphon reloaded has in place? 
Is 5iphon Reloaded a Scam?
Although quite exaggerated, and hyped up, I don't think that 5iphon Reloaded is a scam. You will get some value out of it including a completely free landing page that will let you capture people's emails. Keep in mind that it won't be as easy as they make it seem on the sales page.
You will most likely NOT end up making +11K dollars within the first month. Unless you're really good at paid ads or decide to spend a lot of money to become an expert in that. So, if you are a beginner, do NOT think that all you need to do is buy the pro version or any of the upsells and you're set.
Odds are, that you will have to spend a lot of time and dedication to get to a point where you're actually making money with this program. If you're just getting started and have no experience in making money online, it can be really difficult to find out that perfect target audience AKA people who will be interested in what you have to offer.
There's a big learning curve to it and that takes time. If it was THAT easy, everyone would be doing it, right? There is one thing that's worth mentioning though. While I was doing my research on this product I stumbled upon a fake testimonial from a PAID spokesperson for 5iphon Reloaded.
However, it was uploaded by a seemingly unofficial channel on youtube and I couldn't find that testimony on their sales page either. Which means one of two things:
– Either someone that is actively pushing this product and getting other people to sign up under their referral link has taken the time to pay someone for that fake testimony, 
Or

– The product creators themselves have paid that spokesperson but somewhere along the way has decided to take down that testimony.
In any case, if you see stumble upon this person that's praising 5iphon Reloaded, just know that she has been paid to say these things.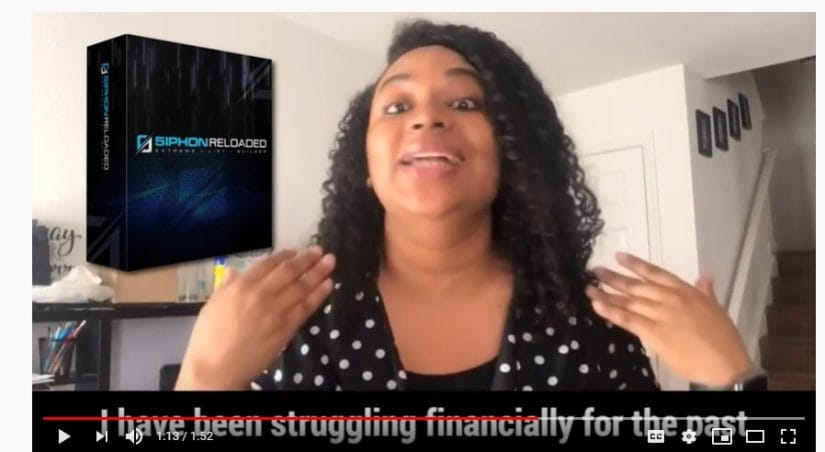 Who Are Tom E Mcting & Bryan Winters
Tom E Mcting is a Norwegian internet marketer and serial product creator along with Bryan Winters, they have launched more than 6 digital products that focus on helping people make money online. Bryan Winters is a Youtube digital product reviewer and creator of Shop Monopoly and IG Money Tree. According to their sales page, 5iphon Reloaded was made off the need to make money FAST and that is with email marketing.
What's Inside 5iphon Reloaded
This is everything that you will get inside this program and that includes:
1. Free Landing Page. You will receive a link to a landing page that has an email opt-in form that looks like this…
When you get someone to sign up via their email, they will instantly become your referrals, which means that you will get 10% of all the email that now they collect and claim them as your own.
2. 5iphon Reloaded PRO: For a fixed sum of $20, you get the chance to cash out commissions out of anyone of your referrals that decide to upgrade their membership. Without purchasing the PRO version, you basically leave money on the table and won't get anything if one of your subscribers decide to become a paying member.
3. Traffic Method Training. Inside 5iphon Reloaded you will learn about a couple of ways to get traffic to your landing page and they are:
– Solo ads. That's the term people use to promote stuff using OTHER people's already built email list. 5iphon will introduce you to a platform called Udimi. Over there you can get access to a bunch of guys with email list on which you can do promotions.
For a price, of course. The cost is usually somewhere on the line between 30c and goes up to $1 for each click that your promotions receive. In other words, that's the price that you pay, if you want people to promote your website, with your links to their email list of subscribers.
– Ad swaps. That can work ONLY when you already have built out an email list. It's basically a cross over. You send out promotions to another email marketers list and in exchange, they do the same with yours. 
5iphon Price, Upsells and Refunds
The front end price of 5iphon Reloaded s $20 and comes with a 30-day money-back guarantee. This refund policy does not apply for all the upsells that come inside this program and they are:
1. 5iphon Overdrive. For an extra $97 you can 10x your income potential from the 5iphon Funnels by enabling you to go deep into the referral system and climb the commission level ladder. The 5iphon overdrive will also give you access to the infinity funnel which will let you put as many affiliates offers on your 5iphon reloaded funnels as you like.
2. 5iphon 10x Package. This will grant you access to 10 extra 5iphon reloaded done for your websites at the cost of $27/month.
3. 5iphon 10K Club. For a one time fee of $197, you can unlock a high ticket webinar that can pay you $500+ per sale you make in commissions. This back-end offer is seen by both direct referrals and your entire 5iphon referral base.
4. 5iphon Traffic Co-op. If you manage to create a relevant, high converting offer and are willing to pay a one-time installment of $197 you can get the chance to receive traffic to your offers on complete autopilot send by Tom & Brian themselves.
Once you get the 5iphon Traffic Co-op, you're automatically added to their traffic rotation, which means that every once and a while, your offers will get exposure to people who are interested in them. This does not guarantee sales, however, it significantly increases the chance of landing a few.
What I Like About 5iphon Reloaded

1. You can learn more about Email Marketing
. This can be useful because a lot of people are banking profits simply with email marketing and that's a method that works. As the popular saying goes, money is in the list. 
2. There is a 30-day money-back guarantee on 5iphon PRO which you can take advantage of in case you decide that this program is not for you and want your money back.
What I Don't Like About 5iphon Reloaded
1. The fact that you're joining a free MLM (sort of) scheme is not appealing at all. You will be given a landing page with an opt-in form and be encouraged to push 5iphon to as many people as you can to build out your list.
2. This way of building an email list violates the EU's GDPR regulations which can lead to a lot of problems and fines to unsuspecting people that simply don't know better. By collecting your referrals email addresses, you're essentially breaking all of the rules and regulations that are established to protect people's privacy online.
The risk is just not worth it. If you want this to work for you, definitely leave out anyone from the EU as a potential client and subscriber.
3. The prices add up. If you really want to be successful and maximize your profit-earning potential, you would have to spend $500+ just for this program along, not counting all the ad spend costs that will occur along the way. That's way more than the initial $20 front end offer that you are being presented with.
Remember, you find out about all the upsells only after you pay for the initial product's price.
4. Way too hyped up. If you're a beginner, surely there is a very big chance that you can fall for these claims that make it look so easy to build a list and make money online. Obviously, that is what the creators of 5iphon are looking for in terms of their target audience.
The more naive, the better it is for them to sell the dream. Remember, I am almost certain that you will not make that much money within a single month if you're just getting started. Unless you're willing to spend a ton of money and even then it's not guaranteed that you will come out with any profits.
My Recommendation
Even though email marketing is a legit way of making money online, there are far better ways to go about building your list and generating traffic along the way. My recommendation is that you don't spend $500+ to learn all that stuff and even more to get that much-needed traffic to build your list.
Instead what you can do is, to implement free traffic methods with SEO and Affiliate Marketing. It's a way cheaper and, more effective way of generating money. Find out how these people are banking profits using an incredibly effective yet simple blueprint that so many people neglect and end up losing on money because of that.