So many of the bluehost.com reviews out there never dare to mention the negative side of this hosting provider, simply because their affiliate commission structure is quite rewarding.

Don't get me wrong, some reviews out there truly are made with the intent to actually help people find what they are looking for.

This review has been created with this single intent and I do believe that NOT everyone will benefit from Bluehost and their hosting services.

It's not for everyone and now you can find out everything about Bluehost and all its features with this in-depth article.


Before we dive deeper into Bluehost and all its features, here are a few things you should know about this hosting provider.

They officially became one of wordpress.org recommended hosting platforms and that is probably one of the reasons that they are so popular within the industry.

They come with a one-click installation and a special variety package for WordPress users ONLY.

As of 2019, they host well over +2Million websites on the internet. Does that mean that everyone loves Bluehost?

Not really and here's why.

Not everyone is satisfied with this host provider. A good number of product users have experienced difficulty and/or issues with their websites due to hosting problems.

Based on thorough research and user outreach, we have managed to gather the required information and database to successfully create this statistic for you, to give you a prime example of what people across different channels online have to say about Bluehost.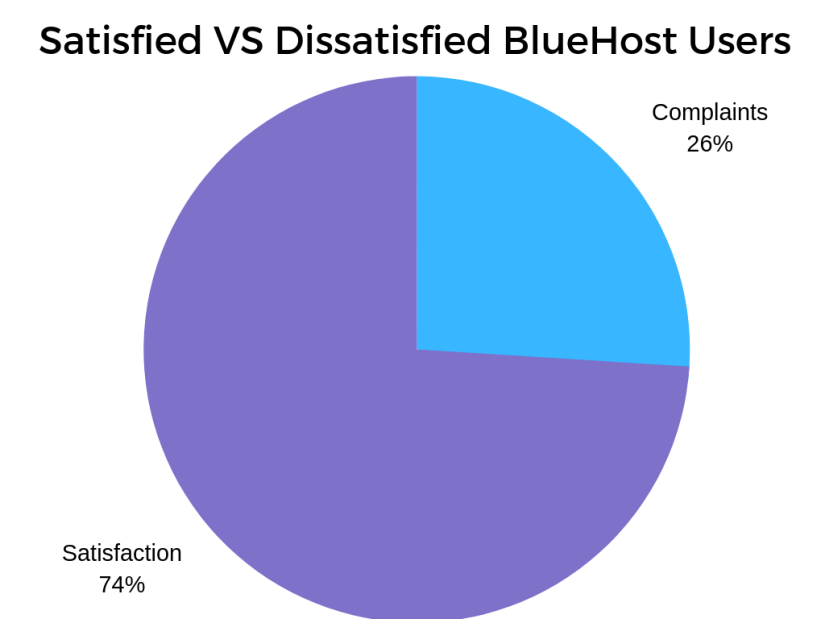 As we can see the majority of people are satisfied with Bluehost.

The ones that are NOT satisfied usually complaint about issues such as their website being down for certain periods of time.

Apparently, this does not happen to all websites, just some of them. I will elaborate more on that in the Con's section of this review.


Let's find out what Bluehost is all about, how well it integrates with WordPress and what kind of websites can this hosting provider benefit the most.
---
BlueHost Review and The WP Pro Hosting Service
---
Here is a BlueHost review summary with pricing, extra features and additional details.

These are their pricing plans in full details.
This the first and cheapest pricing plan no matter which hosting service you chose. Prices start from as low as $3.95 for shared hosting and can go up to $119.99 for high traffic websites. Perfect for websites that are just starting out.
This is the second tier of pricing plans. They usually offer a high quality service for medium to advanced website users and those platforms that get some traffic already. These plans are perfectly optimized for the ultimate site speed performance. For a plus/enhanced plan prices start from $10.99 for shared hosting domain and can go up to as much as $119.99 (starting) for a dedicated hosting server that can handle heavy websites that get an enormous amount of traffic.
This is the most expensive type of service. For shared hosting, prices start from $23.99/Month and can go up to as much as $119/Month for all kinds of advanced features that you can get only with a similar plan. They are usually used by big organizations and companies that have multiple high traffic websites and a large presence online.
---
BlueHost comes with 5 different types of hosting plans and they are:


– Shared Hosting. This is where one server hosts multiple websites. This can keep your costs low but on the other hand, it can create issues if your site gets a high amount of traffic on a regular basis making this the LEAST recommended hosting service if your goals are to generate a lot of visitors to your website.


– VPS Hosting. Unlike shared hosting, with VPS you can generate an enormous amount of traffic towards your website without ever having to worry about any technical issues that might cause distress to your audience. In terms of site speed, this is one of the recommended hosting services.


– Dedicated Hosting. This is the complete opposite of shared hosting. One server that's working only towards powering your website which gives you the fastest loading speeds and generally ensures that user satisfaction is at place.


– WordPress Hosting. You can always host your website with WordPress but this can bring restrictions in place such as you not being allowed to add any affiliate links to your sites and they can use your website property to place ads and make a profit out of your traffic.

 By integrating BlueHost into WordPress you can essentially remove these restrictions and still enjoy the benefits of a great hosting provider.


– Cloud Sites. Cloud hosting is when you outsource an organization's computing storage information and recourses to a provider inside the internet or on a "Cloud" they are also known as virtual servers as they do not exist physically, they are inside the web. I hope that this makes sense.


If you are just starting out, then it's probably best that you start with a shared hosting provider and as times goes by and your website gains traction and starts bringing in more traffic, you can always upgrade your domain and change it to something like a VPS Hosting which is usually cheaper than a dedicated server.

When your traffic really starts booming you can then switch to a Dedicated Hosting made especially for your site, to ensure optimum website performance and great user experience.


Let's go over the prices for each of the above-mentioned hosting services.


Shared Hosting:
– Basic Plan Starting Price: $3.95/Month. With the basic plan, you get one free website, one domain, 50GB of storage and unlimited bandwidth. In addition to that, you will get 25 subdomains, 5 email accounts with 100MB for every single one and 5 parked domains.
When a domain is parked, this means that it's not associated with any kind of services, niche or topics. In other words, it's just an empty domain.
People usually park domains in order to reserve names that can be beneficial to their business and leave it for future development. A parked domain basically indicates that it's not currently in use by anyone.
– Plus Plan: $10.99/Month. With this plan, you get unlimited websites, unmetered bandwidth and an unlimited number of parked domains and subdomains. Email space is uncapped, and you get $200 worth of credits to spend on Ads.

Another bonus feature that's included in the SpamExperts and Global CDN. What SpamExpert does is it scans all your emails that are associated with Bluehost for malicious software, malware, spam, phishing emails and all sorts of different bot attacks towards your websites.

CDN stands for Content Delivery Network and is a system of networks and servers that deliver your website and it's content based on their location in the world and the delivery server so that it can minimize any potential issues that might cause slow loading time on your site.


– Choice Plus Plan: $23.99/Month. Pretty much the same thing that you get with the plus plan, the only real difference is that the choice plus plan is more expensive and a bit better in terms of general performance.


– Business Pro Plan: This is the most expensive plan and it offers everything that he above mentioned have plus some added features such as one premium SSL certificate and a dedicated IP address.

You also get enhanced overall performance, domain privacy, and SiteBackup Pro. This is a handy tool embedded within BlueHost that stores all the data in your accounts.

In the unlikely event that you end up losing all your website's data, you can access a backed-up version and continue where you left off.



VPS Hosting Features:


Standard Plan: Starting from $19.99 for month one and going up to $29.99 after that. This plan comes with 30GB of storage, 2GB of RAM, unlimited bandwidth, one domain, one dedicated IP address, and a 30-day money-back guarantee.


Enhanced Plan: Starting price $29.99/Month with 60GB of storage and 4GB RAM one included domain and 2 dedicated IP addresses.
Again, a 30-day money-back guarantee.
Ultimate Plan: the Starting price is $59.99/Month with 120GB of SSD storage, 8GB RAM and unlimited bandwidth. Inside are 2 dedicated IP addresses and one domain. With a money-back guarantee.


The VPS hosting service inside BlueHost is ideal for those websites that hit a considerable amount of traffic on a daily basis. With increased overall performance, this type of hosting service can sustain a significant amount of traffic without interfering and while thriving for optimum user experience.



Dedicated Hosting:


Standard Plan: the Starting price is $79.99 for month one and $119.99 every following month. With this plan, you can get 1TB of mirrored storage.
This means that everything you send into the database is "mirrored" and stored in an alternative place.
In other words, you have a backup version of your website. 5TB of bandwidth one included domain and 3 dedicated IP addresses.
Enhanced Plan: Starting at $99.99 with 1TB of mirrored storage and 8GB of RAM. The bandwidth of 10TB, one included domain and 4 dedicated IP addresses.


Premium Plan: Starting price is $119.99 with 1TB of mirrored SSD storage and 16GB of RAM, 15GB bandwidth, one included domain and 5 IP addresses.


All packages come with a dedicated 24/7 support team and a money-back guarantee from BlueHost.



Cloud Hosting:


The Cloud Hosting service comes with a variety of packages that start from $5.95/Month and go up to $20.95/Month. It's important to mention that BlueHost has remade its cloud hosting platform and is now divided into 3 separate devices that all store your website's data inside an online "cloud" based digital environment.


In other words, if something were to happen on device one that can potentially cause any issues with your website, you still have 2 more mirrored websites with the same database backing your website.

This another option for new websites as the initial prices are relatively cheap and on top of that you get a decent cloud hosting solution for your site.



WordPress Hosting With BlueHost:


When it comes to WordPress hosting with BlueHost there are 3 options to choose from.


1. WordPress Hosting. This is most popular for starting blogs or websites and is great for managing a few different low traffic websites and is suitable mostly for low scale projects.


2. WP Pro. This is beneficial for high traffic websites, data analysis, and WordPress tracking performance. With a faster than shared hosting website speed, WP pro ensures that speed is kept at a maximum level to ensure successful traffic flow.


WordPress Pro is probably the most commonly used hosting provider with more than a million active websites under WP pro. They are using a high performing VPS hosting service. The cheapest Basic Plan includes the following:
100 free premium themes to choose from, daily backup, virus and malware protection and basic jetpack site analysis. This is a tool that helps you track your website's statistics and your traffic's behavior.


The Grow Plan includes the following. Business Review tool that lets your visitors leave reviews on Yelp, Google, Yahoo, and Bing directly from your website fast and easy.

You get extra SEO tools that can help you with organic traffic generation and where your website's content stands on the search engines.

Although if this is something that interests you then I suggest checking out a hosting provider that is focused entirely on SEO and have the most advanced training about organic traffic and google rankings out there, Check it Out HERE.



JetPack Pro. This is a tool that offers over 200 premium themes, helps you with your website's design. As a bonus, you can get the opportunity to automate your social media post scheduling and marketing (if you're doing it or plan on it then you should check it out).

With a WordPress optimized ad network, you can easily adjust and set up your ads. On top of that, you get a bunch of different features such as a CDN that ensures your site's speed and overall performance are at high levels at all times.


JetPack Pro has an elastic search feature that gets you more accurate, relevant and fast search results and it comes with an automated PayPal integration system.


You will also get a 24/7 support team that can help with your site's design or fix any technical issues that you might encounter.
---
Security Features at BlueHost
---
We all know how important and vital your website could become so, odds are that we would like a strong security system in place for the protection of our digital property, right?
The cool thing about BlueHost is that its security feature is of high quality. With embedded tools such as Apache Spam Assassin, Spam Hammer, and Spam Experts, you can be sure that all your data is safely protected and your website is prepared to deal with malware attacks or spams.
On top of that, you will get an advanced inbox protection system. If you want to restrict access to your website from specific locations in the world, you can easily do that by blocking their IP addresses.
Another feature that makes this security system unique is the secure SSH. access. Also known as a secure shell, it gives users a secure way to access their network in an unsecured environment.
As a bonus, you also get CloudFlare which gives you even more security and can boost the speed of your website if needed. This software is great for preventing DDOS attacks.
A Distributed Denial Of Service is when a cyber hacker makes your website unavailable for users by creating hosting issues across the internet.
---
Pro's and Con's of BlueHost
---

Pro: It's quite a famous hosting provider and it's recommended from WordPress.org for its quality of service. Most plans include a free domain name which is always a good thing. The upgraded cPanel gives fast and secure access to a lot of extra features.


 Pro: You get a lot of WordPress related features as a bonus that can help with various things such as better user experience and SEO.


 Pro: There is a wide variety of options to chose from. BlueHost can be suitable for new websites that are just starting out with a seemingly cheap plan. It has the perfect plan for high traffic websites too.


 Pro: Their security truly is at a very high quality. BlueHost takes online threats to your website very seriously that's why a large portion of their profits are moved towards their security features. By doing that they ensure that is constantly updating and improving their security features.


 Con: Their prices tend to fluctuate. In other words, you may start off by saying something like $3.95/Month for a domain but this does not nearly include everything else that you will need to start your website the right way. Let's take their SSL certificates for example. In order to implement this certificate into your website, you have to pay extra.


Con: Some security features require an additional payment to make use of.


Con: According to some user reviews on platforms such as Trustpilot UK, there is a chance to experience downtime on your servers. For some people this issue is consistent and this can truly affect your overall website performance in a negative way.

Luckily all price plans come with a money-back guarantee and it's usually 30 days. By that time you can figure out for yourself if you have any issues with your website and can always request your money hassle and risk-free. Try it out below.


---
What all The Other BlueHost Reviews are NOT Talking About – Complaints
---
As it seems from all the online research I did, most people that experience any issues with BlueHost regarding their servers downtime are from outside the USA.
Most complaints are related to their website speed and overall performance. If you are someone who is not a USA resident just keep your head up and watch for any similar problems.
By the time the money-back guarantee is about to expire, you will know for sure if BlueHost is right for you or not.
On that note, it's quite important to mention that while BlueHost integrates with WordPress which was initially created for
blog related websites
, it is 
MOSTLY 
recommended for
eCommerce
websites and here's why.
---
Who Is BlueHost Best For?
---
BlueHost is widely used by eCommerce websites as their number one hosting solution. BlueHost has incredible features such as a FREE SSL certificate for every eCommerce website.

On top of that, you will get to chose from many different shopping carts such as OS Commerce, Agora, Zen, Cube and an open PNG/GPG encryption.

What this means is that you can safely open any PNG/GPG encrypted files that would otherwise require more effort to open.

Even with the basic eCommerce plan, you will get unlimited storage onto shared hostings, which gives you the opportunity to put out as many product lists as you want to inside your online shop.

Unmetered bandwidth gives you the flexibility to pay the same hosting prices every month even when you have large spikes in traffic.

On top of that, you will get a $200 bonus in credits to spend on ads. If you do it right, this can potentially lead to a lot of customers instantly.

It's good to mention that most eCommerce website is quite satisfied with their hosting needs. It turns out that BlueHost gives you good reliability and scalability options.

As a bonus, you will get a lot of extra features and tools that can help you make money online with your eCommerce shop.



If you are a WordPress experienced user and want to access additional features that can help improve your website and get additional support from WP experts then BlueHost might be a good solution for you as well.


It does not really matter if you are just starting out with your website or you are receiving a massive amount of traffic. There is a suitable plan for every kind of level that your website might be at.


---
Conclusion
---
BlueHost is a fast and reliable hosting solution that is used by millions of people online and across the world.

It has a variety of different plans to suit every kind of website. From a starting website up to a high traffic website, you can host it all.

Their biggest strength is probably their security features. They invest a significant amount of money into constantly maintaining, improving and upgrading their security features to ensure that no unwanted malware or spam attacks occur.

Although BlueHost is widely popular in the hosting service industry, it is not without its flaws.

Some people out there tend to complain about their server downtime and speed issues.

This does not happen to everybody but apparently, some users do tend to experience this. The good side to this is that on most plans you can get a 30-day money-back guarantee.

By the time those 30 days are over, you will be able to get a good feeling of everything inside BlueHost and if for any reason you are not satisfied you can get your money back, hassle and risk-free.