How Can You Make Money From Blogging?
Thinking about becoming a blogger?

Maybe you already have your own blog and you want to learn how to monetize it as much as humanly possible.


Guess what, it's easier than you think, there are a bunch of ways that you can go about it.


So, how can you make money from blogging you ask?


This guide will show you EXACTLY how you can do that with our top 5 PROVEN ways of making money online with blogging.


Read until the end as I reveal the most lucrative way of generating a full-time income that has made successful bloggers
A TON
of money.
---
1. Pay Per Click and CPM Advertising
---
PPC or Pay Per Click ads are one of the most common ways for bloggers to monetize their
website.
When a visitor sees your content and decides to click on an advertisement that you have posted somewhere within your site, that's when you get paid.


The key factor here is having a lot of daily visits to be able to make a decent buck.


CPM is cost per thousand impressions or in other words when 1000 people view your ad, you get paid a fixed amount.


 There are a lot of different networks that you can use to place ads all over your website but the most commonly used one is Google Adsense.


---
2. Private Ads
---
There is a lot of flexibility with private ads because you have the option to negotiate a price that is suitable both for you and the private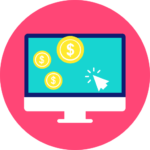 advertisers that have made contact with you.
Another good way of monetization is writing posts for them.


They set up their conditions and you, of course, put out your price.


Upon mutual agreement, the real fun begins and usually, both parties are happy with the outcome.


You can even charge fees for putting links of your advertisers within your content. That's pretty decent if you ask me.


---
3. Create Quality Content & Become an Authority
---
By creating high-quality content that is helpful and full of genuinely honest, exciting and fulfilling information, your readers will begin to respond to your posts in a very positive way.


There are a lot of money making opportunities if you manage to do that right.

If you are healthy foods blogger (this is just an example) and you continuously post different topics involving the healthy foods
niche
, then people with similar interests will be naturally drawn to your content and will begin to read, share, enjoy and most importantly
TRUST
your blog posts.
That's when you become a respected authority in the healthy foods industry (in this case scenario).


Creating high quality content is the MOST important thing that you need to focus on.


Only then will you start seeing incredible results and more and more people will be visiting your website on a daily basis and that's what your end goal should be in order to take advantage of the above-mentioned ways of monetization, isn't it?


At the bottom of this article, I am going to show you where you can find out more information about high-quality content writing. Trust me, it's well worth the read.


---
4. Affiliate Marketing
---
My personal favorite. By including affiliate links of other people's products and services to your articles, you have the opportunity to earn a commission fee.


They can vary in terms of percentage but it's most definitely one of the easiest yet most effective ways to make money online.

Affiliate Marketing
 has made bloggers a lot of money over the years and it only keeps on growing as more and more businesses realize the true power that affiliates bring to their business.
If you don't know what affiliate marketing is then I suggest that you read my article about How To Make Money Online With Affiliate Marketing Here. 


It's possibly the best and most promising way for a blogger to start generating revenue.


How do I know this you may ask? Well, the answer is pretty simple.


Because I AM a blogger. Here's a PRO TIP for you.


Don't limit yourself to just one thing. For example, don't just go and do PPC and private ads.


All of the mentioned techniques for becoming a successful blogger should be used together, in my mind, they are essential pieces of a big puzzle that need to be put together.


---
5. Create SEO Friendly Content
---
Seo or Search Engine Optimisation is how you will get your content ranked on the first page of
Google and the other search engines.
This is the best way to get traffic to your website for FREE and as we mentioned above, traffic is key to making money with your blog website.


How do you go about SEO and Google rankings in general?


I have written an article that is dedicated entirely on SEO and what it's all about in the briefest, most informative and engaging way possible.


Feel free to take a look as I'm sure that it will benefit you greatly because it's packed with tons of value and there's a cool little bonus that I've added there which will profoundly help any blogger.