Is Elite Marketing Pro a scam that you should avoid or a real way to make money online? Here's what you need to know.
This is a high ticket program, so it's entirely possible to come across biased and one-sided reviews that will try to recruit you into joining.
The problem here is that you can't really get the information that you need to make the buy or not decision, simply because most of these affiliates are NOT going to show you the negative side of this program.
That's because they risk losing money that way. Let me assure you that I'm not affiliated with Elite Marketing Pro or any of the products and services that they provide.

That's why I won't be offering a thousand low-quality ebooks for joining through my link because it does not exist.
Before we get started, it's important to remember that the services and prices have changed since 2019.

This review is the most up to date one that is out there.
Ready? Let's get started…
Elite Marketing Pro Review Summary
Product name: Elite Marketing Pro

Product Type: Make Money Online Training Programs & Services

Product Owners: Tim Erway & Matt Crystal

Product Price: $47 – $25,000

Overall Score: 50/100

Recommended: Not For Everyone!

Summary: Elite Marketing Pro is a platform where you can get access to multiple products and services. You can get a hold of attraction marketing courses, affiliate marketing programs, and mentorship services.

The prices vary a lot but they can be as high as $25K. According to their website, Elite Marketing Pro is suitable for beginners that are interested in making money online all, seasoned entrepreneurs, and everyone in between.

By the looks of it, you can learn a lot of valuable things about creating, and maintaining a successful online business, and that's a good thing.

The only apparent problem that I have with this program, is that they will squeeze you dry like a lemon, and you can easily end up spending a ton of cash with them.

That's why I don't think that they are the most suitable solution for beginners that are just getting started.

If you are looking for a way to start your own online business as a beginner, without having o worry about spending too much money upfront, then you should see this cost-effective alternative below.
What is Elite Marketing Pro?
Elite Marketing Pro is a training program that can teach people a set number of skills such as free or paid traffic generation, copywriting, and lead generation for local businesses.

All kinds of businesses can benefit from the extensive training that's covered inside, from affiliate marketers to brick and mortar business owners.

There are many internet marketing training programs similar to this one, such as Ministry of Freedom, or John Thornhills Ambassador Program.
They even provide services that do all the hard work for you, but as you can probably imagine, that's the most expensive part of Elite Marketing Pro (EMP).
There is a lot of emphasis on self-promotion, that's why you should expect them to try and recruit you as one of the affiliates promoting their services, at least a few times over.

EMP is trying to be a bit different in their teachings, and courses. Inside you can learn a lot about attraction marketing, which is the art of selling without being pushy.
This is an especially unique approach for multi-level marketers because what they are usually taught is to bother everyone they know.

Hard selling practices are common in the MLM industry, and by trying to be different than everyone else, EMP has managed to attract a lot of people in that industry.
Who Created Elite Marketing Pro?
Elite Marketing Pro was founded by Tim Erway and Matt Crystal. Tim has been a successful marketer since 2002, he is the founder of a bunch of different internet marketing courses and educational materials.

Most of them are related to website monetization methods, copywriting techniques, and informational courses about all the different ways of making money online.
Matt Crystal is the co-founder of Email Marketing Pro and the VP of operations. Matt was the guy behind all the technical stuff around EMP, and until recently, no one even knew his part in all of this.

He has a proven background in web development, direct response marketing, and copywriting.
What's Inside Elite Marketing Pro?
The Elite Marketing Pro platform has a wide range of different products and services, and they all come with different prices to consider.

Let's breakdown each one in order to find out more about the exact kind of training that you can get inside.
Elite Marketing Pro Insider Membership ($297/Year)













This membership includes elite private training that's available exclusively to members. Over there you can get access to a 5 step formula that can supposedly increase your overall profits.

You will get to join a private Facebook group, where all the other members hang out. This can allow you to network with like-minded individuals.

On top of that, you will get access to a live weekly training that shows you how to use paid ads to advertise either your own business or Elite Marketing Pro as an affiliate.

They don't stop there. As part of your membership, you will be able to access an email capture page, that can be set up within minutes, and a blogging system to attract organic, free traffic (web visitors) to your offers.

Finally, you have weekly webinars being held by top internet marketers from all over the world, that you can watch on-demand.

Don't worry if you end up missing a live webinar, as you can access it inside their library, alongside every other webinar that's ever been made.

The sales page makes it look like, you are getting a really great deal, because they put insane price values for each of the above-mentioned things that you will get.
As you can see, the total combined value of everything you are getting is priced at $6,376, so paying ONLY $297 a year can look like a really great discount.

The truth is that this is simply a marketing tactic that many product owners implement, to ensure more product sales.
10 Minute Traffic Machine ($997 or 3 Payments of $427)
The 10 Minute Traffic Machine is a 7 module training course that will teach you everything you need to know to generate a ton of laser targeted traffic to your online business. Let's go through each one to see what they are all about.
Module One – How to Identify Your Ideal Prospects, & Where to Find Them
This module will teach you how to narrow down your traffic and weed out those that will never convert into customers.

Learn how to tap into the inner fears, and desires of your potential clients, in order to ensure more sales.
Module Two – Crafting The Perfect Landing Page
This is an important part of every internet marketer. Without a landing page, it's going to very difficult to siphon your traffic and convert it into paying customers.

The purpose of a landing page is to guide your visitors and to get them to perform a desired action.

An ideal landing page should not have too many distractions. Anyone that lands on it should either complete the desired task or leave. Those should be the two available options.
Module Three – How to Create and Run Paid Ads on Social Media
This is an ever-developing topic, so you must ensure that what's being taught inside is not outdated stuff, or you risk losing money, or even getting banned from social media platforms like Facebook.
Module Four – How to Create Long Term Customers
This module will teach you how to get more sales before you even launch your first paid ads campaign so that you can get your customers to pay for your online marketing efforts.
Module Five – Setting Up a Distribution Centre
You will learn about the importance of becoming an authority in your respective niche, and how to get organic free traffic, without having to pay for exposure.
Module Six – Launching Your Traffic Campaigns
This is where you will get familiar with the "boomerang traffic method" that can supposedly get you 80% to 120% more leads without any extra work on your end whatsoever.
Module Seven – Walkthrough
The final module will show you how to take everything that you've learned inside the 10-minute traffic formula and apply it on other platforms like Youtube, Instagram, etc. These seven modules are covered within 5 weeks of step by step training.
As soon as you enter the checkout area, you will be offered a ton of bonuses and they are as follows:
Bonus One – Done For You Sales Funnel Templates
Bonus Two – 1 on 1 Coaching Calls To Expedite Your Success
Bonus Three – One Year of Group Coaching Calls
Bonus Four – EMP Insider Traffic Generation Training
Bonus Five – Private Mastermind Group
The Ultimate List Building System 2.0 (Part Of VIP Membership)













This is an updated version of The Ultimate List Building System, and it's all about showing you how to launch your main sales funnel, and build a big email list at the same time. Here's a breakdown of everything that you will get inside:
Funnel Building Training
This is a video training showing you how to create any type of sales funnel. It's suitable for affiliates, product owners, and even consultants.
Easy To Set-Up Videos
A video series revealing how to launch your list building system. It's all covered in this step by step guide.

By the time you are done here, you will have set up everything required to start building that email list.
Copywriting Templates
These are more done for you templates. All you need to do is fill in the blank space and you are set to launch your funnels.
Lead Magnet Templates
Lead magnets are what you will be using to ethically bribe people to join your email list. By offering them something valuable and free of charge, you will ensure that more people will give you their emails.

As of right now, The Ultimate List Building System is not available to purchase on its own. You can get it only as part of the VIP Coaching & Mentorship program.
VIP Mentorship & Caching













This looks like a 7 step program that's being used by the top performers of Elite Marketing Pro. The price of this course is not disclosed anywhere on their website.

The only way to find out how much it will cost is by going through a scheduled call with one of the team members behind EMP.

Usually, this is an indicator that it's going to be very expensive, so don't expect to spend less than a few thousand dollars with the VIP Mentorship and Coaching program.

Common practice suggests that you will be put on a call with one of their experienced sales assistants, that will personalize your program, and give you a unique price that's catered towards your exact wants and needs.

Inside you should expect to get things like traffic generation training that covers all the new, and up-to-date methods, being updated regularly, and reviews of your ad strategies 3 times a week.

Top that up with 3 additional 1 on 1 calls that are intended to make sure that you start the right way. Here's a library of all the additional things that you will get inside the VIP Mentorship and Coaching.
Your membership comes with a website that's hosted and paid for a full year by them, which means that you can save roughly $15 on your first year of the domain ownership. Here are all the bonuses that you will get alongside everything else.

Bonus One – Free Ticket to The Live VIP Events
Bonus Two – Two Free Tickets to Digital Network Live
Bonus Three – Exclusive Cocktail Party at The Digital Network Event
Bonus Four – VIP Support That Let's You Skip To The Front of The Queue
Attraction Marketing Formula ($47)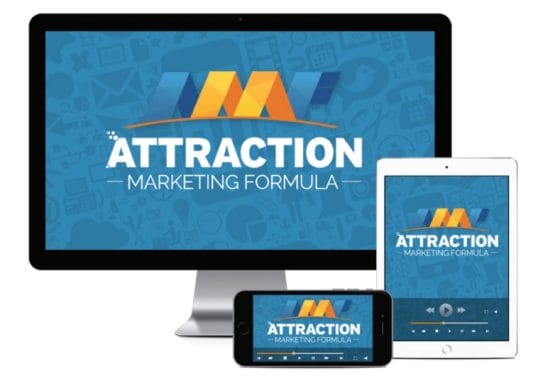 If you are into network marketing or multi-level marketing, then you can benefit from the Attraction Marketing Formula.

This is training on how to attract leads and clients naturally. Instead of you chasing them all over the place, you can implement the techniques inside to get your leads and sales coming to you.
You will learn how to attract new clients into your network without even picking up the phone.

According to the sales page, you will also minimize rejection rates, because everything is set up in a way that only those that are interested in what you have to offer will come in contact with you.
As soon as you buy the Attraction Marketing Formula, they will try to upsell you one of their more expensive products, and services.
Social Retail and Enrollment Blueprint ($147)
The Social Retail and Enrollment Blueprint was designed to bring in more clients to your business and to show you how to gather your own team of people, that are ready to execute your dreams and vision for your own business. Below is a breakdown of everything that you will be getting.
– Four-step formula that can show you how to use video marketing to drive more sales, leads, and conversions.
– Method showing you exactly how to create high value-driven content, on a tight budget. This guide will show you how to build value, without having to spend a ton of cash.
– A method that shows you how to come up with ideas on demand. It doesn't matter what your industry is.
– A guide showing you how to build trust, and rapport with your videos. Trust building is very important, especially when it comes to internet marketing because there are way more scams out there than legit products and services.
– How to build an email list. This part of the training is designed for beginners, that are just getting started.
At the checkout page for this product, you will be offered a upsell that costs an additional $37.

It's called Attract, Influence, and Enroll Workshop, and it's there to supposedly speed up your success with the Social, Retail, and Enrollment Blueprint.
This upsell is not mandatory, but the fact that they are using this marketing tactic to INCREASE their sales shows that these people know what they are doing.

This practice is commonly known as a checkout bump, and it's fairly common in the online marketing world.

Elite Marketing Pro use it on many of their products, so expect to see a bunch of them on their website.
Social Media Enroller ($147)
The Social Media Enroller is all about creating your own DIGITAL team and attracting new prospects using nothing but social media.

It's similar to the Social, Retail, and Enrollment Blueprint in a way. In fact, you get that course offered in the form of an upsell, at the checkout page.
Below are all the additional bonuses that you will get with your purchase, and they are as follow:
Bonus One – Fan Page Profits. Discover the secrets of creating a profitable, success-driven fan page on social media.

Bonus Two – Social Attraction Swipe File. Get 12 of the best converting posts, and use them as inspiration to create your own, unique copies of them.

Bonus Three – 3 Way Messenger Scripts. These are messages that you can use word for word, to your prospects, to ensure that you look professional.

Bonus Four – Consultation Funnel Mastery. This is a video bonus, where you will be shown how one of the team members of Elite Marketing Pro converts 8 out of 10 prospects on social media into new team members.
Bonus Five – Irresistible Closing Scripts. These are done for you letters that you can implement into your own strategy to turn prospects into loyal clients.
Bonus Six – Video Walkthrough and Action. This is a full video walkthrough, where you will get to see how to navigate inside the Social Media Enroller.
Bonus Seven – Attraction Marketing Formula and 1 on 1 Coaching. You will get access to the Attraction Marketing Formula, which costs $47 if you were to get it on its own. On top of that, you will get a coaching call from one of the team members of Elite Marketing Pro. Don't be surprised if they try to upsell you one of their more expensive products.

Bonus Eight – Community Access. Buying the Social Media Enroller is one of the ways that you can get access to Elite Marketing Pro's Facebook group.
Elite Marketing Pro's Support System Revealed
The support inside Elite Marketing Pro is pretty basic. There are four ways that you can access the support team, and get help with whatever it is that you need.
Support Option #1 – Search The FAQ's. If you have a question that has been frequently asked, odds are that you will find an answer in the Frequently Asked Questions section.

Support Option #2 – Submit a Ticket. If you can't find an answer to your question, then you can open up, and submit a ticket. Their response time is usually 48 hours or less.
Support Option #3 – Contact Them. You can contact them at this number, (877) 401-3422, but the operators will just submit a support ticket on your behalf and input your details so that customer service can get back to you.
Support Option #4 – Private Facebook Group. You can ask for help there, and one of the moderators will get back to you. Heck, you may even get your answers from one of the members inside.
Can You Get a Refund on Elite Marketing Pro's Courses and Sevices?
You can get a refund, but not for everything. Here is a breakdown of all the training programs that you can get a refund from, and the ones that you can't.
According to the refund policy, you get a 30-day refund guarantee on all Elite Marketing Pro's products except the VIP Coaching & Mentorship, and all other variations of the mentorship program, such as Elite Marketing Pro Elevation Mentorship.

You can NOT get a refund on any of the LIVE-in event registrations unless you attend the event.
You can request a refund on the spot ONLY if it's before 4 PM on the 2nd day of the event that you are attending.

If you have bought a Platinum or All-Access ticket, then you will NOT be eligible for any refunds whatsoever.
There are no refunds on any live streaming events.
What I Like About Elite Marketing Pro
1. It's Legit. The training inside, and all the additional services can definitely help you a lot with your business. Some strategies and techniques have been proven to work over the years.
2. It Looks Like They Regularly Update Their Content. At least, that's what they want you to think. Truthfully, you can't know for sure if they keep their promise or not, but given their solid reputation, odds are that they regularly update their content.
3. Big Community. There is a big and active community inside EMP, which is definitely a good thing.
What I Don't Like About Elite Marketing Pro
1. It Can Be Too Expensive. Some of the courses and coaching programs are way too expensive than they should be, and since you are dealing with people who will try to sell these services to you, there is the possibility that you can waste a lot of money without getting any return on your investment.
2. Too Much Self Promotion. The affiliate aspect of Elite Marketing Pro is incredibly huge. You will be highly encouraged to promote their products from the get-go.
3. You Can't Get Your Money Back For The Expensive Stuff. Their high ticket courses are non-refundable, which makes the risk for beginners, and the inexperienced even greater.
Do I Recommend Elite Marketing Pro?
Not if you are a beginner and here's why. Most people that are just getting started are naturally curious about the different opportunities that are available out there.

The thing is that most of the programs and services inside Elite Marketing Pro are expensive, and the ones that aren't, are just a precursor before the high ticket stuff.

You will get contacted by members of the sales team quite frequently, or get drawn into the more expensive programs in any way possible.

As a beginner, you can easily end up spending way too much money on something that you don't even fully realize what it can do for you, just because you were led on to believe that this is what you truly need.

This scenario may not even happen, but if it does, just remember that these people's jobs are to convince you how much you can benefit from them.

I believe that if you want to start an online business as a beginner, other alternatives can help you with that, without taking a ton of cash from you upfront.

If that sounds interesting then you should see how these people are banking profits using a simple yet incredibly effective blueprint, that so many neglect and lose out on that opportunity forever.