Welcome to my DFY Profitz Review. Can you really start banking as much as $50K a month by taking advantage of these proven to work done for you affiliate marketing campaigns?

According to the founders of this software, Jason Fulton, and Mosh Bari, you can become profitable by leveraging their own very successful campaigns. The best part is that they are all pre-built, and ready to run.

This will truly save you a lot of time if you were to create them on your own, but that's about as good as it gets.
Here's what you need to know. There are many Done For You (DFY) software tools, and apps that take care of a lot of the manual work that it comes in building landing pages, squeeze pages, funnels, email marketing, etc.

Most if not all, have very exaggerated claims about fast wealth and riches basically overnight. That's because they are beginner-focused, which means that the perfect target audience for a similar product is someone with little to no experience with internet marketing, and making money online. 
If you are new, it can be easy to start buying one overpromising course or software after the next. This can lead to the so-called "shiny object syndrome" that will leave you with a very expensive lesson to remember. 
Online Success comes in many different forms, that's why it's important to do the research and find YOUR way before investing time, and money into seemingly good products/services.
Let me be completely transparent by letting you know that I'm not affiliated with DFY Profitz in any way or form whatsoever. By the time you go through this review, you will know exactly what to expect inside this software including some hidden upsells that you can get access to only after you've become a paying member.
DFY Profitz Review Summary
Product Name: DFY Profitz

Product Type: Affiliate Marketing Automation Software

Product Creators: Mosh Bari & Jason Fulton

Product Price: $23.92 + Upsells

Recommended: No!

Overall Score: 45/100

Summary: DFY Profitz is a software that will give you about 30 Done For You affiliate marketing campaigns, that have generated the creators of this software up to $50K a month. When you consider the fact that these guys have been making money online for many years, it's entirely possible that they have managed to grow to such a level.

However, that does not mean that by copying their exact campaigns just like anyone else who is buying this software, is going to land you that much money within a short time frame. In other words, if you're brand new to this, then I'm sure that you won't start banking profits with just a few clicks of a button as soon as today.

It sounds nice to believe that this is possible, I get that. But believe me when I say that more people will end up being disappointed with this software, rather than anything else just because of the hyped-up sales page.
What is DFY Profitz?
With DFY Profitz you can automate the entire process of creating affiliate campaigns, and apparently, all you have to do in order to start earning profits is to set up the software, pick a campaign, press a button, and watch as the free traffic starts pouring on your pre-made affiliate campaigns. It's so simple that even a newbie can do it.

That's true I guess, but the only thing that they failed to mention is the fact that these "free" methods will only work for you if you have a big social following or a large email list, prior to working with DFY Profitz, and let's face it. That's something that no beginner has.

Even if you have 2K, 5K, or 10K followers on Instagram, if they are not targeted or interested in what you're promoting then odds are that you won't see any real results.
When you exclude all the hype around this product, you can still get some use out of this software, because you will get these pre-made campaigns. This will give you the chance of seeing how a successful affiliate campaign looks like.
You could also build your own campaigns from scratch, which can remove some of the duplicate content, and spam issues that can happen when many people are promoting the same things using the exact same affiliate campaigns to a similar target audience.
It's important to realize that nowadays it's extremely easy to create sales funnels, affiliate campaigns, and email marketing letters. The hard part is getting traffic, and the people behind DFY Profitz obviously know that because they're presenting you with a way to get free traffic on automation.
Unfortunately, no beginner can take advantage of these free methods, unless they invest a lot of time and hard work.
Is DFY Profitz a Scam?
DFY Profitz is NOT a scam, but it can be very misleading especially for those that are new to digital marketing.

People can easily be left with the wrong impression that they can easily start generating income online with this automated software but the reality is that even though you will get 30 done for you affiliate campaigns, you would still have to take care of finding traffic.

You could go with the free traffic methods, but it will take you a lot longer than you think, especially if you don't have a big following on social media.
The effort that it takes to build your own campaigns is going to be removed from the equation which can save you some time, and hard work, but even without that in place, the main thing that you will need is traffic, and that takes time, and effort. 
Who Created DFY Profitz?
DFY Profitz was created by Jason Fulton and Mosh Bari. They are serial digital product creators with numerous projects on their names such as TrafficZ, Digital Online Academy, and Auto Traffix Pro. All of their products, have one thing in common, and that is that they all offer one form of automation or another.
What's Inside DFY Profitz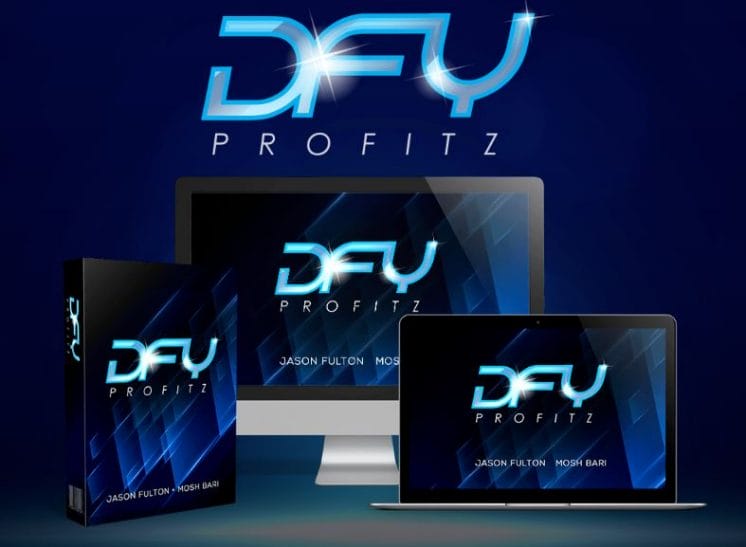 Inside DFY Profitz, you will get the chance to gather products from websites such as WarriorPlus, Jvzoo, and ClickBank in one place. You can promote these products from within a single dashboard, instead of going to multiple websites, looking for the best products to promote, and finding your affiliate links. You can do all of that inside the software.
30 Done For You Campaigns
You will get everything from pre-written product reviews, images, to email letters, and you can choose from 30 different affiliate campaigns. The time it takes to build and create a campaign inside this software takes about 60 seconds. It would take you hours if you wanted to do that manually by yourself.
Automated List Building
There are multiple autoresponders that are integrated with DFY Profitz, which you can use to capture leads and send promotional email letters. Email marketing is one of the best ways to get more exposure to your offers, which can lead to more sales in the long run. Here's a list of all of the recommended autoresponders that work well with this software:
– Aweber
– ActiveCampaign
– Campaign Monitor
– ConvertKit
– GetResponse
– MailChimp
Keep in mind that most of these autoresponders will cost you extra to unlock the full feature that each of them provided. 
Ready-Made Templates
You can get access to all of the templates, and manually adjust or change them as you see fit. This can give you a chance to modify the pages so that they don't look identical to all the other pages that people using this software are promoting.

This can take you a bit longer, but it's worth it because you have the power to create something truly unique that people have never seen before in terms of designs or even the message that you want people to see.
DFY Giveaways
Giveaways are important for list building. You need to give out something in return to people's emails. The better, and more enticing it is, the higher are your chances of generating more leads and capturing more emails.
No Domain Hosting
You don't have to set up a domain or pay for hosting with this software. They will host all of the campaigns that you will be using on their own servers which basically takes care of that for you.
DFY Profitz Price, Upsells & Refunds
DFY Protiftz comes with a single payment of $23.92, however, once you're inside, you will be presented with a bunch of upsells that will further enhance your earnings potential with this software, and they are as follows:
Upsell #1 – Unlimited Profitz Edition ($67)
With this upsell, you will not be restricted to only 30 affiliate campaigns, you will get the chance of having an unlimited amount of campaigns at your disposal. Most super affiliates, have a lot of campaigns running at the same time, which is what you should be doing too.

However, the only way to achieve that with DFY Profitz is by buying into this upsell. If you decide not to get it, and click decline, you will be presented with the same offer but at a discount for $37
Upsell #2 – Super Traffic Machine ($67)
With this upsell, you can create our own affiliate store where other affiliates can promote your products, and share the profits with you. This can give you the opportunity to get a bunch of people to promote your products, which basically removes the worries of attracting traffic yourself. The downsell of this offer is $47
Upsell #3 – 100x Conversion Booster ($89)
Downsell of this offer is $69. This is a pack of tools and extra stuff that will further increase the likelihood of landing conversions.

By implementing all sorts of marketing tricks such as adding a countdown timer to your offers, or adding an exit popup that will give the user one last chance to join your email list. You will also learn how to add a Facebook pixel to your money sites, which will let you retarget those that come to your site with paid ads.

You will also get a premium SEO tool that will help with your organic rankings, however, I don't believe that this SEO tool has much of an effect if you don't learn the correct way of creating content that will rank on the first page of search engines like Google, Bing, and Yahoo.

Unfortunately, I'm not convinced that this automation software can help with any SEO at all. If you want to learn the real way of earning passive income online with organic traffic generation and SEO, then you should see my recommendation.
Upsell #4 – Done For You Money Machines ($277)
With this one, you will get 60 more done for you affiliate campaigns that are targeted towards this "hidden niche" that almost no one is leveraging right now. In other words, with this upsell, they will show you a niche that has little competition which can give you more chances of generating income online, at a faster rate.
Upsell #5 – Auto Chat Profitz ($97)
This will let you install a chatbot onto your money pages with pre-written scripts that will do all the selling for you. It's easy to install this chatbot.

You don't need to worry about unanswered questions from people because they can now interact with this bot that can have pre-written text, with lots of available questions, and answers that can be beneficial to users. The downsell of this offer is $67
Upsell #6 – Licence Rights ($167)
With this one, you can sell and distribute DFY Profitz as if it were your own, and keep all the profits that you generate. The catch here is that you won't be profiting off any of the upsells that come along with this product, and as you can see, that's where the real money is.
When you take everything into account, you would have to spend more than $687 if you want to take full advantage of this product, and everything that it has to offer.
There is a 30-day money-back guarantee in place but it only applies for the MAIN product. In other words, you might not be able to get your money back if you decided to purchase any of the upsells.
What I Like About DFY Profitz

1. It Can Save You Some Time. If you were to create your own affiliate marketing campaigns, it would take you a lot longer, than if you were using DFY Profitz.

They have a good number of pre-built campaigns that you can use, or at least take a look at what it should look like. Not only that but you can also create your own campaigns using their software, which can get rid of potential problems like spam content.

2. There's a Money-Back Guarantee. This can let people safely test out the software and see what it's like firsthand. With that guarantee in place, people can be more likely to spend their money to try things out even if they aren't sure just yet if that's the right thing for them or not.

3. Pre Written Email Letters. It's not impossible to find these kinds of pre-written email letters for free online, because a lot of digital product owners will hand you a lot of ready email swipes that you can send out to your list, just by becoming their affiliate.

Even though that's the case, these email swipes can be beneficial to you, because you won't have to think about what to write in an email marketing letter and start from scratch by yourself.
What I Don't Like About DFY Profitz
1. Too Hyped Up. The sales page can easily mislead any beginner, into believing that they can generate easy money online with the click of a few buttons. This is a common marketing tactic that's targeted towards beginners and novice internet marketers, that are yet to learn the ropes.

Here's a pro tip to remember. If something sounds too good to be true, that's because it is.

2. A Lot of Upsells. This is the case with many similar digital products and services. They charge you a low one time fee, just so that you can be invested enough to at least consider all the extra upsells that will be presented to you "exclusively" as their member. Most people make their money with the upsells inside their products/services.

3. No Free Traffic. The only real traffic that you will be getting is with paid ads, which is why you should be prepared to spend even more money to start everything as fast as possible.

The free traffic, and SEO plugins inside this software, will not give you the results that you would expect. Search engines are smart and sophisticated enough to detect, when content is being delivered, and written for the search engines instead of real people.

That's a bad thing because Google and the other search engines will focus more on the quality of content and how helpful it is to the real people who are using these search engines. When you get a bunch of pre-made automated articles, you will not be getting any organic traffic. Trust me, I've been down that road before.
My Recommendation
My recommendation is that you don't get involved with DFY Profitz, unless you're ready to invest in things like paid ads, and the potential risk of losing your money. If you are a beginner who is expecting to make money online with this software just by clicking a few buttons here, and there, then you will be disappointed.

That's because even though this software will automate a lot of the hard work for you you would still have to find traffic, and the free traffic methods that they have inside will not work for you unless you have a really big following on social media or if you have a large email list. 
There's a bunch of SEO tools and pre-written articles that will supposedly help you with organic search engine rankings, but that's just not true. You see, if the content is not helpful to users, Google will not rank it no matter what you do. Even if you try to game the system, sooner or later you will be caught.

If you want to learn the REAL way of generating passive income with organic free traffic from Google, and all the other search engines, then you should check out how these people are banking profits using a simple yet incredibly effective blueprint that so many neglect and lose out on that opportunity forever.