Welcome to my Tweeter Bucks review. Is this a legit program by Wesley Virgin or another scam to avoid? Here's what you need to know. This is a product created by a serial course creator. It's hosted inside one of the biggest affiliate marketplaces, WarriorPlus.
Over there, you can see a ton of new products being added daily, and Tweeter Bucks is one of them. The founder of this program, Wesley Virgin has a lot of products that he sells all over the internet, such as the Overnight Millionaire System, InstaPayz, Crypto Payz, and more.
By the time you're done here, you will know exactly what you're getting into without any hype or exaggerated claims of income.
Ready? Let's get started…
Tweeter Bucks Review Summary
Product Name: Tweeter Buck

Product Owner: Wesley Virgin

Product Type: Affiliate Marketing on Social Media

Product Price: $19 + Upsells

Overall Score: 45/100

Recommended: Not For Everyone!

Summary: This is a brand new product by Wesley Virgin. It's all about helping you promote affiliate offers on one of the biggest social media networks, Twitter.

You will get access to some done for you tools and images that you can use to create posts and raise awareness about your affiliate offers.

Despite the bold claims that you DO NOT need a big following to make money with Tweeter Bucks, I do think that you will struggle a lot if you don't have a big audience interested in your offers. 

All the hyped up income claims aside, you can actually make money with this program, but it will NOT be as easy as advertised.

In my opinion, there are better alternatives for creating a profitable affiliate marketing business, but If you like the idea of creating a huge social media following, and you're willing to put in the work, then Tweeter Bucks can help by providing you with images, videos, a hashtag generator, and more.

You will learn how to build an audience of people that are interested in what you're selling, how to promote your affiliate offers effectively, and how to make money online using nothing but free methods and social media.

Since it's hosted on the WarriorPlus marketplace, it automatically comes with a 30 day money back guarantee, removing all the risks.
What is Tweeter Bucks?
Tweeter Bucks is a hyped up cloud based software that will make promoting affiliate programs on Twitter very easy and effortless.
It comes with done for you campaigns, a link cloaker to create a better user experience and protect your affiliate commissions, an image editor, a site builder, and an email service provider, allowing you to reach thousands of people with one single email.
Keep in mind that this is a paid service and you will have to pay money for an autoresponder that can automate your entire email marketing.

The one you're recommended is free. However, In my opinion, it's  NOT ideal. Instead, you can look at GetResponse or Aweber. These are reputable service providers that come with great delivery rates. 
Is Tweeter Bucks a Scam?
No, it's not. It's a legit offer that can help expedite the process of earning affiliate commissions.

Just like with most make money online programs, Tweeter Bucks comes with a lot of hype around it and very misleading income claims. It's unrealistic to think that you can actually make $100 – $200 from EVERY tweet. 
With that said, affiliate marketing is a very real way to make money online and Twitter can be a great source of free organic traffic. However, the guy selling this product, Wesley Virgin, has a pretty low score as a vendor on WarriorPlus.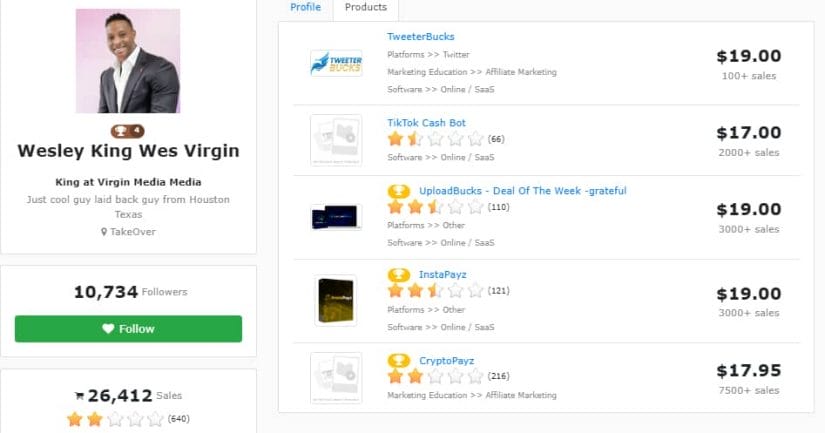 This is his fourth product launch on that platform. As you can see, the average score based on 640 total votes is 2 out of 5 stars. 
In my opinion, this program is way too overhyped and most people that buy it will end up disappointed. That's why I think that there are much better and cost effective alternatives for making money online with affiliate marketing. 
Beginner's Alternative: Compare This With Wesley's Course
How Much Does Tweeter Bucks Cost?
The front end price is $19. That's a one time fee, but there are multiple upsells. If you want to unlock the full version of this product, you will have to spend even more money. Let's take a look at each upsell below.
Upsell #1 – Tweeter Bucks Ultimate ($197)

Upsell #2 – Done For You With Traffic ($297)

Upsell #3 – Autopilot ($67)

Upsell #4 – Instant Profits ($67)
Upsell #5 – Reseller ($197)
Upsell #6 – 7 Streams of Income ($47)

Upsell #7 – Premium Traffic ($297)

Upsell # 8 – Unlimited ($97)

Upsell #9 – Ultimate ($97)
Some of these upgrades offer to give you a lot of traffic, which can be very useful if you want results FAST.

Basically, if you're willing to pay more, you will get more results. If you simply pay for the front end offer without any of the upgrades, you will likely find out that it will take you longer to start seeing any results.
Can You Get a Refund?
There's a 365 day refund policy. That's according to the sales page. There is no reason to doubt this policy, especially when you consider the fact that Wesley Virgin stands proudly behind his product.
Furthermore, the product is hosted on WarriorPlus, which means that it automatically comes with a money back guarantee, even if the vendor refuses to give it.
What I Like About Tweeter Bucks
1. It Teaches a Real Way to Make Money Online. Affiliate marketing is legit and many successful internet marketers and even fortune 500 companies have started out as affiliates for other successful organizations.

2. Wesley Virgin is a Well Known Internet Marketer & Course Creator. People either love or hate him. The sole fact that he is not afraid to stand behind his product, means that he is confident enough in what he is selling to people.

3. It Comes With a Refund Policy. If you don't like the product, you have 365 days to refund it.
What I Don't Like About Tweeter Bucks
1. Too Hyped Up. The sales page makes the entire thing look way easier than it actually is. A lot of people can end up disappointed when they realize that a lot of hard work and effort needs to be put into this to succeed.

2. The Vendor Has a Low Score. This indicates that most people who purchase any of his products are NOT satisfied. It probably has something to do with the hyped up claims of income.

3. Not The Best Way For Beginners To Get Started. If you're brand new to affiliate marketing and making money online, I know that there are better ways to begin. My favorite way involves getting free traffic from search engines like Google. Using a simple four step system that you can see on the next page, I'm able to earn up to $1K per SINGLE sale of a product or service I don't even own, on top of monthly recurring revenue.