Welcome to The Modern Millionaires review. Is this a legit business opportunity or a scam that you should be avoiding?
Here's what you need to know.
Abdul & Chance are the ones behind this program, which was previously known as the Millionaire Middleman, but for one reason or another, they have decided to change their name. This is something that LEGIT businesses usually avoid doing.
The Modern Millionaires is an expensive, high ticket course that costs a ton of cash upfront.
That's why it's entirely possible to come across biased and one-sided reviews, that praise this program like it's the best thing that ever happened on the internet, without providing you with any REAL VALUE that you can use in the buy or not decision.
Let me be completely transparent by letting you know up front that I'm not affiliated with The Modern Millionaires in any way or form, so I won't be offering you a thousand low-quality eBooks for joining through my link (because there isn't one)
Ready? Let's get started…
The Modern Millionaires Review Summary
Product Name: The Modern Millionaires 

Product Type: Digital Ads Agency Business Training Program

Product Creators: Abdul and Chance

Product Price: $7,000+

Recommended: Not Really!

Overall Score: 35/100

Summary: The Modern Millionaires is a training program that can teach you how to start your own ads agency, and offer your services to business owners that want to expand their reach and get a presence on Google.

The business model is legit by itself, but it does come with its own specifics, that you need to be aware of, like the fact that you will most likely have to chase your clients, face rejection on occasion, and adhere to tight deadlines once you start taking on clients.

Some people compare this business model like having 10 or 20 bosses instead of one, and I agree with them. There's also some shady stuff going on inside The Modern Millionaires.

It's all for the sake of attracting more people and getting them to join this program. If running your own digital ads agency sounds like a good option, then this may be what you're looking for.

However, I think that there are other, more suitable, beginner-friendly, and cost-effective alternatives for those that don't feel comfortable spending that much money upfront.
What is The Modern Millionaires About?
The Modern Millionaires is about generating leads and bringing in more clients to both local and worldwide businesses.

What you are going to learn inside this program is how to be the middleman between offline (or online) businesses and people that are interested in the services being offered within those businesses.

According to Abdul and Chance, the success behind The Modern Millionaires is due to the sheer simplicity of the business model, which can be summarized in 2 simple steps.
Step #1 – Get Top 1% Leads That Retain Monthly Clients
When you can show your potential clients that you have a way of generating leads to their business, on a consistent basis, at the fraction of the price that your competitors are charging, then the outcome can be you retaining your monthly clients.

This can be done by adopting an approach that Abdul and Chance call the 1-on-1 Method.

It is a technique developed by these guys that can supposedly increase your PAID ADS exposure, and decrease your costs, which means that your clients will pay less, but get more results. This method involves 1 ad per 1 keyword, hence the name
Step #2 – Have a Client Getting Machine To Scale
The 1-on-1 Method can be tricky to do alone, and it can be more time-consuming that one would realize.

That's why Abdul and Chance offer you a software inside The Modern Millionaires that can expedite the process of running one ad per keyword of your choice, making it possible to run a ton of campaigns at the same time.
Now you may be wondering, how is this method more effective than what other digital agencies are doing right now?

The answer is simple. By making sure that you present your ads to people based on what they have searched on Google, this can ensure that you are TARGETING the right audience with the correct message.

A more personalized approach is more likely to appeal to others, which means that the likelihood of people responding to your online ad campaigns is higher.
Is The Modern Millionaires Legit?
Yes, The Modern Millionaires is legit. Abdul and Chance will show you a business model that works great for business owners and clients alike.

The methods being taught inside are going to teach you how to connect different types of businesses with those that are interested, and it's all done using Google ads.
Even though the model is completely legit, there are some things that you should know, that may get you to reconsider getting involved with The Modern Millionaires in the first place.
Here's the thing. First of all, you may be aware that this program is endorsed by Kevin O'Leary, also known as Mr. Wonderfull from Shark Tank.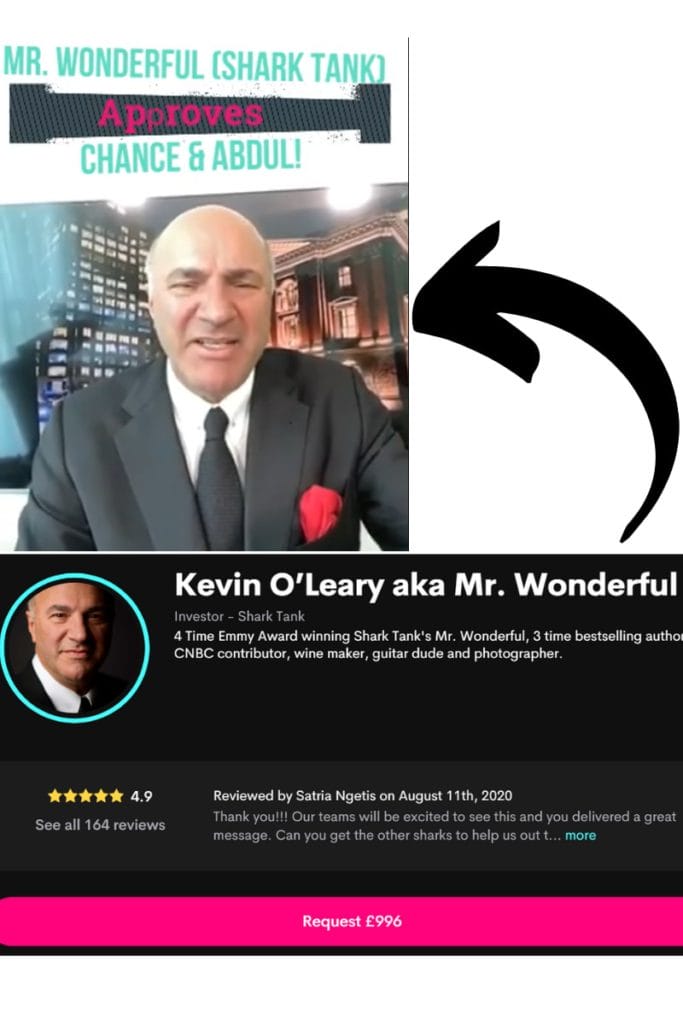 What Abdul and Chance left out, without mentioning is the fact that they've PAID Kevin O'Leary for that endorsement, and you can see that he is offering his services on Cameo in the following screenshot.
I get why they've done it, but that doesn't mean that I agree with their shady tactics to attract more people, by making it look like wealthy, and famous people are in love with The Modern Millionaires when that's just not true.
Something else, that I don't personally enjoy about these guys and their program is the fact that they make it seem easier than it's going to be.

In his free training, Abdul says that their most successful students are simply copying and pasting their business model, and are generating thousands a month.
At the same time, they clearly specify that this business model is NOT a get rich quick scheme and it will require hard work, and months of dedication before you get the chance to become profitable. A bit confusing, right?
Is The Modern Millionaires BBB Accredited?

The Modern Millionaires is NOT BBB accredited, and you can see that they are registered under their previous name.
Here's what some ex-members of this program have to say about their experience with them on the Better Business Bureau website.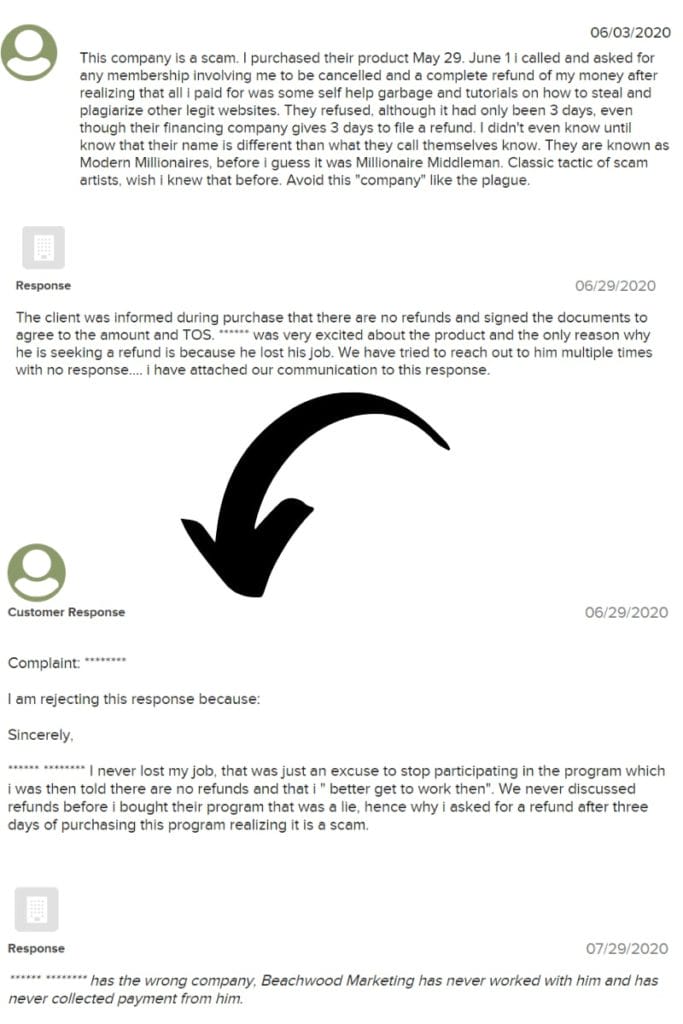 There seems to be an argument of some sorts between an unhappy customer and one of the team mebers of The Modern Millionaires, and after they exchange several messages, all of a sudden, they came to a realization that the person complaining has never purchased anything from them.

By the way, Beachwood Marketing is owned by Chance Anthony, the co-founder of The Modern Millionaires. If that's not shady, and misleading, I don't know what is. I leave the conclusion to you.
The Modern Millionaires Featured On Forbes
The Modern Millionaires is featured on Forbes, as part of a quote that one of the co-owners Abdul has made.

Anyone can be featured on Forbes if they have the cash to afford it so that doesn't really mean anything.

On top of that, the mentioned company is under their previous name, which was The Millionaire Middleman, so it looks like they don't want to pay Forbes (again) for a mention that includes their new company name.
It's important to understand that company owners do these things for publicity and to get more people to "trust" them.

That does not mean that there aren't any scams being mentioned on high authority websites such as Forbes, because there are.

What I'm trying to get at here, is that you shouldn't establish an opinion based solely on these things, because most often than not, all it takes is some cash to get the desired result, like being mentioned on Forbes.
Chance and Abdul – Are They a Scam?
Chance and Abdul are NOT a scam, and they have been involved in digital marketing for a while now. If there's one thing that these guys are good at, it's marketing themselves.

Clearly, they've gone above and beyond in trying to stand out from the rest of their competitors, and this can be seen by their high-quality marketing videos all over their website.

Each page is carefully designed to get you excited and pumped up about changing your financial future for the better. This is who they are, according to their bio.
Abdul Samad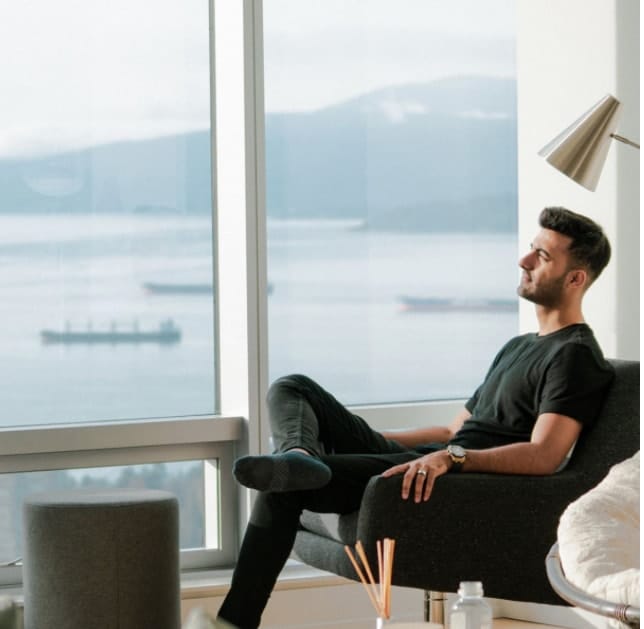 Abdul Samad is an international speaker, a best-selling author and he owns multiple 7 figure digital businesses.

He's been mentioned on Forbes and Entrepreneur, but we already established that anyone with enough cash in their pockets can be featured on these publication websites.

Apparently, after finally cracking the code of digital success, he now wants to share his secrets inside the Modern Millionaires.
Chance Anthony
Chance was raised on a farm in Idaho, so he learned about hard work from a young age.

He is a self-made entrepreneur and the owner of a 7 figure online business called Beachwood Marketing, being the co-owner of The Modern Millionaires, it's definitely safe to say that his guy knows a thing or two about digital marketing.
Inside The Modern Millionaires by Chance and Abdul
Inside The Modern Millionaires by Chance and Abdul, you will get access to 4 training modules, and a bunch of bonuses such as having access to a private Facebook community, and weekly coaching calls every Wednesday at 4 PM PST.

Recently, they have launched a new form of training inside The Modern Millionaires called the Coaching Workshop.

It's done 5 days a week, and it covers different topics each day. This bonus training is done by one of the more successful members of this training program. Here's a breakdown of everything that's inside.
Module #1 – The Foundation
The first part of the training is going to show you how to start your new online business the right way.

Making sure that you build out everything as it should be from the get-go, can ensure that you're off to a good start, and since you will be paying a lot of money for access to this training program, it's best that you listen to what's being taught inside.

You will learn things like mastering "The One Factor", how to 10x your productivity, and you will get access to weekly live calls that are more like webinars, which you can see alongside every other member of this program.

I strongly doubt that Chance and Abdul have the time to personally go through a one on one call with EACH member of The Modern Millionaires.

It only makes sense, if it's done in a more class-like environment with other people, right? Module one will finish you off by showing you how to choose your niche or segmented market that you will be focusing on.

The last three segments of this module are all about, how to buy a domain name, how to build your own website, and how to get your clients the easy way.
Module #2 – Prospecting & Sales
The second module starts by introducing you to prospecting and how it all works. You will learn how to simplify the whole process, so that you can ensure success in this industry, how to do proper niche research, setting up your CRM account, and everything else involved with that.

Then, the training goes through showing you how to get subdomains, and why they are important.

After you're done with that, you will get to learn about cold email marketing in their 2 part training inside the second module of The Modern Millionaires. 

After that, there are 4 video series about LinkedIn and how to use that platform to your advantage.

Even if you've never used LinkedIn before, they will show you how to get started inside this module.

Having a good portfolio to show to your potential clients, is going to increase your chances of landing your first client, which is why you will learn all about that here as well.

When you're done with all of that, all that's left is to learn how to set up payment processors, screencasting, setting up contracts, and closing deals with clients.
Module #3A – Driving Traffic (Google Ads)
This module is all about generating traffic (web visitors) using paid ads with Google. There's a lot of things that go into creating a successful Google ads campaign, and this module is going to cover all of that, including what are Google ads and how they work.

This is where you will get introduced to the importance of having a great landing page, and you will get familiar with their software that is going to help you build out your campaigns using the 1-on-1 method.

You will get a Google ads PDF Checklist, which is going to further help you in building out your campaigns.
Module #3B – Driving Traffic (Facebook Ads)
This is where you will learn all about traffic generation using Facebook ads, and how to go about it in the most efficient, way possible.

You will learn how to create your own Facebook page, Business Account, Ad account, and how to install the Facebook pixel for retargeting purposes.

Even if you don't know what any of this means, you will learn all about it inside The Modern Millionaire.

This module ends with an AdSpy and research bonus plus a PDF checklist. If you're only interested in Facebook traffic generation, then you should take a look at Blake Nubar's program here.
Module #3C – Driving Traffic (Lead Nurturing)
Driving traffic to your offer is half the battle. The next thing that you should do is learn how to nurture and take care of your leads by making sure that they are always reminded of your presence, and what you can do for them if they decided to become your clients.
Module #4 – How To Create an Autopilot System That Works For You
This is the last training module inside The Modern Millionaires, and it's all about creating your agency machine that will run things on semi autopilot on your behalf.

You will also learn how to hire KPI's, how to communicate with your newly found team, and a done for you store, which you can use at your convenience. This module is all about making sure that you automate everything that you can, and outsource the things that need to be done by a real person.
Here's a bunch of additional bonuses that you will get for becoming a part of this training program.
– The Portfolio Technique. It's going to show you how to get a client with no portfolio.
– Weekly Live Questions & Answers Session With Abdul and Chance.
– 5 Daily Coaching Workshops. They will be done by the top performers inside The Modern Millionaires.
– Past Recording Of Every Coaching Call That's Been Made.
– Live Recorded Sales Calls With Real Clients.
– Private Support Group On Facebook.
– 7 Figure Facebook training.
The Modern Millionaires Cost
The Modern Millionaires comes with a high cost, but you don't really get to find out how much it costs until you book that free call from one of the team members of this program.
Once you've scheduled and arranged a call, they will go through a series of questions, so that they can identify your level of experience in the field, and to personalize the approach that's needed for your own success online.
This means that prices can vary for each person that decides to get involved with The Modern Millionaires, but you shouldn't expect to pay any LESS than a few thousand dollars, on a monthly basis.
Also, you'd best be sure of your decision to go forward with The Modern Millionaires because they offer NO REFUNDS, meaning that once you pay, there's no way to get your money back if you ever changed your mind.
What I Like About The Modern Millionaires
1. The Business Model is Legit. What's being taught inside by Abdul and Chance, is what's currently working on today's market.

There are a lot of offline businesses, that know how valuable can having an online presence be, but don't know the first thing about it.

Since being a business owner means that they already have their hands full, it's normal for them to at least consider outsourcing this kind of service, which is where you come in, and offer to take care of that for them.

2. The Owners Are Real. Too often, have I stumbled upon products or services, that are being presented by FAKE owners, with pen names.

Almost all of the time, that is the case with SCAM products, and services that claim to teach you how to make a lot of money online, fast and easy. Since the owners of The Modern Millionaire are real, this can definitely be considered a good thing.
What I Don't Like About The Modern Millionaires
1. It's Too Expensive. We live in a day and age, where you can get an abundance of information and knowledge completely free of charge, so having to pay that much for any kind of training course or program is a big no-no in my book.

2. No Refunds. Since the price tag is very big, it's only natural that at least a small percentage of the people that buy this training program will end up not liking it, and asking for their money back.

Clearly, Abdul and Chance, don't want to be bothered with issuing refunds, so this leads me to believe that they are focused more on their own earnings rather than TRULY wanting to help others.

3. Shady Marketing. The owners of The Modern Millionaire, have paid a lot of money to make sure that their marketing is in place, and have even gone the extra mile to PAY for endorsements from famous entrepreneurs, and business publication websites.

They've done this to look more credible than they actually are, which is not a good thing in my opinion.
Do I Recommend The Modern Millionaires?
Not really and here's why. It costs thousands of dollars, and the refund policy is non-existent, which means that there is no way for anyone to get their money back, even if they end up not liking what they've bought.

Compared to the many other alternatives that are out there, I don't see why anyone would want to risk spending that much money on something that may not work out that well for them.
It's a risky investment, and if you're okay with that, go ahead and get involved with these guys, but it's NOT something that I would do.

Having said that, there are other ways to create an online business and work for yourself, without spending that much money.

If this sounds interesting, then you should see how these people are banking profits using a simple yet incredibly effective blueprint that so many neglect and lose out on that opportunity forever.