Welcome to my TeamBuildClub review. Can you really grow your downline and create a profitable MLM business online using the tools, training, and resources provided here, or is this another scam to avoid?
Here's what you need to know. The platform comes with a lot of benefits and features, even for free members.

It also offers a lucrative commission reward system for referring others and getting them to become paying members of TeamBuild Club. That's why, you can see a lot of one sided, biased reviews out there.
I want to point out that I'm not affiliated with this downline builder in any way or form, so don't expect a thousand low quality bonuses for joining through my links because you won't find any. 
By the time you're done here, you will know exactly what Teambuildclub.com is all about, without any hype or exaggerated claims of income.
Ready? Let's get started…
TeamBuildClub Review Summary
Product Name: TeamBuildClub

Product Type: MLM Downline Builder & Advertising Platform

Product Owner: Alexis Thomas

Product Price: €25 – €500

Overall Score: 40/100

Recommended: Not Really!

Summary: TeamBuild Club is a platform created for people interested in joining an MLM program and becoming active promoters of it.

You have the opportunity to earn income on 10 levels, which basically means that if you refer someone, they onboard someone, and so on until the 10th person, you could potentially earn money from all of that.

You can also leverage TeamBuild Club to advertise other offers. However, if you want to have any success with that, I recommend that you stick to niche markets like making money online, business opportunities, MLM, etc.

That's the target audience that you should appeal to. In my opinion, if you jump in early, then you have a chance to make some money with TeamBuild Club.

I also think that at some point, it will become saturated and harder to earn with this platform. I don't think that this particular opportunity is sustainable in the long run.

If you're looking for a more sustainable way to earn income online by leveraging your passions, hobbies, or general interest, then you should see this alternative below and find out why I call this my top favorite online business model.
What is TeamBuildClub?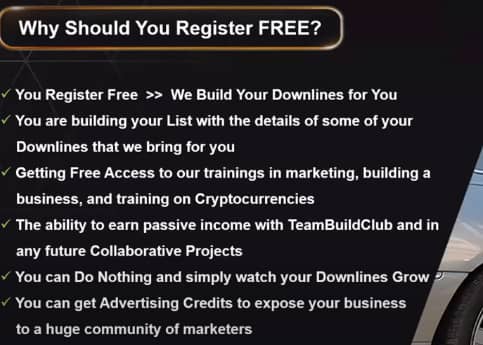 It's a brand new downline builder and advertising platform that allows you to get your hands on email leads and details of people interested in making money online. 
Once you sign up for TeamBuildClub, all members that have joined before you, regardless of whether they're free or paid ones, will be able to see your email and name.
This has the potential to lead to a lot of spam. There's a real chance that you might start getting promotional emails from people you've never heard of before.
Equally, with all members that join after you, there will be a tab with their names, email addresses, etc.

You can use that to get in contact with them or to promote stuff. Although I don't recommend doing that, it seems that this is what the platform is focused on. 
Is TeamBuildClub a Scam?
It's not a scam. TeamBuildClub looks like a legit platform that can serve as a way to generate leads.

It's important to understand that you won't be able to earn money from all the free leads that you get unless you upgrade to Gold, Platinum, or Diamond membership.
The number of leads that you can get is capped at 200. In other words, you won't be able to get more than 200 free leads with this platform.
Since TeamBuild Club is fairly new on the market, right now is the time to take advantage of this opportunity. I'm saying this because the program may get saturated pretty quickly.
In my opinion, this opportunity is suitable for people looking to earn some extra bucks on the side, as long as they are willing to spend some money upfront and don't mind the risk of losing them.
If you're looking for a more sustainable, long term way to create a profitable online business as a beginner, without having to spend money on paid ads, you should see this below.
Who Created TeamBuildClub?
Alexis Thomas. He is the founder and creator of TeamBuildClub. He graduated from the University of Athens and got a scholarship for a master's degree in London, UK.
In 2007, Alexis Thomas became a Certified Digital Marketing Manager. His company, Interconnectica, created TeamBuildClub in 2021 with one goal in mind. To help people break the rat race cycle and live life on their own terms.
The company's vision is to create a community of experts and a place where like minded individuals can network with each other.
How Does TeamBuildClub Work?
When you sign up as a free member of TeamBuildClub, you are presented with a bunch of different ways to earn money online.
You can build your email list with all the leads that you will get access to within the platform. Once a month, all Gold members and above get into the monthly pool that pays out guaranteed commissions. 
They are split up between all Gold, Platinum, and Diamond members. As long as you qualify, you can earn a split percentage of each member that joins and upgrades after you.
This applies even if you did not personally refer anyone into the platform, allowing you to earn passive commissions.
What's Inside TeamBuildClub?
Inside TeamBuildClub, you can get access to a bunch of different training videos, tools, and resources that can help you grow your own online business.

You can also leverage the paid traffic part of this platform to send leads to any affiliate program you want.
Here's a breakdown of everything included inside TeamBuild Club right now.
Bootcamp
The Bootcamp comes with a 19 minute long introduction video that explains in great detail everything you need to know about the platform.

Then you have another short 1 minute and 33 second long video that shows how to set up your account properly.
If at some point, you need to contact the support team, you can go through the 1 minute and 48 seconds long video that shows you exactly how to do that.
There's also a business tools section, which consists of another short 3 minute video that introduces you to all the business tools that are available inside TeamBuildClub.
Deposit & Withdraw. This 1 minute and 5 seconds video will show you how to deposit funds into your account and how to take out your earnings.
Buy & Use Vouchers. A voucher is a gift card. The way to acquire them is by either buying these vouchers or when someone gives them to you.

You can use them to entice people into signing up. The 1 minute and 32 seconds long video will show you the process that you need to go through when gifting or purchasing these vouchers.
Advertising Platform. This training video is 3 minutes 23 seconds long. It walks you through the process of using the advertising platform to buy text ads, banner ads, or advertising credits.
Finally, there's the training for paid members. It's 1 minute and 20 seconds long. Right now, the paid training is focused on helping you learn more about email marketing, bounce rates, how to reduce them, video marketing, and a quiz for entrepreneurs to keep members engaged.
Project Prelaunch

There are different projects going around throughout the year. Right now, there's a prelaunch that kicks off on the 1st of February 2022. You are allowed to lock in only 1 spot and the cost is €20.
You will be positioned according to the level of your membership. If you are at the highest level, then your entry will take priority over other, lower tier memberships. According to the presentation video, even free members can earn passively with this prelaunch.
The other criteria that will determine your position on the priority list is the date of your purchase. 
Business Tools
Free and paid members can take advantage of the business tools that can help grow your online business and increase your leads, conversions, and sales. There are 7 sub sections here and they cover the following things:

1. Attracting Scripts. There are 6 done for you scripts that you can use to promote TeamBuild Club and get more sign ups. You can use any marketing channel you wish including, Facebook, Twitter, Email, WhatsApp, etc.

2. Email Scripts. These are specifically designed to help with your email marketing campaigns. Currently, there are 4 email scripts for prospects that haven't yet joined TeamBuildClub and 2 more for those that are already free members of the platform.

3. Downloads. There are 6 downloadable resources here that can help you recruit more people and convert them into paying customers.

A PDF presentation, Virtual Backgrounds for Zoom, Facebook Cover, The Success Guide, Promotional Banners, and Team Build Club Logo. They are all focused on helping you recruit more people into the platform.

4. Promotional Center. This subsection offers a bunch of different banner ads with your own unique link on each one. You can use them on your own website or you can leverage someone else's high traffic website to promote this offer.
5. Free Tools. This subsection comes with 6 training videos that show you where to find things like free videos and photos, how to remove backgrounds from any picture, how to use the free graphic design platform Canva, how to add subtitles on any video, and how to use a paraphraser tool.

The tool allows you to take any post on social media, copy and paste it inside, and watch how it gets reworded so that you can use it as your own.

Finally, there's the sales funnel video training. It's one of the longest videos inside the platform and it covers things like the importance of having a funnel and how to set one up correctly.

6. Crypto Education. This is a guide on showing you how to get started with cryptocurrencies and how to leverage this massive opportunity.

7. Sneak Peek. This is all about showing you the kind of training that paid members get access to.
Paid Memberships
There are 5 sections here that can be accessed only by paid members. Depending on your membership level, you can access all or some of the training that gets covered inside.
My Network
This part of the platform helps you navigate and see your network. This includes being able to see who your sponsor is, more details about the free downline, the paid downline, your personally referred free and paid members.
Ads Platform
Here you can learn how to advertise on the platform and the different types of ads that you can run to promote your online business.

More specifically, how to promote TeamBuildClub using text ads, banner ads, and by purchasing ad credits.
How Much Does TeamBuildClub Cost?
1. Basic Membership (€25)
2. Silver Membership (€50)
3. Gold Membership (€100)
4. Platinum Membership (€200)
5. Diamond Membership (€500)
Naturally, the higher you upgrade, the more training you get, and your commissions increase as well.
What I Like About TeamBuildClub
1. It's Brand New. This means that there is still room for growth within this platform. There will probably be a lot of hype around TeamBuild Club, which is why people have areal chance to make some money right now.

2. The Owner Seems Legit.  It looks like Alexis Thomas has been involved with digital marketing and making money online for some time now. 
What I Don't Like About TeamBuildClub
1. It's Not Sustainable. In my opinion, at some point in the future, it will become really difficult to grow your downline and recruit more people.

When that happens, people will stop paying their membership fees and they will stop interacting with the platform.
This will cause a chain of reaction and those that are making money with TeamBuild Club will stop earning because their referrals are no longer active. When that happens the entire business structure will collapse.
2. It Can Be Costly. If you decide to start spending money on paid ads to generate traffic, it can become quite expensive with no guarantees for conversions.

3. Not The Best Business Model for Beginners. I think that MLM in general has a low success rate and most people that end up involved with it end up losing money. You need to recruit people and help them do the same. For beginners, it may be very difficult to do that.
Is There a Better Alternative?
If you're in it for the long run, I think that there are better ways to create a successful online business that's not based on recruiting people.
To me, affiliate marketing is by far the best business model for beginners. The start up costs are very low, it's sustainable, and you can promote stuff that you are actually passionate about if you wanted to.
Using this business model and the 4 step blueprint that you will see on the next page, I am able to earn consistent recurring passive income and I've already landed a few high ticket commissions of up to $1,000 from a SINGLE product sale that I don't even own.