Welcome to my Millionaire Biz Pro review. I received a very clickbaity email today saying that I was owed money.

When I clicked on the link inside that email, I was transferred to a landing page that was pitching this digital product that can supposedly turn a $47 investment into $1000+ fast and easy.

Was I convinced? Not by a long shot and here's why.
First of all, the email that I got was from Millionaire Biz Pro's official support address, not from someone that's affiliated with this program.

Why should I trust someone that's deceiving me into thinking that I'm owed money just so that I can see their sales page?
That's a bad form of marketing in my opinion.

With that being said I'm sure that you're wondering if this program is a scam or not, and let me tell you right now that you won't be expecting what I'm about to reveal to you.
Let me be completely transparent by letting you know up front that I'm not affiliated with Millionaire Biz Pro in any way or form, so I won't be trying to sell anything to you.
Instead, you will see everything about this program, including some shady tactics that the owner is implementing in order to get more people interested in this offer.
Millionaire Biz Pro Review Summary
Product Name: Millionaire Biz Pro

Product Type: Affiliate Marketing Training

Product Owner: Derek Maxwell Unknown

Product Price: $47 + Upsells

Recommended: No!

Overall Score: 15/100

Summary: Millionaire Biz Pro is an affiliate marketing training with more than questionable training quality.

Once you're a member, expect to be overwhelmed by the many upsells that are way more expensive than the initial product's price but equally worthless.

Each upsell will unlock additional training opportunities, but everything inside can be found for free online. This program is a big scam.

Everything inside it is fake including the owner and all the testimonials. When you go through this review you will see undeniable proof of my claims.

People should stay away from this affiliate marketing training because it's a complete waste of time and money. 
What is Millionaire Biz Pro?
Millionaire Biz Pro is presented as a done for you system that can generate cash with the push of a button.

The main target audience of this product are people with limited experience in making money online. w

That's because these hyped-up claims that we can see on their sales video can only appeal to people who don't know the true nature of these scam products that plague the internet.
With this program, is that you will receive some pre-build landing pages, that can capture people's emails, and redirect them to another pre-designed landing page that has your affiliate links inside.

When someone makes a purchase you will get compensated via commission. The products you will be promoting are all associated with Millionaire BizPro.
Affiliate marketing is a legit business model and many people have achieved financial success with it.

The problem is that there are many low-quality training programs such as this one, Easy Retired Millionaire, and Daily Digital Club that give the whole industry a bad name
If you were left with the impression that you can make easy money with Millionaire Biz Pro then you should get that idea off your mind as soon as you can, otherwise, you will be very disappointed.

Not only will you not make any money with this program, but there is a high risk of losing some due to the vast amount of upsells that will be thrown your way.

You will be encouraged to buy traffic (web users) from "trusted sources" that will reward the unknown owners of this program when they send clients their way.
Is Millionaire Biz Pro a Scam?
Yes, Millionaire Biz Pro is a scam and a big waste of time.

Technically, you will get something for your money, and the training materials inside can truly help beginners, BUT you can find all of the information that's inside this platform for free by going on Youtube.

There's just no point in paying for something that you can get for free, is it?
That's not the only reason why I'm saying that this program is a scam. First off, the owner Derek Maxwell is not really the one behind this training program, and the image that you are shown on their sales page is just a stock image taken from Shuttershock.
It doesn't stop there. Have you seen the entire sales video that's on their webpage, and if so do you remember Megan that had never recorded herself before?
As it turns out the camera-shy girl Megan is actually a spokesperson on Fiverr, that gets paid to provide fake testimonials for scammers like Millionaire Biz Pro.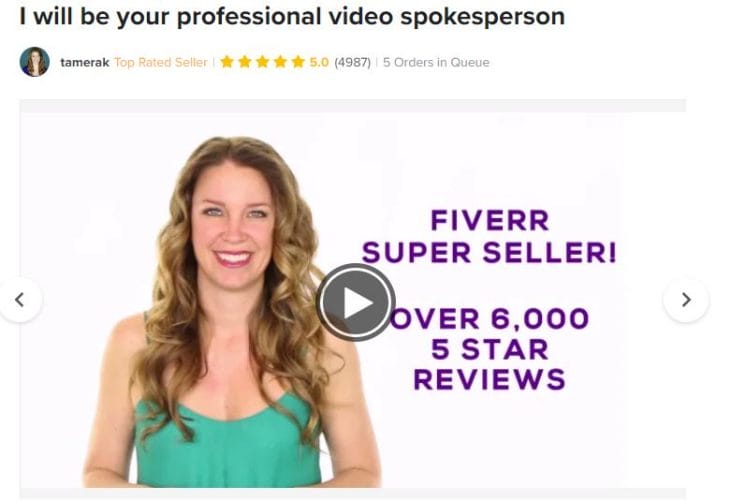 Finally, this program looks abandoned. It hasn't been updated since 2019, which means there is a very high chance that most of the features inside will NOT work anymore.

Not to mention that the internet evolves very quickly. What worked a few years ago may not be as effective anymore.
That's why I am labeling this a scam product that's only purpose is to get your money, without providing any REAL value in return. 
Who Created Millionaire Biz Pro?
As you've seen by now, the real owner is unknown and presents himself as the fake persona called Derek Maxwell.

Isn't it a bit strange that the owner would go to such an extent to make you believe that he is someone that he's not? Would you trust such a person because I wouldn't? 
I get it though. The real owner is fully aware of his garbage affiliate marketing training and knows that he is ripping people off, which is why he doesn't want people to know his/her true identity.
I did thorough and extensive research but I wasn't able to find out who the real owner of Millionaire Biz Pro is. There's no digital footprint anywhere, so If you know something about who the actual owners are, please let me know.
What's Inside Millionaire Biz Pro?
Inside Millionaire Biz Pro you will see a bunch of training videos hosted by a guy that calls himself Chris. The training consists of a basic explanation of the 3 steps needed to generate revenue online.
1. Create a Website
2. Find Affiliate Products to Promote
3. Getting Traffic (visitors) To Your Website an Affiliate offer
This program will have several pre-built landing pages that are connected with various affiliate products that you can promote. You can pick a landing page that has the most lucrative offers, and promote it as your own to people who are using the internet.
Once you've decided on your pre-built pages, you will be shown how to connect them to an autoresponder called GVO. This is done so that you can capture your visitors' emails, and send them promotional emails to maximize your earnings potential.
The last thing that you will have to do is to set up and connect a payment system through PayPal or Stripe and Chirs shows you how to do that in his training videos.
The problem is that if you don't know how to drive traffic to these websites, you can't achieve any results. The only way for you to get some form of help with that is by buying into the upsells.
Millionaire Biz Pro, Price, Upsells & Refunds
Millionaire Biz Pro comes with a price tag of $47 (one-time payment) but the only way to unlock the complete affiliate marketing training is by buying all of the additional upsells. Keep in mind that they are far more expensive than the front-end product.
Upsell #1 – WebFire Software ($347 Yearly Or $197/Month)
This is for people that don't know how to generate traffic to their offers and need help with that. Chris offers you to become part of an external program called WebFire, where you can learn all about traffic generation.

This is a nice little way for the owners of Millionaire Biz Pro to earn som extra affiliate commissions from all their clients. 
Upsell #2 – Delta Package ($37.95/Month)
This upsell is going to unlock some additional training, and you will get access to more done for you pages. The training inside is nothing special, so you could find it for free on the web.
Upsell #3 – Platinum Package ($197)
This is an upped version of the Delta Package where you will get more of everything.
You should expect to pay an additional $10/month for the autoresponder service for your email marketing campaigns.
This product is currently being sold on the ClickBetter marketplace and it comes with a 60-day money-back guarantee. It's important to understand that this money-back guarantee applies to the MAIN PRODUCT ONLY.

In other words, you won't be able to ask for a refund on any on the upsells UNLESS it specifically says that you can.
What I Like About Millionaire Biz Pro
1. Email Marketing Works. This is part of the training materials inside Millionaire Biz Pro, and it's the only part of the program that is somewhat worthwhile.

Email marketing works, and people have been utilizing it since the beginning of the digital age.

2. You Can Get a Refund. If you decide to get your initial $47 investment back, you can do so within the given time frame.

This product is being distributed on ClickBetter, which basically means that they will vouch for your satisfaction if you were to ever request a refund.
What I Don't Like About Millionaire Biz Pro
1. Too Hyped Up. The sales video tries really hard to convince people that they can make easy money fast, without much effort in the first place.

Every single person that joins this affiliate marketing training program with that impression will end up being very disappointed.

2. Too Many Essential Upsells. Most of the upsells are needed in order to unlock the full version of Millionaire Biz Pro, yet they act as independent products. Confusing, I know…
3. The Whole Training is a Big Sales Funnel. Once you become a member, you will be bombarded with different offers that unlock additional things and give you access to irresistible offers that are being presented as the best things that ever happened on the internet.

Even if you decide to buy into a single upsell, you will immediately be met with another, and so on down the rabbit hole.

4. Fake Owner & Fake Success Stories. Basically, everything inside is fake, including the testimonials that are supposed to prove how great of a product this is. 
5. Fake Scarcity is a Big Factor. They are throwing at you every sales tactic and marketing pitch that currently works on people. 

The sales page even tries to scare you into thinking that this offer is available for a limited time only. Try opening the website a day from now and you will see that the fake timer inside the sales page has been reset and nothing's changed.

6. Done For You Products Lack Quality. Most if not all done for you systems are being used by many other people, and in some cases are just rehashed versions of the original sales page.

Imagine what can happen if a thousand people start using the same landing pages, with the same content inside, targeting the same audience.

Many people will start getting the same promotional letters, messages, and landing page access, which will lead to complaints about spam.
My Recommendation
Affiliate marketing is a legit business model and I think that many people can have success with it. Just not with Millionaire Biz Pro.

There is nothing inside this program that makes me think it's worth the investment. They lie multiple times on their sales video about the owner of this program and the success stories. 
The overall training quality is low and they only go as far as to cover all the basics of affiliate marketing, and making money online, which you can find for free online.
There is a way to learn about affiliate marketing, and get the right training without having to invest anything upfront.

Instead of being lured with fake promises of vast wealth and riches, you can see what it REALLY takes to make money online with affiliate marketing without all the fluff, upsells, and exaggerations.
If that sounds interesting then you should check out how these people are banking profits using a simple yet incredibly effective blueprint that so many people neglect and lose out on that opportunity forever.