Welcome to my Launch With Rudy review. Can you really copy and paste your way to success with the help of these DFY (Done For You) ads, sales funnels, and email swipes, or is this just another scam to avoid?
Here's what you need to know. The founder of this all in one package has a lot of experience as an online entrepreneur, mostly with Facebook ads.

If you have some experience with internet marketing and making money online, Rudy's DFY swipes can help you a lot. 
However, they are NOT for everyone. By the time you're done here, you will know EXACTLY what I mean by that, who is this REALLY good for, and how fast you can actually get results.
For the sake of full transparency, I want to let you know upfront that I'm not affiliated with Rudy or any of his programs, courses, and DFY packs, so don't expect a thousand bonuses for joining through my links because you won't find any.
Ready? Let's get started…
Launch With Rudy Review
Product Name: Launch With Rudy

Product Owner: Rudy Mawer

Product Price: $29

Product Type: Done For You Online Marketing Swipes and Sales Funnels

Overall Score: 55/100

Recommended: Not For Everyone!

Summary: Rudy Mawer's DFY ads and funnels swipe is a library of squeeze pages made to collect emails, ad copy to get these clicks going, checkout page template, and email marketing swipes to start converting subscribers into customers.

If you have a decent flow of traffic (web users) to an offer, website, or funnel, but you're not seeing good conversion rates, the problem could be either one or both of the following:

1. Your Copy Isn't Good. You may be targeting the correct people, but you're not sending the right message to your target audience. Feeling lost for words?

Not sure how to talk to your audience, and you fail to deliver results even though you're targeting the right people?

Then, you will likely benefit from Launch With Rudy's package. Or you could be dealing with the same problem as me when I first got started with my online business.

2. You're Not Targeting The Right Audience. If that's the case, you need to learn how to target people with BUYER's intent.

At the very least, they should have a genuine interest in your niche market. Does that sound like you?

Then you need to find a better traffic source. You may also want to rethink your entire marketing strategy.

One thing is for sure, though. Rudy Mawer's DFY ads and funnels swipe library is NOT for you.

If you want to learn how to attract people that are always ready to buy from you without having to pay for ads and start an online business focused on promoting other people's products using organic, laser targeted traffic methods, you should see this below.
What is Launch With Rudy?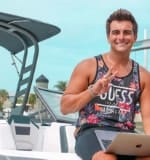 It's a collection of Rudy Mawer's top converting library of email swipes, ads, sales funnels, and everything else you would need to close sales online and get more clients.
If you are focused on running Facebook ads but you're not seeing good returns on your investment, Rudy's package can help you with that.
He's got a ton of experience with online advertisements. After spending millions in ads inside the world's biggest social media platform, he gathered an abundance of data that helped him learn what type of ad copy works, what templates to use according to the target audience, and more.
He is also the founder of a program called ROI Machines, which is focused on helping eCommerce store owners, and digital entrepreneurs with making money online by creating tailored strategies customized for their type of online business.
In other words, the guy clearly knows his stuff. The only problem that I see with Launch With Rudy's DFY ads and funnels is that they might not be as evergreen and done for you as one would think.
You will have to regularly tweak and peak them until you find exactly what works for your type of audience.

They can serve as a guideline and help you create something unique without having to start from scratch.
However, If you simply copy and paste everything without adding your own uniqueness to it, your conversion rates will probably suffer. 
Is Launch With Rudy a Scam?
No, it's not a scam. Rudy's DFY swipes can help you a lot if you lack copywriting skills. It's a good solution for people trying to make money online but don't know how to convince others to buy from them or the products they promote.
Launch With Rudy is suitable for most niche markets such as info products, fitness programs, and almost anyone in the online world.
If you're looking for a proven roadmap to follow for your email marketing sequences, social media ads, or sales pages, then this may be what you're looking for.
However, if you're not interested in running paid ads for your online business, you don't have a decent sized email list yet, and you don't have an online brand, be it personal or not, you might want to consider something different. 
If no one knows who you are online, you may not want to rush into selling stuff to people. Not yet, anyway.

Learn how to create an online business with completely free traffic sources and build a brand that people will know, like, and trust by clicking below.
What's Inside Launch With Rudy?
Inside Rudy's DFY swipes, you will get a lot of high quality resources that can help you get more clicks, conversions, and sales.
As an owner of a marketing agency, Rudy knows exactly how to get internet users to perform specific actions, be it responding to CTA's (call to actions) such as opening emails clicking on Facebook ads, or simply leaving their emails and agreeing to receive further communication from you.
Here's exactly what you will be getting inside Launch With Rudy.
Sales Funnel Templates
A sales funnel can be summarized into a series of steps that a potential prospect takes to become a paying customer.

There are four stages of a successful funnel. They can be broken down into awareness, interest, decision, and action. Crazyegg have an awesome article that explains that in detail.
When you buy Rudy's DFY swipes, you will get access to 10 different sales funnels in different niches.

For a clear example of how they will look like, you can refer to the Launch With Rudy's sales page. It was created by the same people that made all the other funnels that you can have access to. 
Facebook Ads Swipes
Here, you will get to leverage done for you sales copy made specifically for Facebook ads.

There will be about 15 different swipes in various niches ranging from eCommerce to high ticket coaching. Even if your industry is not covered, you can still leverage the templates provided and create your own high converting copy.

One of the "fast action" bonuses designed to convince you into buying Rudy's DFY swipes is a guide showing you what to do when your Facebook ad account gets banned.
Pre Built Email Messages
If you've ever wondered what to write in your messaging campaigns, this part of Rudy's DFY swipes can help you fill the gap in your email marketing. To be more precise, you will get access to 5 different sequences as follows:
1. Membership Site Promo Launch. Do you have a membership site that you want to sell? Maybe you're an affiliate of such a platform.

These email series are designed to help convince your audience WHY they should join your site and become paying members. As a bonus from Rudy, you will get a VIP Upgrade email sequence.

2.Ebook, eCommerce Product Launch. You can pre sale your audience on your latest products or eBooks and hype them up before you send them to your online store, or checkout page, where they can make a purchase.
3. Follow Up Sequences. These emails will promote a product or service of your choice, regardless of its type. As long as you can add your own unique touch to it, you can use these follow ups to sell your stuff.

4. Cart Abandonment Sequence. These series are suited for online store owners. Whenever a potential customer reaches your cart but decides not to follow through with the purchase, they will get a series of emails reminding them that they can still buy your product.
Rudy's Additional Incentives
Here are some of the extra offers Rudy has put out for his potential customers:

– 30 Days Ads & Funnels Challenge. This offer allows you to take advantage of one month's worth of video training series that guides you through the proper use of the ad copy, email series, and sales funnels provided inside.

– Ultimate Checkout Page Template & Upsell Pages. See Rudy's "One Step Checkout Method" in action and learn how you can implement it in your own funnels.

You will also get access to various upsell templates that can increase your chance of squeezing the most out of your customers by exposing them to more than one offer.

– Free Live Training. Rudy hosts live training on a weekly basis. This will allow you to attend one of these events without having to pay anything extra.

– Free Biz Audit. You can attend one complimentary call with one of Rudy's marketing specialists.

According to the sales page, the sole intention of this call is to help them learn more about your business and help you get the most out of the DFY swipes.

However, I have a strong feeling that someone on the other line will try and upsell you on either Rudy Mawer's ROI Machines program or something else.
Can You Get a Refund on Launch With Rudy?
Yes, you can get a refund within 30 days, but it is subject to terms and conditions. I know you haven't read the fine print at the end of the sales page.

Not to worry, I'll go over exactly what it says about the money back guarantee. You qualify for a refund as long as you:
1. You Must Go Through Everything Inside & Take Action on it. This includes all the bonuses and incentives. Then, you have to show documented proof that you've taken action and implemented everything you've learned inside.

2. You Have to Leverage the Support. There's a dedicated support team you can access via email. You have to raise any concerns, issues, or struggles you have when it comes to achieving good results and ask for help.

3. Document Your Proof In a Shareable Document. Furthermore, you have to start implementing and taking action within 7 days of your purchase while keeping track and documenting your progress. 
As you can see, the 30 day money back guarantee comes with its own strings attached to it, so keep them in mind when you make your purchase.
What I Like About Launch With Rudy
1. He Knows His Stuff. Rudy Mawer is an experienced digital marketer with huge success in the online world. He's not one of those "fake it until you make it" types of people.

2. High Quality Templates. You will leverage swipes that have been proven to work for Rudy and his clients, meaning that you already know they have a high chance of converting people into paying clients. As long as you have every other aspect needed to make that sale in place, that is.

3. Cheap Price. You get a lot of useful resources for a low price. What's not to like?
What I Don't Like About Launch With Rudy
1. You Can't Just Copy & Paste Your Way to Success. The swipe files can serve as a guide, showing you what approach to take when designing your own copy.

2. It's Focused on a Wide Variety of Niche Markets. I think it's a con because you won't be able to leverage everything you're offered inside this program. Not by a long shot. Unless you have a business that covers a bunch of niche markets at the same time, you will NOT be able to leverage absolutely everything you're offered here.

3. Not For Beginners. If you're not paying for ads, and if you don't already have a well established online business with a big email list and lots of prospects to market your stuff to, then you won't find much value in Rudy's DFY swipes.
Is There a Better Alternative?
It depends. If you're focused on running paid ads online and increasing your returns, then Launch With Rudy may be able to help you out with that.

However, if you're a beginner with no prior experience in making money online, and you haven't cracked the code of successful traffic generation yet, then this is probably not for you.
Instead of spending money on ads, learning how to create sales letters, promotional swipes, and sales funnels, you can create an online business around your passions, hobbies, and interests. 
Then, all you have to do is connect with other people that share these interests with you.

There's no hard selling involved, and you don't have to spend a bunch of money on paid ads, deal with customer service issues like refunds, chargebacks, or buying thousands of dollars worth of products in bulk. 
There is a better way to get started.