Is Smart Crowd a scam that we should be avoiding or a legit opportunity to earn money online?

Let me start off by letting you know up front that this is a legit platform that can help people but to a limited extent.
Smart Crowd is a freelance platform where people can find different jobs or gigs, that big companies, and entrepreneurs outsource as part of their work. 
The truth is that there are MANY freelancers out there and a lot of platforms that offer similar jobs.

In other words, the competition is quite fierce, so there's a good number of things that you need to know before diving into the deep parts of this industry.
In order to help you truly understand if Smart Crowd is for you or not, I made this review that outlines everything that you need to know to see if you're a good fit for this kind of work. 
I've done the research, so you don't have to. By the time you go through this review, you will know how much can you realistically make with Smart Crowd, what kind of gigs can you land, how frequently should you expect to land gigs, and more.
Smart Crowd Review Summary
Product Name: Smart Crowd

Product Type: Work At Home Job Listing Platform

Product Creator: Lionbridge

Product Price: Free

Recommended: Not Really!

Overall Score: 50/100

Summary: Smart Crowd is a job listing platform, where freelancers can find all kinds of different jobs, and tasks to complete on behalf of some big company names.

On a daily basis, these companies need help from freelancers to improve their products and services.

You don't need any special skills, but being able to do something that is in demand that many people cant, can be a pretty solid advantage.

Even if that's not the case, you could still land some decent gigs, but be prepared that there is going to be a waiting period until you can find suitable gigs, and the overall amount of work that you can get varies a lot.

Sometimes you can get gigs daily, but in some instances, a lot of time can go by without you getting any offers.

Apart from that, the earning potential with Smart Crowd is fairly limited and can be considered as a part-time opportunity that can possibly help you make some money on the side.

Given the fact that, if you don't have some sort of skill to naturally stand out, it can be difficult to become recognized as a good freelancer, and your competition will beat you if they can stand out from the crowd better than you.

You would have to put in a lot of effort to get to a certain level, and even then, the income potential is only limited by the amount of work that you're given.

In other words, you rely on the NEED of these big companies for freelancers, and you're not really in control.

For that, and a few other reasons that I will mention below, I don't recommend Smart Crowd to those that want to earn a full-time income online.

I know for a fact that with the same amount of effort that you can put into this platform, you can be making much more without the limitations of similar freelance job listing sites
What Is Smart Crowd?
Smart Crowd is a website that provides people with the opportunity to complete different jobs and get paid for that.

These job listing websites are not new on the market, and if you're familiar with freelancing, then you've probably heard of some of the other job listing platforms such as Upwork, Fiverr, and Rat Race Rebellion. 
In this case, Smart Crowd serves a "bridge" between all the freelancers out there looking for jobs, and the companies that have a lot of them.
While most tasks don't require that you have a degree in rocket engineering, they can be time-consuming, repetitive, etc.

The big thing that differentiates Smart Crowd from all the other similar websites out there, is the fact that they've partnered with many of the MAJOR brands like Canon, Adobe, Caterpillar, Cisco, Dell, and many more. For a full list of their partners Click Here.
Previously known as Virtual Bee, Smart Crowd has 100,000+ freelancers that are registered, and are actively seeking work inside the platform.

While the jobs and gigs vary, the ones that pay the most involve data entry and interpreting.

If you're bilingual, then this can serve you well, but you know that already don't you?
Is Smart Crowd a Scam?
No, Smart Crowd is not a scam, and it has helped a lot of people to earn some money online. This is a platform that anyone looking for part-time work from home can consider as a viable source of income.

Although the website is not a scam, the earning potential is limited. It can be a really good opportunity for interpreters, those with data entry skills, and anyone who is interested in becoming a freelancer. 
Until you become a known freelancer with a solid reputation in the field, you should expect to be chasing jobs, and gigs, and pitching yourself to multiple places at once.

At first, the response rate may not be that big, but if you manage to break through that initial barrier, you can potentially unlock the doors for more gigs, and if you become good enough, companies will start looking for you instead of the other way around.
On the downside of things, Smart Crowd cannot provide a good opportunity for those looking to earn a full-time income online.

If that's what you're after, then I suggest that you take action, by getting familiar with the best way of earning passive income online, while doing the things you love.
How Does Smart Crowd Work?
Smart Crowd works in 3 steps.
Step #1 – Sign Up
In order to be eligible for joining Smart Crowd, you need to be at least 18 years of age. The signing up process is fast, and you have to fill out your name, email address, you know, the usual things.
Step #2 – Highlight Your Skills
After you sign up, you will receive an application form to your email, that you will have to fill out in order to continue with your submission.
You should be very thorough when completing the form, and leave nothing out in order to maximize your exposure potential.
Once you've filled all that up, you can then continue safely to the next phase. 
Step #3 – Placement Test
This is a set of tests that are available right now, to determine your skill level.
You can choose to complete as many of them as you like, the more you do, the better your chances of getting more gig offers is.

You can't do multiple tests at once, so you would have to undertake them one by one.

Most of them are not that long, and you should be done and ready in less than an hour.
The placement test is the most important step that you need to complete, so you should focus your efforts on that alone.

In order for Smart Crowd to establish your skill set level, you will need to undergo these tests and make sure that you pay attention to the questions being asked.

By completing them, Smart Crowd can determine your level of competency on your reading comprehension skills in English, which consists of a dozen questions based on a given text that you need to read.
Business Address Matching
This is a series of skill tests to determine your ability to pay attention to details, and how developed it is. You will be comparing different addresses, and spotting any mistakes or differences.

This is done because many of the jobs that are listed on Smart Crowd require that you pay really good attention to details. In other words, the higher you score here, the better it is for you.
Reading Comprehension In a Foreign Language
Smart Crowd works with companies from all around the world, so in many cases, there are jobs that require you to read, and translate stuff from English to another language, so knowing more than one language here can be of big use to you.
The reason why I think that it's important to take your time, and complete as many evaluation tests as you possibly can, is because you will only be able to match with jobs and gigs that you will be good for.

This means that you will get offers only related to the tests that you've completed and had a decent score on. The score ranges from 0-100 while 100 being the highest.

Obviously, you should try and score as higher as you possibly can. That's the only way to stand out from the rest, and prove your skills the RIGHT way so that Smart Crowd can correctly match you with different tasks, and gigs.
Who Created Smart Crowd?
Smart Crowd's parent company is Lionbridge. They have been around for a while now, and over the years, there have been a few complaints about the way they do business, If you take a look at the following screenshot from a thread on Reddit, you will see that people have been burned by Lionbridge in the past.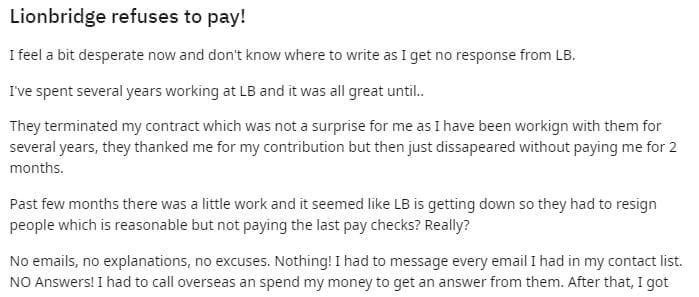 This may have been due to a human error or something similar, but you should definitely take that into consideration in making your final decision about Smart Crowd.
Overall, Lionbridge has a solid reputation online and is even featured in Forbes as one of the top 100 most trustworthy companies in America.
Smart Crowd Job Listings
As I mentioned already, there is a fair number of different jobs that you can apply for in various different industries, but the MOST in-demand jobs right now on Smart Crowd are the following:
Ads Quality Rater
This job involves you looking at different websites, and providing feedback on the ads that you've come across.

You will need to let them know things like the relevancy of the ads that you've seen, and how close do they match your own personal interests and things of that nature.
Internet Accessor
This job will require that you go on different websites, and provide feedback on the accessibility, and user-friendliness of the websites. "How easy was it to find what you're looking for?" and things like that are going to be questions that you should know how to answer correctly.
Interpreter
If you speak multiple languages, then you might want to check if there are interpreter jobs matching the languages that you know.

Many of the companies that use Smart Crowd are international, so there's a big variety of different languages that you can apply for as an interpreter or translator.
Search Engine Evaluator
You will be asked to conduct searches on Google, or any other search engine to see the relevancy of the results that you get according to the search term that you've used.
Map Quality Analyst
You will need to evaluate the maps on different websites and determine whether or not they need to improve on creating things, and you should comment on your overall experience with these maps.
Social Media Evaluator
You will be exposed to different social media ads, and you will have to provide feedback on how they made you feel, how relevant they were, and things of that nature.

The minimum requirements to apply for similar jobs are to have no more than a 3-year-old smartphone and you need to have a high level of cultural awareness in regards to entertainment, media, sports, business, etc.
Test Associate
You will be tasked with testing out different products or services and providing your feedback via surveys, interviews, or by simply commenting on your experience in a written or verbal form.
Transcriptionist
With these types of jobs, you will be given audio or text files that you need to translate from one language to another in the most efficient and professional way that you can.
Voice Data Collector
Different companies, and organizations, oftentimes need to collect voice data from different people for their projects. Your job is to read something aloud and let your voice be recorded so that these companies can use it.
How Much Can You Really Make With Smart Crowd?
Every job that you can get assigned to and the pay that you will get is determined on a case by case scenario. However, there are different TYPES of jobs that you can get offered to complete, and they pay more or less the same amount each time. 
Generally, you get hired for a set number of hours, and you will earn by the hour.
In some instances, you can get paid LOWER than the minimum wage for a few hours of your time. It's important to realize that the amount of work and the job offers that you get, are strongly dependent on your location.

For example, there may be work available for people in Canada, and the US, but not for those in the UK or Australia. It goes the other way around too. 
In any case, wherever you are in the world, there is a cap of 20 working hours per week.

This means that you won't be able to work for Smart Crowd for more than twenty hours each week. In other words, the MAXIMUM amount that you can earn is a part-time income. 
Most of the time, especially in the beginning you won't get that many hours, and they won't be nearly enough to pay you like a part-time job. 
The earning potential is limited, and the effort that it takes to break into freelancing is a lot. You have to ask yourself, is it really worth it in the end?

In my opinion, it's not because, with the same amount of effort, you can be earning way more than that on a complete PASSIVE basis.
What Do I Like About Smart Crowd?
1. You Can Work When & Where You Want. No one will ever force you to take jobs you don't want to, and you only get to accept offers that you truly want to complete. It's also 100% remote, so you can work from anywhere in the world, as long as you have an internet connection. 

2. It's Great For Earning Some Extra Money. Not always, but when there is work, you can expect to be making some money on the side, completing simple jobs, and providing feedback to different companies.

3. You Can Get Help. You will get training and support that can help you become a better freelancer and land gigs.

If you're looking for decent training that can further help you along with your freelance career, then you should take a look at My Freelance Paycheck. 

4. There's a Wide Range of Jobs. You're not limited to only one or two types of gigs that you can do.

There are many different jobs that you can complete, and get paid for, in various different skill set requirements.

Smart Crowd has done a very smart job of making sure to attract people with different skills.
What I Don't Like About Smart Crowd
1. Limited Earnings Potential. As I mentioned already, you can only complete up to 20 hours per week of work with Smart Crowd, with the majority of its members doing even less than that.

With that in mind, you shouldn't rely too much on this platform as an opportunity for making a lot of money.

2. Not Enough Jobs. There simply aren't enough jobs for everyone, as it is with many of the other similar freelance websites out there.

The majority of jobs will be taken by the already proven members because the companies offering these jobs will be more inclined to giving that work to someone they KNOW will do a good job, which leads me to the next point.
3. The Freelance Competition is Fierce. There's a lot of seasoned freelancers on Smart Crowd, and everywhere else, that have a solid reputation as people who are experienced in the field, and most companies will be looking out for them to complete their jobs.

I don't blame them, and neither should you. Why would they risk outsourcing their jobs to people they don't know anything about?

By doing this, they risk wasting time, and resources if that person does a poor job, or fails to complete it.
4. It's Not Worth The Effort. When you consider everything so far, you've probably realized that the earning potential is not that high, and you can only do 20 hours of work with Smart Crowd per week.

This means that you will get way less than that in the beginning, and breaking into the top few freelancers that get all the work, will take a lot of time, and effort.

Even if you get to that point, you STILL won't be able to earn a lot of money online by using Smart Crowd alone.
Do I Recommend Smart Crowd?
I can recommend Smart Crowd only for people who are looking to earn some extra income and are not afraid of chasing down potential job givers and pitching to many different jobs daily. 
If you're interested in earning a lot of money online, then there is a better alternative. One that can give you the freedom of living a financially free life, working whenever, wherever you want.
It does take hard work, but it's entirely possible to do, and if you're willing to do what it takes, you can position yourself right in the middle of the trillions of dollars being spent online, and get your piece of the pie. 
If that sounds interesting, then you should see how these people are banking profits using a simple, yet incredibly effective blueprint that so many neglect, and lose out on that opportunity forever.