Welcome to my Invincible Marketer review. If you're wondering how legit this affiliate marketing program is, who Aaron Chen is, what's included in the membership area, how much it costs, and whether he can actually help you make money online, stick around to find out.
Here's what you need to know. This is a subscription-based membership platform focused on helping people get started with one of the most cost-effective and EASY business models.
When I say easy, don't think that you can just click a few buttons and start making money. As an affiliate, your goal is to send traffic (web users) to a product or service and pocket a percentage of the sale whenever someone buys.
You don't need to create a product, worry about customer service, or handle refunds and chargebacks. None of that is your concern.
It's simple, but there are many moving parts you need to consider. Invincible Marketer is geared toward people that have never made any money online and those that have made a couple of affiliate sales but want to move things to the next level.
Ready? Let's get started…
Invincible Marketer Review Summary
Product Name: Invincible Marketer

Product Type: Affiliate Marketing Training

Product Owner: Aaron Chen

Product Price: $7 Trial Then $67/Month

Overall Score: 70/100

Recommended: Not For Everyone!

Summary: Invincible Marketer consists of video courses that will teach you affiliate marketing basics, including how to pick a niche market, build an audience, and promote products to that audience.

Unlike many information programs, this one uses a systematic approach to help you avoid overwhelm. It's all taught in a step-by-step manner.

You're never left wondering what your next step in the process should be. There's a community of like-minded people and homework assignments after each lesson to get you taking action.

In my opinion, this is a very high-quality training platform that comes close to my top recommendation for affiliate marketing and making money online.

However, I still think that there is a better, less expensive alternative, with more in-depth training and advanced strategies for creating a thriving affiliate business.
What is Invincible Marketer?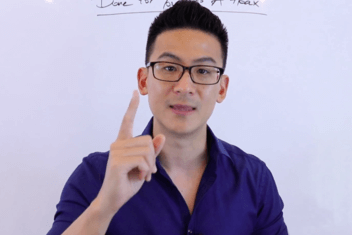 Invincible Marketer is Aaron Chen's flagship program. There are 17 modules with a heavy emphasis on mindset. Aaron knows how difficult it can be to create an online business and the importance of frame of mind.
That's why he talks a lot about dealing with failure, overcoming exhaustion, and all the potential challenges that you will face in your journey. That's the first part of the training. 
The second one is called Core Training. This is where you will learn about affiliate marketing, making money online, and all the little details that will help you achieve financial success as an affiliate.
Each module includes a short introduction video that talks about the key concepts you will learn there. It's very organized. 
Is Invincible Marketer a Scam?
No, it's not. Invincible Marketer is a legit platform that provides education, guidance, and a blueprint for people that are interested in making money online with affiliate marketing.
The program follows a proven system that the founder, Aaron Chen, has been using for a few years with great success.

There are tons of testimonials and happy members that have made way more than what they've invested. Not everyone who enrolls is going to find success.
That's normal. Most people give up prematurely when they realize that hard work, effort, and consistency are required. I get it. It can be very difficult to work for something, spend time on it, and sacrifice yourself, without any guarantee it will work.
Maybe that's why Aaron has a ton of training content about mindset. Or maybe he's using it as a filler to have more content inside his program. 
Even though I like the program, I know that there is a better and less expensive way to start an affiliate marketing business and turn your passion, hobbies, and interests into a thriving business online.
Who Created Invincible Marketer?
Aaron Chen. He's the guy behind Invincible Marketer. He's from Malaysia and has two Youtube channels with over 25K subscribers and 30K subscribers. 
For the first 7 years of his internet entrepreneurial journey, Aaron did not see any success. He tried everything. MLM, filling out surveys, dropshipping, affiliate marketing, you name it, he's tried it.
In his own words, he's spent over $100K of his hard-earned money without seeing anything in return. In 2016 he finally broke the cycle, and things began to look good for him. 
In 2019 he finally left his corporate job while earning triple the money he did with his 9 – 5 job. Now that he knows the formula for success, Aaron Chen is teaching it inside his flagship training program.
What's Inside Invincible Marketer?
The first way to access Invincible Marketer is by going through Aaron Chen's sales page, where e offers to share some free training that will supposedly help you get started with affiliate marketing.
In exchange, he asks for your email. Over the course of a few days, you will get one email daily with a link to the lessons.

When the free training series is over, he will present you with the opportunity to sign up for his paid membership program, Invincible Marketer. Here's what to expect inside.
Core Training
This is where you will learn everything about affiliate marketing from Aaron's perspective.

He talks about why so many people fail with this business model despite its simplicity. In his own opinion, typical Guru marketing is the cause of that huge failure rate.
They promote simple and easy solutions to a problem that you already have, only to give you a piece of the puzzle and leave you to build the whole picture together. In most cases, people get way too frustrated before they even come close to a breakthrough.
The core training continues by breaking down Aaron's blueprint for success and showing you exactly how he built a six-figure internet business.
This includes email marketing strategies and different ways to build a highly engaged list of subscribers that know, like, and trust you.
Finding the RIGHT products to promote is essential for your long-term success, which is why there's a huge emphasis on that within the training.
Now you have a way to build an audience that trusts you and a product that will help them and make you money at the same.
The only thing left is driving traffic to your email list and affiliate products. Aaron covers different ways to generate traffic with organic methods and by running ads online.
Mindset Training
There are a lot of lessons on proper mindset. They can serve as an encouragement to avoid giving up.

You will learn about fear of failure, having the right attitude toward your business, eliminating excuses, commitment, and how to think like a rich person.
Private Group Access
All members of Invincible Marketer have access to a private Facebook group. There, they can share insights, network, help, and support each other. Everyone there is on the same journey as you.
You can leverage this to your advantage and provide help to those that you can.
Bonuses
The first one is called Unlimited Traffic Masterclass. It's a mini-course on traffic generation. The second one is called Product Profit Secrets. This is all about picking products that have the biggest potential to make you money.
In this case, Aaron talks about picking offers to promote that have many upsells. This gives you many chances to earn money from a single customer. 
The third bonus is called Tribe Building Secrets. It's all about building a community of people that recognize you as an authority in your niche market.
There are two fast action bonuses that show you how to win affiliate contests for even more revenue and a template to make it easier.
How Much Does Invincible Marketer Cost?
It costs $67 per month. There is a trial period for the first seven days. You can test drive the platform for $7. There are a couple of upsells as well.

The first one is Lifetime Coaching. It has a price tag of $497 (one time), or 3 monthly payments of $147.
With it, you get bi-weekly live Q & A sessions with Aaron Chen, advanced marketing strategies, and you're allowed to promote Invincible Marketer and earn commissions.
The second upgrade is Video Authority Mastery. It costs $497. The training is about running a Youtube channel and monetizing it in the best ways possible.
You will also need about $150/month on additional software tools that will help you run your business.
Can You Get a Refund?
Yes. There's a 30-day refund policy. It's an action-based money-back guarantee. You have to go through all the lessons, participate in the community, and create a landing page and your value series.
As long as you can prove that you've done all of that, you can get your money back within the given time frame.
What I Like About Invincible Marketer
1. High-Quality Training. It covers everything you need to know to start making commissions as an affiliate marketer.

2. Aaron Chen is Legit. He knows how to make money online and how to properly teach others.

3. There's a Trial Period. You can find out if this platform is for you with a minimal investment of $7. You have seven days to decide. After that, you will be billed $67/month.
What I Don't Like About Invincible Marketer
1. Too Much Emphasis on Mindset. It's important to have the right mindset when you're starting something long-term like an affiliate business. However, I think that there's too much of it in the training.
2. Monthly Payments Will Add Up. There's no option to pay a one-time fee or anything like that, which means that you have to spend $67 bucks every month until you start making money, or give up.

3. Not The Best Alternative For Beginners. In my opinion, this is one of the more comprehensive and legitimate affiliate marketing platforms out there. However, I know that there are better ways to get started without spending that much money.
On the next page, I will show you the exact four-step system I'm using to bank up to $1K per single affiliate sale. On autopilot. Without spending ANY money on paid ads.