This Chance and Abdul review will go over everything you need to know about the pair. This includes their background, their advertising agency courses, and how they can help you start a profitable online business as an agency owner.
According to Chance Welton, there's never been a better time to start an online business than right now. You can build a simple, dependable business, which excels in recession, and can be run from the comfort of your own home.
Apparently, they've already helped over 2,200 people to start their own advertising agency online. As the owners of Officeless Agency, Chance and Abdul are doing whatever it takes to get you to sign up for their paid course.
On their sales page, you will hear things like how anyone can start making extra income online in their spare time and how all you need is a blueprint that will guide you all the way to success.
The business model that these guys talk about is definitely legit, but there are a lot of people claiming that they've been scammed by the pair.
Are Chance and Abdul Scam Artists or Legit Gurus?
There are many reviews out there on Chance, Abdul, and their courses. Some of them say that they are legit, while others label their products as scams.

The first thing you need to realize is that the front end price of $9.95 is just an entry point for their way more expensive program, Modern Millionaires, which costs over $7K.
If you can't afford to invest in it, or if you're not willing to risk losing that much money, there is no point in digging into this any deeper. What you can do instead, is take a look at this cost effective alternative HERE.
The business model works, but it's not going to be as easy as you're led to believe. It will likely take you a whole lot of time, effort, and money to get to a point where you're profitable in your online business.
Running such a business means that you have to actively seek out new clients, pitch them your offer, and hope for the best. Most of the time, you will get rejected and your cold outreach will yield little to no success.
If you're not ready to hustle and grind, then this is not for you. It's also not for you if you're looking for a way to earn passive income online, as this is a very active and ongoing role.
Can Chance and Abdul Really Help You?
You can benefit from everything that Chance and Abdul are selling online only if you can afford to risk over $10K to get started.
If you're truly interested in starting a digital agency and helping business owners get more leads and sales, then you may benefit from Chance and Abdul.
As long as you're willing to put in a ton of effort into this venture AND you know what you're actually getting into, then this may be for you.
However, due to the negative press that these guys have all over the internet, I can't recommend any of their programs. You can take a look at other gurus that teach the same business model such as Iman Gadzhi's Agency Navigator.
Also, the fact they've changed the name of their flagship program a bunch of times is NOT a good sign at all.
Who are Chance Welton and Abdul Samad Farooqi?
Chance Welton is the co founder of Modern Millionaires and a successful digital agency owner. He used to have a marketing company called Beachwood Marketing. Abdul Samad Farooqui is the founder of Samad Consulting and Lions Digital Solutions.
This is an advertising agency that focuses on offering lead generation services to small businesses, influencers, and eCommerce businesses.
Nowadays, it looks like their main focus is on promoting their courses as that's where the big money lies. People are always looking for more information on bettering themselves by learning how to make more money and these guys know it.
How Does The Business Model That Chance and Abdul Promote Work?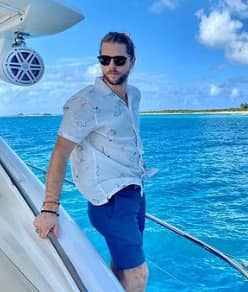 The business model is very simple to comprehend but it requires a lot of moving pieces to come into place to make it work. Chance and Abdul will show you how to find potential clients, pitch your services, and deliver on your promises. 
Here's how it all comes together in a step by step way:

1. Finding clients. You will learn how to locate potential clients that will benefit from your services.

2. Pitching your services. You will learn how to convince your prospects that they will get results from your agency.

3. Running ads. You will learn how to run online ads for your clients.

5. Copywriting. How to create ad copy that will get more clicks.

6. Design. You will learn how to create awesome ad designs and landing pages that can convert.

7. Email Follow Up. You will learn how to create messages that will follow up with your leads and convince them to become customers.
8. Automation. How to automate everything that you can so that you can have more free time to grow your online business.
As you can see, all of these things are skills that you will need to learn and master to even have a chance of becoming successful.
While you can certainly automate some of these steps, you won't be able to do that with all of them, unless you hire a staff of people that will work for you.
In other words, you would either have to spend a lot of money and effort on this or a ton of money with no real guarantee for success.

NEXT: Compare This Business Model With Running an Advertising Agency.
What Are People Saying About Chance and Abdul?
According to this Reddit thread, some people have tried Chance and Abdul's program and are satisfied. There's still work and effort to be put into this, but apparently, it can work for some.
Others seem to think that this is all a big scam to get you to give out your hard earned money in the hopes of achieving the lavish lifestyle that these two have.
What I Like About Chance and Abdul

1. They've Been In The Online Space for a While. And they keep on pushing their flagship program all over the internet. Mostly by running ads online. They claim to teach you how to run ads as well and it seems like they know how to do that.
2. They Are Making a Lot of Money. While I can't look into their bank accounts, it does look like they are earning decent money with their course.
3. Most Reviews on Trustpilot Are Positive. It's not impossible to fake these reviews, but after going through most of them, it looks like the positive comments are made by people that have actually tried the program.
What I Don't Like About Chance and Abdul
1. A lot of People Are Saying That These Guys Are Scammers. There has to be a reason for that. Some people even say that they have been charged more than the front end price tag.

2. Their Program is Very Expensive. The costs associated with running an advertising agency are huge and having to pay even more for accessing all the information you need is a bit too much for me.

3. Chance and Abdul Make The Whole Model Look Way Easier Than it is. In my opinion, they make it seem way too easy and it may be partially why so many people end up being disappointed when they purchase any of their courses.
Is There a Better Alternative?
By now you should know exactly what's needed from you to create a successful advertising agency. Chance and Abdul can guide you on the right path, but if you're not willing to put in the work, no one can help you.
Even then, you still run the risk of failing. In my opinion, shedding out over $7K for their program is a lot. Especially when there are much more cost effective alternatives that can yield great results without the added monetary risks.
My favorite business model revolves around promoting other people's products but not in the way you may be thinking. You don't have to spend any money on ads, expensive software, or chasing around potential clients and hoping that you won't get rejected this time.
On the next page, you can see a simple four step system that I'm using to earn up to $1K per SINGLE sale of a product I don't even own myself, on top of monthly recurring income. Better yet, it's all in a passive way where you have to do the work once and keep on profiting.