Welcome to my Traffic Nemesis review. Can you REALLY generate $273 per day with this program or is it just another scam?

If you're skeptical about this particular product and want to know if it can really live up to our expectations, then you might want to stick around and go through this review.
By the time you're done, you will know everything that you need to in order to make an educated decision.

Let me be completely transparent by letting you know up front that I'm not affiliated with Traffic Nemesis in any way or form, so I won't be offering you a thousand bonus low-quality eBooks for joining through my affiliate link (because there isn't one). 
Instead, I'm here to show you what's really going on inside this program, without all the fluff and exaggerations. 
Ready? Let's get started…
Traffic Nemesis Review Summary
Product Name: Traffic Nemesis

Product Type: Free Traffic Generation With Facebook Training

Product Owners: Manny Hanif & Wayne Crowe

Product Price: $17 + Upsells

Overall Score: 45/100

Recommended: No!

Summary: Traffic Nemesis is a system that can show you how to generate free organic traffic (web visitors) from Facebook by taking advantage of reviving dead groups, and driving targeted traffic to your offers, regardless if you're an affiliate or a product owner.

If you don't know how to use Facebook as a source of free traffic to your offers, then Traffic Nemesis may teach you a lot of valuable things that you can implement into your own online business.

The problem here is that organic traffic generation is a slow process, that takes way more time than you would think.

I'm only saying this because the sales page of Traffic Nemesis may lead you into thinking that you can make money fast and easy with this method.

On top of that, the small price tag for this system is not the only thing that you will have to pay for in order to gain full access to Traffic Nemesis and everything that this system has to offer.

If you're interested in finding out how to generate organic Facebook traffic and don't mind paying $800+ for everything that this software has to offer including all the upsells, then you may find it useful.

However, I do believe that there are far better and cost-effective opportunities to create an online business as a beginner and learn how to generate free organic traffic.
What is Traffic Nemesis?
Traffic Nemesis is a system that the founders are using to generate over 350 free leads daily and over $273 in profits.

According to the sales page, you will be getting a full step by step blueprint on exactly what's working right now, in order to attract as many leads as you possibly can for free using Facebook, and increase your overall sales that your online business is generating.

You will get training, insider secrets, and a very simple way of monetizing your traffic. If you're looking for a lead generation system that has it all done for you, you may want to take a look at Lead Conversion Squared.
This system is presented as newbie-friendly or in other words, you don't need to have any prior experience or any tech skills whatsoever to make this thing work for you. 
The methods being taught inside Traffic Nemesis are legit and they work in today's market, but it's definitely NOT going to be as fast or as easy as they get you to believe

You should also consider the fact that Facebook is one of MANY traffic sources out there, and I've seen plenty of reviews that offer hyped up products or services that supposedly "revolutionize" today's online marketing world.

In most cases, none of them ever live up to the hype, and they only exist to mislead people into thinking that they can start making money online fast & easy just as long as they get the product/service.
Is Traffic Nemesis a Scam?
I don't think that Traffic Nemesis is a scam, and the reason for that is simple. The owners of this software, do offer a REAL way of generating traffic to your offers and increasing your overall revenue.

That does not mean that you will be able to make thousands by doing just a single post on Facebook, and implementing what's being taught inside.
This is kind of like a hit and miss kind of thing. It may work for some people, but not for others.

The only way to truly know is by getting it yourself, and since the small price tag is there just to open the doors for a funnel of upsells, that get thrown your way, which is definitely NOT something that I like about this program.
The price tag can be very misleading, and the same goes for the hyped-up sales page. The truth is that this is just one of the MANY different methods of generating traffic (in this case free) to your online business.
Don't get caught up in the shiny object syndrome. If you expect that you can start making money fast and easy with Traffic Nemesis even as a complete beginner, then you will definitely end up being disappointed with this program.
There is a refund guarantee in place, but it DOES not apply to all of the expensive upsells, so you should consider that as well.
Who is Traffic Nemesis Best Suited For?
Traffic Nemesis is suited for online business owners that already have a large presence on Facebook, like a fan page with lots of followers, or a big group, and have not made any profits yet.
This is the ONLY way that you can get results FAST with this system. If you don't have a big presence on Facebook, but are interested in learning how to grow one, and earn money from it, then you can still benefit from Traffic Nemesis.
Since this method involves completely organic methods, this means that it will take time to build up a following that you can start earning a decent amount of money with.
If you don't want to invest time, and effort into building up your social media profiles, and creating a tribe of followers that are all eager to buy from you, and don't have the patience to make this thing work for you, then you can probably consider an alternative to this one instead. 
It's also important to understand that Traffic Nemesis is going to cost you way more than $17 if you decide to take full advantage of everything that this system has to offer, and even then there are no guarantees that you will become profitable.
What's Inside Traffic Nemesis?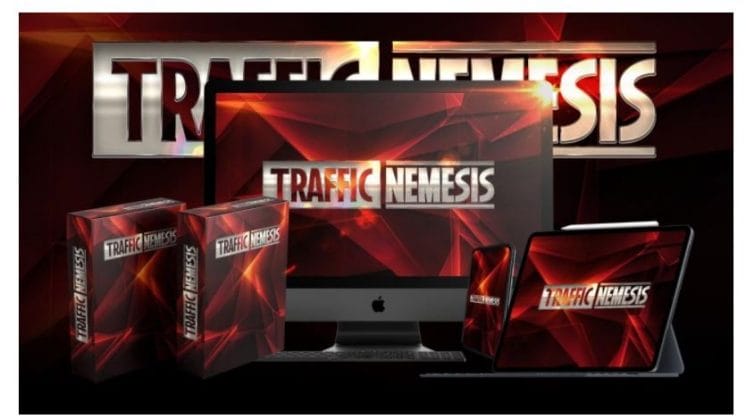 Inside Traffic Nemesis you will get an in-depth training that's divided into 50 sections and over 40+ video training series that cover everything that you need to know about this method of leads and traffic generation. Here's a breakdown on all of that below.
Traffic Nemesis – Section A
This section has about 14 video training materials combined. It starts off with an introduction and an overview of everything that will be covered inside this training program.

The first section is all about laying the foundation of what you are about to build, by getting familiar with the 3 pillars of traffic, Facebook pages, groups, SEO for groups, traffic generation methods, and some special techniques that can make things work a bit faster for you.

By the time you're done with section A, you will have gained a good amount of knowledge about everything that you will be doing with Traffic Nemesis throughout the entire training.
Profile Traffic – Section B
This section is all about setting up a profile picture, cover photo, bio, and a featured photo in such a way that it naturally attracts more people, and gets them to engage with your Facebook page. This module is seemingly shorter than the first one, and it consists of only 4 video series.
Free Traffic From Posts – Section C
This module is all about free traffic generation, how, and when to post on Facebook for optimum conversion rates.

This is a module consisting of 8 video training series. You will learn different things like how frequently you should post, the best time of the day to post, and the kind of traffic that you can get with all the different types of posts.

You will also learn how to produce motivational, lifestyle, question, and value posts.
Messenger Traffic Techniques – Section D
This section is going to show you different methods and techniques that you can utilize in your messenger marketing campaigns, and get the most out of it in terms of traffic generation.

This is a 4 part video series module that will show you different persuasion tactics or as they like to call it, Seduction Secrets.

It's all about the personal approach that you take when it comes to these kinds of things, and by going through all the Seduction Secrets, you can learn a thing or two about getting people to like, and most importantly trust you over a long period of time.
Facebook Stories – Section E 
This is the last section of Traffic Nemesis's training series, and it's filled with 11 video lessons that go through everything that you need to know about Facebook stories, and how to utilize them to get a lot of traffic.

You can expect to get familiar with the content that you need to promote, posting polls in stories, posting URL links, and the difference between posting on a mobile device vs on a desktop.

As a final bonus, you will learn how to post stories on Instagram and increase your traffic potential. Speaking of bonuses, you will get a bunch of them with your membership, when you get Traffic Nemesis, and they are as follows.

Bonus #1 –  How To Group Hack Your Competitors
Bonus #2 – How To Offer Your Own Group Doctor Service
You will also get access to a private Facebook group for members of Traffic Nemesis only. Over there you can get to interact with others that are trying to do the same thing as you, which is to grow their traffic from Facebook organically.
You will also get a couple of case studies, where members of this system showcase their success with it.
Traffic Nemesis Price, Upsells & Refunds
Traffic Nemesis comes with a price tag of $17 but this is just the front end price, that opens the doors for a fair number of additional upsells that come along. Here's a breakdown on all of them, and what they can do for you.
Upsell #1 – Generate Tons Of Traffic ($27)
This upsell is going to give you access to 2,000 Facebook posts that you can use as your own, which will make it that much easier to generate organic free traffic from that channel.

It's important to note that you may want to edit these pre-made posts a bit because everyone else that get's these upsells are going to use the exact same text as you. 
Upsell #2 – 30 Days Email Journey Hacks ($97/Month)
This upsell will give you access to an email marketing coaching group, where you can learn all about email marketing, and how to use it into your own online business. This is a recurring membership, so if you decide to join, expect to be billed on a monthly basis.
Upsell #3 – Traffic Nemesis Reseller Rights ($197)
This upsell will give you access to Traffic Nemesis and let you promote and sell it as your own. You will be keeping the entire profits that you make, including on all of the upsells.
Upsell #4 – Traffic Nemesis VIP ($495)
This upsell will give you more advanced traffic strategies and hacks for both paid, and free traffic generation from Facebook.

The VIP membership is billed once, and you can get access to even more training. Since we live in the information age, and we have the internet at our disposal, I don't think that it's worth paying that much for something that you can probably find online for free if you do the research.
If you decided to take full advantage of this program, then you will have to pay more than $800+ which is definitely a big upfront investment for something that may or may not work in the first place.
As for a refund, there is a 14-day money-back guarantee on the FRONT END product ONLY, which means that you can get your $17 back within the given time frame if you decided to do that.

As for any of the upsells, you need to look at each one individually to determine if they have a refund guarantee in place or not. 
What I Like About Traffic Nemesis
1. It Teaches a Legit Traffic Generation Method. Getting organic traffic from Facebook is not easy, and it does take time. With Traffic Nemesis, you can learn everything about Facebook and grow organically with the sole intention of getting more leads and sales.

You will be tapping into something that is currently working out there, so if you're new to this then you will definitely learn a thing or two that can be of use to you.

2. The Owners are Real. That's definitely a good thing, because most scams out there don't have a specified owner, or use actors to pretend as being owners.

That's definitely NOT the case with Traffic Nemesis, and since Manny Hanif & Wayne Crowe are REAL digital marketers, with a big online presence and a solid online reputation, it's safe to say that these guys are trustworthy in my opinion.
3. There's a Refund Guarantee. This is also a good thing because many people can get discouraged when they see so many upsells, that are more or less necessary for becoming successful with Traffic Nemesis, especially as a beginner.

Since the front end price is not high at all, I strongly doubt that there will be any problems with members getting their money back as a result of not being satisfied with their purchase or anything else that may get them to ask for a refund.
What I Don't Like About Traffic Nemesis
1. Too Hyped Up. The sales page can easily mislead beginners into thinking that they can make money online fast and easy just by buying into Traffic Nemesis.

It's more likely for inexperienced people to fall for these hyped-up claims, simply because most seasoned internet marketers know better because they've been exposed to enough of these already.

I've reviewed hundreds of systems and most are really similar to each other with all of their exaggerations.

2. A Lot Of Upsells. All of the upsells can really add up to a pretty hefty price tag, which is not necessarily the best solution for a lot of people, especially when it comes to investing a ton of money upfront without knowing for sure if you will ever get them back.

This approach is similar to what many other systems out there are doing. They put out a very low front end fee, just so that more people can get inside the membership, and the membership is actually a big sales funnel.

3. The Training is Focused on One Method Only. If you rely solely on traffic from Facebook, you may not go that far in terms of profits, because the conversion rate, in general, is pretty low on social media.

Facebook is no exception and there's no telling if this will work for you or not until you try, but putting all of your eggs in one basket is not an ideal option in any case.
Do I Recommend Traffic Nemesis?
Not really, and here's why. Traffic Nemesis is presented in a way that it makes it look very easy to start getting leads, and traffic from Facebook completely free of charge.

The misleading claims of being able to generate hundreds of dollars daily fast, and easy, can surely mislead lots of people out there.

The front end price is in place so that more people can access the upsells which is where the real money is being made (for the owners). Some of these upsells cost as much as $495 which is a lot of money for something that may or may not work.

Their generally shady approach to all of this is really what makes me NOT recommend Traffic Nemesis as the best solution for people that want to make money online.

As the end of this review approaches, you should now have a better understanding of what's it like being a member of this system

If you're interested in learning all about organic traffic generation from Facebook, Google, and all the other search engines, without having to invest anything upfront, and with no hidden upsells, then you should see how these people are banking profits using a simple yet incredibly effective blueprint that so many neglect and lose out on that opportunity forever.