Welcome to my Traffic For Me review. Can you get quality leads with this platform, or is it another scam to avoid?
Here's what you need to know. If you have a quality offer that converts well with people interested in making money online and starting an online business, you can get traffic fast.
The prices are considered high compared to other competitors, but the quality of leads is better too. There are a bunch of options you can choose from and the prices vary for each one. So does the traffic quality. 
By the time you're done here, you will know exactly what you're getting into without any hype or exaggerated income claims.
Ready? Let's get started…
Traffic For Me Review Summary
Product Name: Traffic For Me

Product Type: Lead Generation Program

Product Owner: Harris Fellman

Product Price: $0.58 and $0.97 per click 

Overall Score: 65/100

Recommended: Not For Everyone

Summary: Traffic For Me offers a wide range of paid traffic generation options in five niches.

While the main focus of this platform is to provide leads to bizz opp, crypto, and the make online money niches, you can get targeted traffic for health, diet, and personal development.

Most traffic packages start at 500 clicks ($320). If you have a good offer and you know it converts well, there's a big chance to make more money than what you put it.

However, it's risky and there are NO guarantees for success. That's why I can't recommend this platform to beginners.

Instead, you can see how to generate 100% free traffic using search engines and create a highly profitable online business in a niche you're passionate about. See this cost-effective alternative below.
What is Traffic For Me?
Traffic For Me is a lead generation platform that works with solo ads. You can choose from a variety of different packages and pay anywhere from $320 to over $5,500.
Most of the traffic comes from the Top 5 Countries (USA, UK, CAN, AUS, & NZ). That's a great thing quality-wise, as these countries usually have the most solvent people.
If you're planning on promoting high ticket offers ($1K+), you should definitely consider the traffic quality and where it comes from.
What's a solo ad? Solo ads are email-based advertisements you buy from other email list owners. 

While it sounds great to leverage other people's huge email lists, there is one very important thing you need to consider about solo ads. They are NOT as effective as most other traffic generation methods.
A lot of internet marketers actively stay away from them. On the other hand, some very successful people owe everything to solo ads.
Many factors will determine your success or failure with this type of traffic. The important thing to note is that this is a VERY risky way to get leads.
Is Traffic For Me a Scam?
Traffic For Me is not a scam. This is a legit solo ads vendor that's existed since 2013. They have a number of tutorials that show you how to best use the platform.
This includes a 13-minute presentation on how to get traffic, a 15-minute long video on the best landing pages for the MMO and internet marketing niches, and an 8-minute long video on the "Simple Success Formula" for using Traffic For Me.
It's obvious that the founder, Harris Fellman, is always striving to improve his platform and bring more success to its users. However, I don't think that people WITHOUT a big budget can truly benefit from using this solo ads vendor. 
Anyone just getting started with making money online should probably reconsider investing in this. Especially, when there are much less risky ways to get highly targeted traffic.

See This: The Four-Step System I'm Using to Generate Thousands Each Month (No Paid Ads)
How Much Does Traffic For Me Cost?
There are different price points for each package inside Traffic For Me. The more traffic you buy from them, the less you have to pay for each click.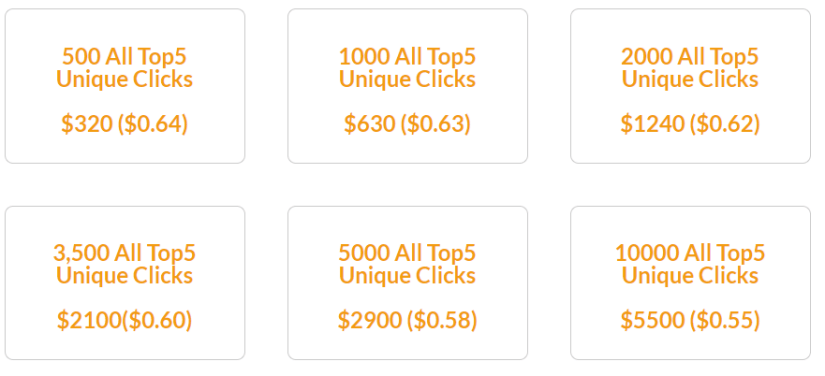 As you can see, the cheapest package costs $320 for 500 clicks. 1000 clicks will cost you $630, 2,000 clicks will set you back $1240, 3,500 clicks cost $2,100, 5K clicks are priced at $2,900, and 10K clicks cost $5,500.
Can You Get a Refund?
T4ME's refund policy is a bit shaky. If you're not satisfied with your order, they will review your information, discuss it with publishers on your behalf and offer you alternative lead generation opportunities IF they decide that your claims are legit.
What I Like About Traffic For Me
1. It's One of The Most Trusted Solo Ad Vendors. The traffic quality is very good, which is why it costs more than what you will be charged by most vendors.

2. You Can Get Results Fast. As it is with most paid traffic options, you can expect to see results very fast.

3. The Platform Has Been Around For a Long Time. This is definitely a good thing as it increases the odds of receiving high-quality leads.
What I Don't Like About Traffic For Me
1. It's Expensive. You can end up spending a lot of money. Unless you're willing to risk losing more than you invest, I wouldn't recommend dabbling into this or any other solo ads vendor platform.

2. The Refund Policy is NOT That Great. You have no guarantee that they will do anything to remedy your investment if you don't see the desired results.

3. Not For Beginners. In my opinion, this is NOT the best way for beginners to get leads for their offers. On the next page, you will see the four-step system I'm using to bank up to $1K per SINGLE sale using other people's products and 100% free traffic sources.