Welcome to the FBA Start-Up review. Arek and Brian Zaberek, the Zab Twins, created a step-by-step program to help you build a 6 figure Amazon business.
They made this course to help close the barriers that many Amazon sellers face. Especially new ones.
When the Zab Twins learned about the FBA opportunity, they began learning as much as possible from as many people as possible.
They thought this was the right approach. It wasn't. That's just one of the things you can learn from the FBA Startup program and your two coaches.

After making thousands of dollars worth of mistakes, they want to help you avoid them. All you have to do is enroll in their course and spend a bunch of money upfront. 
Here's what you're getting as a paid member.
The FBA Start-Up Review Summary
Product Name: The FBA Startup

Product Owners: Arek and Brian Zaberek

Product Type: Amazon FBA Training Program

Product Price: $5,000+ (Presumably)

Overall Score: 60/100

Recommended: Not For Everyone

Summary: To start with Amazon FBA, the Zab Twins recommend having a capital of at least $4,000. You will need it to pay for inventory, ads, storing of goods, and more.

That's excluding the price of accessing the FBA Startup program. Since the only way to know how much it costs is to schedule a call with one of their sales experts, I would assume that it's a high ticket price point, where you need to be convinced to spend a lot of money.

That's how it usually works. In other words, if you don't have around $10K to invest in this business, you won't be able to even get started properly.

Unless you're willing to risk losing that much money, I would suggest finding an alternative to starting a profitable online business with Amazon. 
What is FBA-Start Up?
This is a training program with everything you need to start and scale an Amazon FBA business. The Zab Twins use a specific strategy called "product clusters".
The only way to avoid the huge competition and get a chance to sell your products is to create something truly unique that people will want to buy. 
With their proven formula, it shouldn't be that hard to achieve that. The twins say that most people fail because they cut corners and don't put in the effort required to succeed. 
Is FBA Start-Up a Scam?

No, it's not a scam. The FBA Start-up program is designed by two very successful Amazon sellers. Their course will teach you how to pick the right products to sell while reducing your competition and your advertising costs.
There are many training programs out there that teach the same things as the Zab Twins. Most of them are very expensive. 

One thing is certain. This is one of the most expensive business models out there. It's also one of the riskiest ventures. To make it work, you need to invest at least $5K with ZERO guarantees for success.
Yes, the model is legit, and there are many profitable Amazon sellers. You can see that many of the Zab Twins' students have seen success already.
What you won't see are all the people that have tried and failed. You can't know for sure if something is for you or not unless you try it. I can't recommend Amazon FBA as the best way to start a profitable online business in 2023.
Not when I know there are much less expensive ways to achieve even greater success as you would with FBA. You can still sell on Amazon and invest a fraction of the amount you would with this business model.
Next: The Cost-Effective Way to Creating a Thriving Online Business With Your Passion, Hobbies, or Interests
Who Created The FBA Start-Up?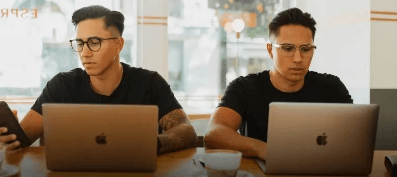 Before discovering their favorite business model, the Zab Twins were average 9 to 5 employers for a big company. Before achieving financial freedom, they dabbled in dropshipping, affiliate marketing, and social media marketing.
When they stumbled upon the FBA business model, they knew that this is where they had to spend their time and energy. In their own opinion, being an Amazon seller is the most worthwhile thing to pursue. If you do it right, you can make a lot of money. 
After a while, Arek and Brian did what many successful sellers did. They launched their course. Now, their focus is on selling and promoting their training program to as many people as they can.
What's Inside The FBA Start-Up?
The program can be divided into 7 sections. Each one offers different things you can use to increase your chances for success as an Amazon seller.
The training can be separated into two parts. The first one is broken down into 10 modules. In that training, the Zab Twins show you exactly how to build an Amazon FBA business from scratch.
It's perfect for beginners. By the time you're done with the lessons, you will know everything about effectively selling on Amazon and becoming a product vendor.
Group Coaching Calls
Weekly live coaching calls are being done by the twins and the team of experts inside this program.

It's available to all members and you can see them answering questions, providing up-to-date tips, and breaking down different strategies for success.
Product Validation
Analyzing and validating a product can be very time-consuming. Especially for beginners. The team inside this program will handle that for you.

You will have the confidence in knowing you've chosen the right products to sell before you even launch your business.
Building Your Rank Strategy
Launching a product is not the same for everyone. There are many variables to consider and they change all the time.

That's why, to help you create an effective strategy, the Zab Twins created three methods for identifying the right keywords to target. They will also help you choose ONE of the methods that are best suited for you.
Pay Per Click Advertising Training
The second part of the training content is all about teaching you how to run paid ads to get more people to see your products.

You will learn how to do research, optimization, scaling, and more. This is the process that they've used to 5x their revenue in 3 months. 
Access to The Exclusive Resource List
Having the right partnerships matters. That's why you will get a list of all the service providers, subject matter experts, and exclusive discounts the Zab Twins use in their own businesses.
Online Community
Get access to a private community of Amazon sellers. Over there, you can network with every member of this program and take full advantage of the 24/7 support team inside.
How Much Does FBA Start-Up Cost?
You need to book a call to find out. This means that the price of the FBA Startup is probably over $5K. Many programs with similar price structures have varying costs that depend on people's circumstances.
You may get asked a bunch of questions that will help the people on the other side of the call determine how much money you can spend.

Based on that, you may get a unique price tag that may be higher or lower than what the next caller will get.
As for a refund policy, it's not disclosed anywhere, which probably means that there are no refunds with this program.
What I Like About FBA Start-Up
1. Legit Business Model. You can absolutely make a lot of money as an Amazon seller. 
2. The Zab Twins Know What They're Talking About. They are experts in their field. They can help anyone start a profitable Amazon FBA business as long as they can afford to invest enough money in this venture.

3. There's a Community. This can help tremendously when you're stuck and need that extra push in the right direction.
What I Don't Like About FBA Start-Up
1. Hidden Price Tags & No Refund Policy. This leads me to believe that the program is very expensive and you don't have the option to get your money back.
2. Expensive Business Model. You need thousands of dollars to get a chance at this.

3. Not The Best Alternative For Beginners. It's way too risky and expensive. I don't think that this is the best way for a beginner to start their online journey.
On the net page, I will show you the four-step blueprint I'm using to bank up to $1K per SINGLE sale of a product I don't even own. No money is spent on ads, inventory, or anything like that. It's the most cost-effective way to get started.