Welcome to my Power Lead System review. Are you looking for a way to supercharge your lead generation efforts and take your online marketing game to the next level?

Is this the right solution for your needs? 
Here's what you need to know. This is a system that offers a generous compensation plan for anyone wishing to promote it.
That's why, you may come across very biased videos or reviews.
In this one, we'll delve into the Power Lead System and explore how it can help you generate leads, build effective sales funnels, and promote your products and services.
We will be focusing on the pros and cons of this product, who is it best suited for and who should steer away from it.
By the time you're done here, you will know exactly what you're getting into without any hype or exaggerated income claims.
Ready? Let's get started…
Power Lead System Review Summary
Product Name: Power Lead System

Product Type: MLM & Lead Generation Program

Product Owner: Michael Force

Product Price: Free Trial, Then $30 – $1,497

Overall Score: 65/100

Recommended: Not For Everyone

Summary: Power Lead System is an all-in-one solution for internet marketers that want to get more leads. There's a bunch of training that can help you learn how to do that properly.

You get most of the tools you will need, such as capture page templates and the ability to create your own from scratch. If you plan on running paid ads, you can track everything inside their dashboard.

You can even sign up to promote Power Lead System, which is what you're encouraged to do all the time. As a recruiter, you can get paid for building your downline and earn from the efforts of everyone below you.

This is a multi-level marketing business model that PLS has been using for many years now. You will need to constantly get in touch with your recruits and push them to get more people.

This requires a whole set of skills such as managing a large group of people and providing one on one communication at all times, getting your people hyped up, and assisting with their requests whenever they arise.

If you don't have any marketing skills, or if you're not a naturally outgoing person, you won't be able to build a solid team.

You won't be able to make good money with them. You have to LEARN these skills. In my opinion, this is one of the more difficult business models designed for experienced marketers with some degree of previous success.

Furthermore, you can end up spending thousands of dollars without getting them back.

If you prefer to avoid risking that much money upfront, see this cost-effective, beginner-friendly alternative below and find out how to monetize your passion, hobbies, or interests.
What is Power Lead System?
Power Lead System is a comprehensive marketing platform that equips businesses and individuals with the tools they need to succeed in the digital landscape. It's features are many and they're all focused on helping marketers.
Its core mission is to simplify the process of lead generation, making it easier for you to capture, nurture, and convert leads into loyal customers. You can choose to promote affiliate products or your own stuff. 
Feature #1 – Lead Capture Pages
One of the standout features of Power Lead System is its ability to create stunning lead capture pages. These pages are specifically designed to captivate your audience and entice them to provide their contact information.
With a wide range of customizable templates at your disposal, you can effortlessly create compelling landing pages tailored to your brand and campaign goals.
Feature #2 – Email Marketing Automation
Once you've captured those valuable leads, Power Lead System empowers you with an automated email marketing system. You can create and schedule email sequences to nurture your leads, build relationships, and guide them through the sales funnel.
With this feature, you'll be able to engage with your audience on a personal level, delivering targeted messages that resonate with their needs and interests.
Feature #3 – Comprehensive Contact Management
Keeping track of your contacts is vital, and Power Lead System makes it a breeze. The platform offers a robust contact management system, allowing you to organize and segment your leads effectively.
You can categorize contacts based on specific criteria, ensuring that you can reach out to the right audience at the right time with the most relevant messages. This level of precision can significantly boost your conversion rates and drive business growth.
Feature #4 – Tracking and Analytics
Power Lead System understands the importance of tracking and analytics in any successful marketing campaign. The platform provides you with in-depth insights and reports to gauge the performance of your campaigns.
From click-through rates to conversion rates, you'll have access to valuable data that allows you to optimize your strategies and improve your results.
By constantly refining your approach, you can ensure that every marketing dollar you invest brings the maximum return. Keep in mind that it can be very risky to run paid ads if you're a beginner and do not know what you're doing. 
Feature #5 – Training Resources and Support
To help you master the intricacies of online marketing, Power Lead System offers a wealth of training resources. Whether you're a seasoned marketer or a newbie, you'll find comprehensive guides, video tutorials, and webinars to enhance your skills and knowledge.
Moreover, the platform has a supportive community of like-minded individuals who are eager to share their experiences and insights. This collaborative environment ensures you're never alone on your marketing journey.
Is Power Lead System a Scam?
Power Lead System is NOT a scam. It's a legit platform that utilizes the MLM model to reward its most valuable members. The company has been around for a very long time.
The tools and training you're offered in exchange for a monthly membership fee can actually help people. Furthermore, you're getting a REAL product you can use.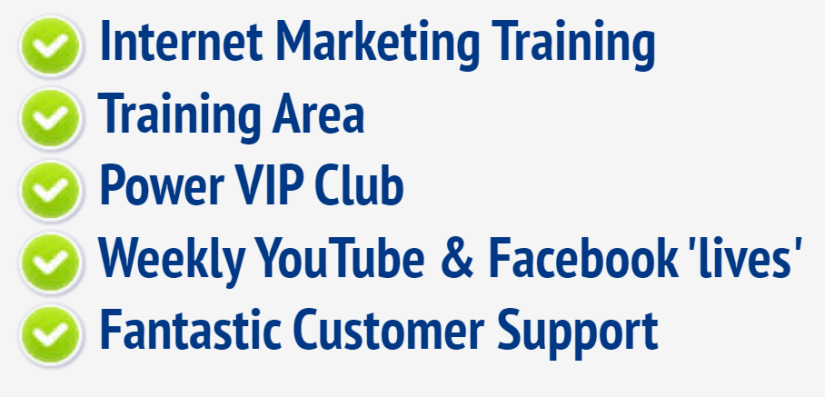 Ponzi schemes are based on NOTHING but promises of wealth and riches to those that bring in more people.
There is a stronger emphasis on the benefits of promoting this product, but you also get something you can actually use. A complete marketing system for your lead generation efforts. 
However, you will end up spending thousands of dollars if you want to take full advantage of everything this system has to offer.

Alternative: The Simple Cost Effective System I'm Using to Promote Other People's Products & Earn a Full-Time Income Online
What is Power Lead System's Compensation Plan?
The Power Lead System compensation plan is $20 in commissions for every affiliate that pays for their monthly membership of $30. You get paid each month as long as your referrals maintain an active membership.
For each referral who signs up to promote the program, you get 50% match on each and every one of THEIR referrals. In other words, you get half of the commissions that they earn, on top of what you're already making by promoting the program.
You earn from the efforts of EVERYONE in your downline, your referrals' downline, and so on.
If you decide to purchase any of the upgrades, you can promote them as well and get paid even more. 
You can earn $100 in commissions plus $25 in overrides, $400 in frontline commissions plus $50 in overrides, or $1,000 in commissions plus $200 in unlimited overrides.
How Much Does Power Lead System Cost?
Power Lead System comes with a 7-day free trial, then it's a $30/month price point. There are 3 additional upsells you can purchase.
Free Ad Secrets – $147
Social Profit Academy – $497
Master Traffic Institute – $1,497
As you can see, buying everything will cost you over $2,100.
Can You Get a Refund?
It looks like there are no refunds available for this product.
What I Like About Power Lead System

1. User-Friendly Lead Capture Pages. One of the standout features of Power Lead System is its user-friendly lead capture page builder. With a wide selection of customizable templates, you can create visually appealing and engaging landing pages.
2. Easy Marketing Automation Via Email. It offers an intuitive email marketing automation system. You can effortlessly create and schedule email sequences to nurture your leads and guide them through your sales funnel. This automation saves you time and allows you to deliver personalized messages that resonate with your audience.

3. Top Notch Contact Management System. Keeping your contacts organized is crucial for effective lead nurturing. The platform provides a comprehensive contact management system, allowing you to segment your leads based on specific criteria. This segmentation enables you to tailor your marketing messages and promotions to specific target groups, boosting your conversion rates.
What I Don't Like About Power Lead System
1. Limited Customization Options. While Power Lead System offers a range of templates for lead capture pages, the customization options may feel somewhat limited. Advanced users who desire more control over the design elements of their pages may find this restrictive.
2. Steep Learning Curve. Despite the training resources available, some users may find the system a bit overwhelming at first. The platform could benefit from more beginner-friendly tutorials and guides to help users navigate and make the most of its features.
3. Reliance on Additional Tools. Although Power Lead System provides various marketing tools, there may be instances where you need to integrate third-party solutions to fulfill specific requirements. This dependency on external tools can add complexity to your marketing setup. It can also cost you more money.

4. Not The Best Alternative For Beginners. It can cost you a lot of money to purchase everything offered here and even more, if you want to run paid ads to get traffic to your pages.
On the next page, I will show you the simple system I'm using to bank up to $1K per SINGLE sale using other people's products and services. On top of monthly recurring revenue. No paid ads and no expensive upsells.
Does Power Lead System Have Any Room For Improvement?
1. Enhanced A/B Testing Capabilities. Implementing A/B testing is crucial for optimizing marketing campaigns. Power Lead System could benefit from improved A/B testing capabilities, allowing users to test different variations of their lead capture pages, email sequences, and other marketing assets to determine the most effective strategies.

2. Expanded Integration Options. While the system offers some integration options, expanding the range of integrations with popular third-party tools and platforms would enhance its versatility and compatibility with existing marketing workflows.
Conclusion
Power Lead System offers a solid foundation for lead generation and marketing automation. Its user-friendly lead capture pages, email marketing automation, comprehensive contact management, and tracking and analytics features make it a valuable tool for businesses.
However, the platform could improve its customization options, provide more beginner-friendly resources, enhance A/B testing capabilities, and expand integration options.
By addressing these areas, Power Lead System could further empower marketers to achieve exceptional results in their lead generation efforts.
In the meantime, see how to create a thriving affiliate business WITHOUT spending any money on paid ads and without wasting thousands of dollars on something that may not even work in the first place.

Next: How I Make a Full-Time Living Online (The Best Method)