Welcome to my Passive Affiliate System review. Can you really make a full-time passive income with youtube without having to show your face?
According to this program's sales page, you don't need to have any previous experience or any high tech skills to become successful. By the time you go through this review, you will know everything about Passive Affiliate System including why this program is not for everyone.
Congratulations on taking the time in doing your research. Online success comes in many different forms that's why it's important to find YOUR way before investing time money and resources onto seemingly good products/services.
Passive Affiliate System Review Summary
Product Name: Passive Affiliate System
Founder: Andy Haffell
Product Type: Affiliate Marketing Training
Price: $297
Recommended: Not Really!
Overall Score: 65/100
Summary: Passive Affiliate System is going to teach an incredibly useful and lucrative way to create youtube videos and earn passive income while you're doing it. This can get you making money while you sleep or doing something else.
Once you do the work, you can generate revenue for a long time. The downside to this training is that it's a bit expensive, and it covers only ONE way of generating passive income online.
This can limit your earning potential by a lot. In other words, you can learn how to leverage Youtube to get traffic to your affiliate offers.
When you consider the fact that you can learn that plus a whole lot more ways of generating passive income online without having to pay almost $300 upfront, I would have to say that there are better alternatives to this system.
Quick Navigation
What Is Passive Affiliate System?
Passive Affiliate System is a training program that teaches you how to generate passive income using Youtube. You will learn how to create viral videos and promote your affiliate products at the same time.
With this training program, you don't need to show your face, so even if you are shy or don't want to expose yourself on the internet there is no excuse not to get into affiliate marketing with Youtube.
They make sure that that you will get your first 1K subscribers as fast as possible so that you can start seeing results quickly. Passive Affiliate System does offer a free webinar training that shows you exactly what this program is all about and how you can generate passive income with it.
You will receive a workbook at the end of the webinar that covers everything that was discussed including all the webinar slides, and a 15-minute video template.
Even if you don't end up buying it you can still benefit from the free information that you can acquire over there. That's why if you haven't already, I suggest that you check out their free webinar below.
Is Passive Affiliate System a Scam?
Passive Affiliate System is NOT a scam, and the training inside has a lot of value, and anyone who is willing to learn how to generate passive income with Youtube and affiliate marketing should consider getting involved with this program.
If you want to learn how to create videos that get A LOT of views, then Passive Affiliate System may be what you're looking for. It's important to understand that this is a real method of generating revenue online, which means that in order to have any success with it, you will have to put in the work and be consistent with your content creation.
You will most likely end up creating and publishing a good number of videos on Youtube before you start seeing any results. It's way better to learn that now before you decide to get involved with Passive Affiliate System.
Your videos might not get that traction at first, but if you follow along with the training, you will learn what works, and what doesn't when it comes to creating videos that get a lot of views. The good thing about this method is that you don't have to show your face but you will have to record your voice. 
Who Created Passive Affiliate System?
Andy Haffell is behind Passive Affiliate System. He has a really big online presence and his reputation shows that he is reliable.
You can gain a lot of free knowledge and valuable insights on his Youtube channel that has more than 183K+ subscribers. It's safe to say that this guy knows a thing or two about growing a youtube channel which is exactly what Passive Affiliate System is all about.
Over the years Andy Haffell has managed to accumulate a lot of subscribers on his Youtube channel and he is pouring all of his knowledge and adding a twist to it in his passive affiliate system training.
What's Inside Passive Affiliate System?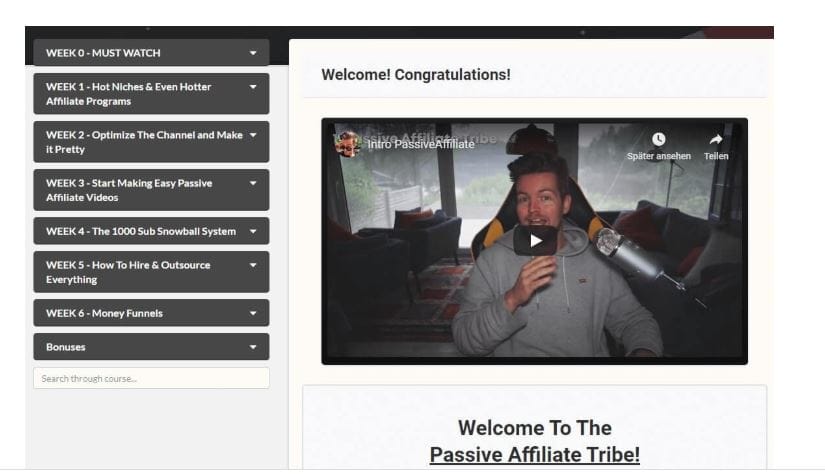 Inside the Passive Affiliate System, you will get access to a training course that is focused on affiliate marketing by promoting products that are not your own using Youtube as a source. The concept behind this training is simple, and you will be outsourcing most of the video materials from different places.
It's important to note that you won't be able to display ads on your videos so you might as well exclude that as a monetization method with Passive Affiliate System. On the upside, you will be creating and posting videos that will stay there for a long time.
When they passively generate more views, you will get more people buying into your affiliate offers inside these videos, which leads to the so-called passive income online. You will also learn how to write descriptions, in a way that will attract more views on your Youtube videos. Let's start with the first section of the training inside the Passive Affiliate System and go from there.
1. Select Your Niche. This the beginning of your passive income journey. You will have to choose the topic of your Youtube channel or in other words your niche.
It can be anything you like, and you have a bunch of niches that you can tap into which are presented to you by Andy Haffell. You will get to explore the most lucrative ones by learning how to do essential things such as keyword research and selecting the right products to promote.
You will get introduced to the basic principals of how a good looking and attractive Youtube channel should look like in order to generate the most amount of views and clicks possible. You will also learn the basic optimization techniques that need to be implemented inside your channel.
2. Making The Videos. Here you will learn all about the fundamentals of video creations. You will learn all about what's important in order to make sure that a viewer stays on your videos, and you will be shown how a good script for your videos is going to look like.
Not only that but you will be introduced to some basic editing tips and tricks to increase the likelihood of generating affiliate sales through your videos.
3. Generating Traffic. Traffic (visitors) are essential when it comes to making sales. Without traffic, there are no views, which means that there will be no money.
This section of the training is focused on generating traffic to your Youtube channel in order to grow your subscription list. The more traffic you manage to generate, the more money you will be able to accumulate.
4. Outsourcing. This part of the training is going to cover everything about outsourcing your work and how to find freelancers that can do it for you. You will learn where to find these freelancers and what to look for in one so that you ensure that they will do a good job.
The video lessons are really easy to comprehend and you will learn how to do all the outsourcing work from scratch. This means that you can be a complete beginner and still benefit from the training inside Passive Affiliate System.
Once you become a paying member you will be invited to join the systems private Facebook group where you will get the chance to interact with other successful members of the Passive Affiliate System. This can be a really good thing because you will get to learn firsthand from successful people.
Passive Affiliate System Price Upsells & Refunds
Passive Affiliate System comes with a one-time payment of $297. There are no upsells inside the training and you will receive it's entire content when you pay.
Passive Affiliate System is a digital course that's being sold in the ClickBank marketplace. This means that it automatically comes with a 30-day money-back guarantee, however, you should be able to get a refund for up to 60 days of the initial purchase because that's what it says on Passive Affiliate System's sales page.
The price tag can be a bit hefty, and some people can be reluctant to give away that amount in one go. This means that if you want to invest you need to be sure that this is the right system for you.
If you end being disappointed with the system or you want to get your money back for any other reason, you can do that as long as it's within the refund policy time frame.
This can remove some of the initial fear of losing your money, as you have a sort of safety net with ClickBank that will take care of the whole process of getting your money back.
What I Like About Passive Affiliate System
1. The Training Inside Is Valuable.
If you're a beginner and don't know how to approach affiliate marketing and youtube in combining them to generate passive income, then you will find value in this training.
This means that Andy Haffell teaches a legit and real way of turning youtube videos into a passive income source.
2. Money-Back Guarantee. The fact that you can try out this system risk-free is really good because, at the end of the day, you can get to try out the system, learn a bunch of new stuff and then decide if it's right for you or not.
If it's not, just ask for a refund and as long as it's within 60 days you will be able to get your money back.
3. It's Beginner Friendly. The whole training inside Passive Affiliate System is beginner-friendly oriented so they show you everything that you need to do in order to establish good grounds and build up from there. 
4. You Can Earn Passive Income Online. This method offers a way to earn money over and over again from the videos that you will be creating and uploading to your channel. In other words, you have a real opportunity to stop working for money and start generating passive income online.
What I Don't Like About Passive Affiliate System
1. It Can Be Expensive. Many people may not be satisfied with this price tag due to the fact that it can be more than what they're willing to spend on training online. 
2. There's a Limited Amount Of Monetization Opportunities. With Passive Affiliate System you are being shown how to generate passive income with affiliate marketing with Youtube videos.
That's just one of the passive income online sources that you can tap into in order to generate life-changing income, and live the dream lifestyle.
What if I told you that you could implement youtube for passive revenue, but you could also tap into a bunch of other sources that will open up a lot more ways for you to generate revenue for the work you do now, and for a long time after that.
Leveraging Youtube for your affiliate promotions is a really great way to earn passive income. When you combine that with other types of content creation strategies you can build an online money-making machine.
My Recommendation
My recommendation is that you should consider Youtube as a traffic source for your affiliate offers. However, in my opinion, this is just a piece of a puzzle that combined with all the other pieces can create an incredible opportunity to earn revenue online, and it's all focused on passive income generation. 

Let's take SEO as an example. By creating pieces of content with affiliate links on them that get ranked on the search engines like Google, Bing & Yahoo, you are ensuring that a lot of people will see that content, which will lead to more people clicking your links, more conversions on your affiliate offers and more overall sales.
Do you see where I'm going with this? 

If that sounds interesting then you should check out how these people are banking profits using an incredibly effective yet simple blueprint that so many neglect and lose out on money because of that.