Welcome to my Harvest Wealth Academy review. Can Jordon Richard really help you achieve financial freedom without waiting until you're 65, investing in real estate, or saving like crazy?

Is this another scam to avoid? Here's what you need to know.
This high ticket program will teach you how to trade while minimizing your risks and maximizing your earnings.

Jordon Richard believes in REDUCING risk and finding ways to simplify and amplify the results he's looking to achieve.
Trading options like a business is done in 3 simple ways. Stacking the odds in your favor, using a proven process to predictable profits, and adopting the "less is more" mindset.
By the time you're done here, you will know exactly what you're getting into without any hype or exaggerated income claims.
Ready? Let's get started…
Harvest Wealth Academy Review Summary
Product Name: Harvest Wealth Academy

Product Owner: Jordon Richard

Product Type: Options Trading

Product Price: $3,995

Overall Score: 65/100

Recommended: Not For Everyone!

Summary: Harvest Wealth Academy is for motivated individuals that are looking for something different than the traditional 9 to 5 working life.

This is a program for risk takers that are willing to learn new skills and have the discipline to succeed.

You will learn options trading from Jordon Richard, an ex financial analyst and someone that's already made a lot of money with this business model.

His goal in life was to have enough time and money to enjoy life and NOT have to worry about bills anymore.

In my opinion, his program is of great quality, but it's also very expensive to get started.

That's why I don't recommend this to anyone that does NOT have at least $5K at their disposal.

It's also not for you if you're not willing to risk losing that money. There are much more cost effective alternatives to starting a profitable online business.
What is Harvest Wealth Academy?
Harvest Wealth Academy is a training program for people that are looking for more income, to be financially free, and don't mind learning a new skill set.
According to the free training, it will only take you 2 – 3 hours per week to learn how to do options trading like a pro. Personally, I find that hard to believe, but I get why it's there.
Oversimplification is a marketing tactic that many coaches implement in their businesses to attract more customers.

It will take you multiple attempts at this venture until you figure out what works. The key to succeeding is to have enough capital to continue and NOT give up when you're really frustrated.
Is Harvest Wealth Academy a Scam?
Harvest Wealth Academy is NOT a scam. It's a legit training program created by Jordon Richard.

He's a former CPA and financial analyst. He's a strong believer that the best actions result from proper planning.
Jordon knows that anyone can learn the principles of successful options trading as long as they follow the 80/20 rule, which states that 80% of your results come from 20% of your actions. 
Finding out what works and focusing on that takes time and effort. 
However, if you don't have the capital needed to start this business, you should find something else.

You would need at least $5K to get started. You should also be willing to risk losing that much money. 
In my opinion, there are way better ways to start an online business and achieve financial freedom.
Beginner's Alternative: Compare This Cost Effective Business Model With Options Trading
Who is Jordon Richard?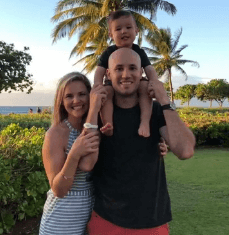 He's the founder of Harvest Wealth Academy and 1231 Capital. Jordon retired from his corporate career at the age of 33 to go and build two 7 figure e-commerce companies.
Before leaving the corporate 9 to 5 rat race, he worked as a CPA, M&A Analyst, and Financial Controller for Keysight Technologies. 
How Much Does Harvest Wealth Academy Cost?
It costs $3,995. The only way to find that out is by hopping on a phone call with a representative. Their job is to close the sale and convince you that you're making the right decision. 
It's not an uncommon practice for the price to vary from person to person based on their circumstances. This increases conversion rates for the business.
Can You Get a Refund?
It's unclear. Their terms of use page say that each product or service sold by Harvest Wealth Academy has its own refund policy.
The only way to find that out is by hopping on a call with the team behind this program. This, again, can vary from individual to individual.
What I Like About Harvest Wealth Academy

1. Jordon Richard is Transparent. He is honest about the fact that 48% of the time, he loses money. On average, he always makes more than he loses, which is definitely a good thing when you're looking for someone to show you how to do things right.

2. The Program Teaches a Proven Formula. In other words, as long as you are persistent, in theory, you should be able to start earning money at some point. Assuming you don't run out of cash to invest first.
What I Don't Like About Harvest Wealth Academy 
1. It's Pricey. Not everyone can afford to learn the secrets of options trading from an expert like Jordon Richard.

2. It's Very Hands On. You need to stare at the charts all day long. One short distraction could literally cost you thousands of dollars.

3. Too Stressful. In my opinion, this is one of the most stressful online business models out there. 

4. Not The Best Alternative For Beginners On a Budget. If you don't have thousands of dollars to invest, you should see the exact four step blueprint I'm using to bank up to $1K per SINGLE sale, on automation, without actually selling anything, owning a product, or spending a ton of money upfront.