Welcome to my Collins Ecom Program review. Can you really start making three to four figures per day with this counter-intuitive training program, or is it another scam to avoid?
Here's what you need to know. Jacob Collins claims he will show you how to create a profitable dropshipping business using a method only the top 1% of dropshippers know about. Without the need of running paid ads. He calls this the Ecom Express course.
The sales page is all about getting you hyped up about the program and making you believe that you too can start earning thousands of dollars each month by applying the high-quality methods outlined in this program. Just like many of his students. 
But you won't hear or see all the people who tried this business model in the past and lost a lot of money without achieving anything.
By the time you're done here, you will know exactly what you're getting into without any hype or exaggerated income claims.
Ready? Let's get started…
Collins Ecom Program Review Summary
Product Name: Collins Ecom Program

Product Owner: Jacob Collins

Product Type: Dropshipping Course

Product Price: $9.95

Overall Score: 60/100

Recommended: Not For Everyone

Summary: This is a comprehensive training with over 20+ hours of content. It's supposed to be completed within 5 weeks of buying the course.

It comes with a guide on picking the right products, promoting them on TikTok with free strategies to attract attention, and spending no more than a few hours per day.

To sum it all up, you can be profitable with a budget of no more than $100, working no more than four hours per day, using a proven system that works. It sounds like NOTHING can go wrong. 

To me, it sounds a bit too good to be true. A lot of people are already trying to sell products on TikTok by posting content all the time. To compete with them, you have to be more creative, more consistent, and more entertaining.

I don't think that you can do that without actually knowing what works and what doesn't. Even with the BEST program out there, if you have ZERO experience, it will likely take you a long time to figure out what makes people click on your links and buy your products.

In my opinion, Jacob Collins oversimplifies the entire process.  Dropshipping is a very hands-on business model with tons of competition. Many people end up losing a lot of money without getting good returns.

See how to create a profitable online business with your passion, hobbies, and interests using OTHER people's products and avoiding many of the difficulties that come with selling your own products.
What is Collins Ecom Program?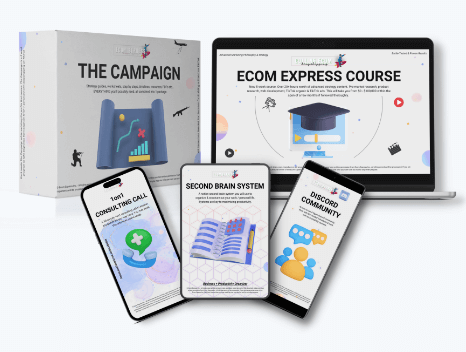 The Collins Ecom Program is Jacob Collins' brand new system that he's using to make money online. It consists of five weeks' worth of training covering the following:

Week 1 – Find Your Target Audience. It's all about finding out who you're selling to and what they want.

Week 2 – Find a Winning Product. That's done by completing the steps in week one and finding a product that people will happily purchase. Winning products usually SOLVE people's problems.

Week 3 – Build a High-Quality Website. It should be easy to navigate with user experience in mind. Furthermore, it should look professional.

Week 4 – Post Content on TikTok. Do this daily and see if you get any results.

Week 5 – Run Paid Ads. Even though this course claims you can start making money without running paid ads, the last week is focused entirely on that.
If you fail to make money with organic strategies, you can try running paid ads, which can set you back a lot. This method significantly increases your risks.
You will also get access to a private discord community and a one-on-one session with Jacob's team. This may be where they will pitch you one or more programs you can purchase. They will be way more expensive than the initial front-end price for this product.
Is Collins Ecom Program a Scam?
Collins Ecom program is NOT a scam. It looks like a legit training where you can learn how to effectively do dropshipping with organic strategies. However, I think that Jacob Collins presents his course, Ecom Express, unrealistically.
He makes the entire business model look way easier than it is. According to him, for just $10, you can get everything you need to start a profitable dropshipping business that requires less than $100 to invest in things like inventory and marketing.
On top of that, you need only a few hours per day to make it work. You have to remember that, this is a REAL business opportunity with NO real guarantees for success. Most people that start any kind of business end up failing.
As long as you approach this as an investment and you're willing to lose what you invest in it, you won't end up disappointed. I think that there is a better way for beginners to start making money online by leveraging other people's products, instead of their own. 
That way, you don't have to think about customer service, product reviews, refunds, or chargebacks. All you have to do is send traffic to a product page and get people to buy it. Without running any paid ads.

See This: The Cost-Effective System I'm Using To Make a Full-Time Income Online  
How Much Does Collins Ecom Program Cost?
Collins Ecom Program costs $9.95. Most programs with such a low front-end price have multiple upsells as soon as you decide to become a member.
Either that or ONE very expensive upgrade that will set you back thousands of dollars. Think one of one mentorship or personalized assistance with your business.
That sort of thing. Additional costs for running a dropshipping business even without paid ads can set you back up to a few hundred dollars.
Can You Get a Refund?
Yes. The refund policy is very good. You have 90 days to decide if this is the right program for you. If it's not, just ask for your money back. You even get to keep the course with all the bonuses that come along with it.
What I Like About Collins Ecom Program
1. It's Very Cost Effective. You don't have to spend a lot of money to get access to the course.

2. Risk-Free. Even if you don't like the content, you can simply ask for your money back.

3. Free Traffic Strategies. It may take you longer if ever, to see good results, but at least you're not spending hundreds of dollars daily on ads. That's what most similar programs teach you to do.
What I Don't Like About Collins Ecom Program
1. It's Very Competitive. The business model has a lot of competition. You need to really be able to stand out from the rest to achieve success.

2. You Will Have to Invest in Third Party Services. Payment gateways and platforms like Shopify are essential for your business. These will be extra costs that you should think about.

3. Not The Best Alternative For Beginners. In my opinion, this is NOT the best way to start an online business as a beginner. There are many moving parts about selling your own products that you can simply avoid by picking a different model. One that doesn't require you to create and sell your own stuff.
On the next page, I will show you the exact system I'm using to bank up to $1K per SINGLE sale using other people's products and services. With ZERO money spent on ads.