Welcome to my Super Affiliate Hacks review. Can you really make money with the help of George Wickens, or is this another scam to avoid? I bought it to help you get a better understanding of what's included in the member's area.
Here's what you need to know. Unlike the so called repackaged programs that launch every month with different names, Super Affiliate Hacks is brand new.
George is so confident in his ability to deliver with this system that he offers to compensate ANYONE that tries and does NOT make any money with it.
The key here is to actually do the work and prove that you've given it a fair shot before throwing in the towel. If you can do that, he will give you $100 out of his own pocket for wasting your time.
Stick around to find out exactly what's included in this program, who is it for, what you will learn, and everything else you should know before diving in.
Ready? Let's get started…
Super Affiliate Hacks Review Summary
Product Name: Super Affiliate Hacks

Product Owner: George Wickens

Product Price: $9.95

Product Type: Affiliate Marketing Training

Overall Score: 70/100

Recommended: Yes!

Summary: The Super Affiliate Hacks is a training program about revealing the same system that George Wickens uses to make up to $200K/month.

You will learn his methods and get access to one of his advanced courses completely free as a gift for enrolling in his flagship program.

Even a complete newbie can become a super affiliate by following the blueprint outlined inside.

Leveraging Facebook to generate free traffic (web users) to your offers and creating bridge pages to increase conversions are only a couple of the things you will learn as a member of Super Affiliate Hacks. 

It doesn't take any crazy new skills to become good at affiliate marketing. It's not technical either.

All it takes is to go through the training, implement what you've learned, and get paid.

It's that simple.

The money back guarantee makes this deal a no brainer as it removes all the risks. Even if you try and fail, you still make $100 bucks. 
What is Super Affiliate Hacks?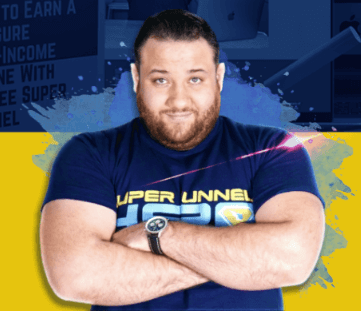 Super Affiliate Hacks is a brand new training course on affiliate marketing. It's designed to take any newcomer and fastrack them to super affiliate status in a short time frame.
It doesn't take a ton of traffic to start seeing huge results if you have a system in place with a great conversion rate.
In his course, George Wickens talks about high ticket affiliate programs and how much better they are than low ticket offers. Instead of getting $10 commissions per sale, you can get up to $10K.
Each tier has its pros and cons. If you're promoting very expensive offers, you only need a handful of sales to make a killing. However, your conversion rates will be MUCH lower. 
Is Super Affiliate Hacks a Scam?
Super Affiliate Hacks is NOT a scam. It's a legit program that goes over email marketing conversion strategies, creating bridge pages for your offers, and a brand new case study, where Geroge shows you how he made $200K for free.
No ads, no paid promotions. He used only an email list and social media to create awareness for an affiliate offer he was promoting. The guy has been around for many years.
During that time, he's managed to build a solid following, a buyer's list, and knows EXACTLY how to make money online both as an affiliate and product vendor.

In his brand new training program, he goes into detail on email marketing, list building, and landing page creation.
All of these things are essential pieces of a larger puzzle to build a successful online business as an affiliate marketer. One of the provided bonuses includes unrestricted access to Super Funnel System.
That's another product by George Wickens. Over there, he shares different traffic generation methods. Paid and free.

These training programs, when combined, contain everything you need to know to build a highly profitable affiliate marketing business. 
What's Inside Super Affiliate Hacks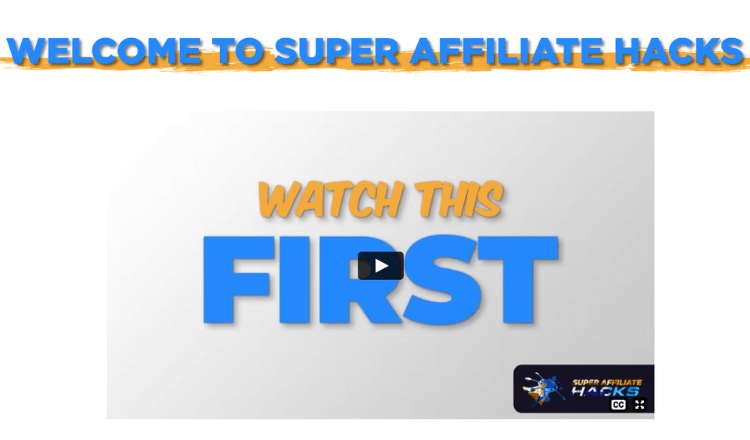 Inside Super Affiliate Hacks you will access 3 main parts and 3 bonuses. You should watch the "getting started" video first as it shows you how to navigate inside the platform, where to find what you need, etc. 
Bridge Page Domination
This is the first part of the main training series. It consists of 6 training videos with an average duration of 20 minutes. As the name suggests, it's all about bridge pages.
The main purpose of these pages is to bridge the gap between your affiliate link and the offer you're promoting. It's designed to grab people's attention and redirect them to your affiliate offer.
These types of pages are very effective at increasing conversions. They also unlock more possibilities to promote your offers as big platforms like Facebook don't allow direct affiliate link posting.
How Geroge Wickens Made $200K For Free
This is a case study where George reveals the product he was promoting and how he managed to earn $200K in commissions from free traffic ONLY.
At some point in the training, he mentions the importance of having an email list of subscribers and what a game changer can that be.
Email Hacks
There are 7 modules inside this part of the training. Expect to learn the importance of email marketing, how to land in your subscriber's inbox, create the perfect subscriber avatar, maximize profits, the best email format, create powerful content, and more.
Bonuses
They are included as part of your membership. The first one is free access to the Super Funnel Hero System. This is a product that Geroge sells online.
Right now, people have to pay money to purchase that training, but you get it for free as part of the bonus pack for Super Affiliate Hacks. The second one is the Super Funnel Pages.
Over there, you can choose from a library of opt in pages and implement them in your own business. This will save you time and effort.
The last bonus is called the Easy Profits Rolodex. It breaks down how to choose products to promote, what to look out for, and where to find affiliate products.
How Much Does Super Affiliate Hacks Cost?
Super Affiliate Hacks costs a one time fee of $9.95. For that amount, you get everything mentioned so fart.

There are a couple of upsells along the way. They aren't mandatory but can definitely increase your success rate and speed.

Upsell #1 – Facebook Millionaire Hacks ($97). This includes advanced traffic generation methods, Youtube and Instagram domination.

Upsell #2 – Super Funnel Hero Masterclass ($97).
Upsell #3 – JV For You ($997).
Can You Get a Refund?
Yes. There's a 30 day money back guarantee. You have about a month to decide if this is for you or not. If it isn't, simply ask for a refund and you will get one. No questions asked.
What I Like About Super Affiliate Hacks
1. You Learn From an Experienced Professional. George Wickens has been around for a very long time. He knows what works, what doesn't, and how to teach others to be successful affiliates.

2. Free Access to One More Program. Buy one get two. This is a great way to make more sales and deliver value to your customers.

3. DFY Bridge Pages. One of the bonuses includes done for you pages you can start using immediately.

4. 30 Day Refund Policy. Zero risk included.
What I Don't Like About Super Affiliate Hacks
1. Not A Lot of Traffic Generation Training. You need to purchase one of the upsells to get more advanced traffic training. It looks like George saved his best training videos for those willing to pay more.
Is There a Better Alternative?
There are many alternatives to the Super Affiliate Hacks training course. My top recommended program is all about a simple four step process I'm currently using to bank up to $1K per SINGLE affiliate sale.
On automation and without spending a dime on paid ads. On top of monthly recurring revenue from subscriptions. Want to know how I did it? Click below.