Welcome to My Daily Choice review.

This is a multi-level marketing company that offers an opportunity for its members to make money online.

If you're wondering if this is just another pyramid scheme, let me point out that it's not. 
This company is legit, but does that mean that it can be worth your while? Not necessarily, and here's why.
Even though My Daily Choice is not a scam, and some people are earning a considerable amount of income, others are losing a lot with them.
What's the difference between these two types of members?
It's simple. Some know what they're doing, and HOW to make this system work for them, while others are a bit confused with the whole process.

They may have been misled by other recruiters of this MLM company, with wild claims of fast income and wealth.
Let me help you avoid that by showing EXACTLY what My Daily Choice is all about, how much it costs, how much you can REALISTICALLY expect to be making, and what's the likelihood of your success with them.
I've done the research so you don't have to.
Ready? Let's get started…
My Daily Choice Review Summary
Product Name: My Daily Choice

Product Type: Multi-Level marketing Company

Product Owners: Josh & Jenna Zwagil

Product Price: $69 – $599 Each Month

Recommended: Not Really!

Overall Score: 45/100

Summary: My Daily Choice is a multi-level marketing company that has been around for a while now.

They offer different products in the hemp oil industry, and in the nutritional spray niche.

People who promote these products and the business opportunity as a whole are referred to as affiliates.

While there are some affiliates that earn a lot of money with My Daily Choice, MOST don't earn anything in their first 12 months inside, and I will show you a proof of that in this review today.

With that being said, you need to consider your expenses which can vary, but the bare minimum that you need to maintain is $69 on a monthly basis.

Bottom line is that this MLM business opportunity is good ONLY for those that can successfully recruit others, and know how to do hard selling tactics.

If you don't mind getting rejected all the time, and keep trying until you find out what works for you, then this may be for you.

That is if you have the patience to wait for more than a year, according to some legit statistics. 

If making money online is something that you're interested in, but at the same time you don't want to invest that much time, money, or both into an MLM company with a really low percentage of success rate, then you should check out this alternative below.
What is My Daily Choice?
My Daily Choice is a multi-level marketing company founded way back in 2014. They prefer to promote themselves as a "network marketing" company because they owe all their success to all their affiliates that are promoting this opportunity throughout the years.
There are two ways that you can earn with My Daily Choice
Promote This Company
By becoming an affiliate, and an active promoter of this company, you can earn revenue from each person that joins due to your efforts to recruit them.

It doesn't stop there. You will be able to earn from the marketing efforts of your referrals or "downline" up to the tenth level.

In other words, you can earn money when the person you've recruited, gets someone else to join, and so on down the line up until the tenth person. 
Promote The Product Line
My Daily Choices consists of two types of product lines, as mentioned earlier. You can choose to sell them as your own, and keep some of the earnings in the form of commissions.

Even though this method for making money works, most members prefer to recruit others instead of promoting the product lines.

That's because the profit potential is way bigger that way, but so is the competition. That's why only those that know what they're doing and are really good at it, can thrive with My Daily Choices or any other similar MLM company like Amway, or Monat.
Is My Daily Choice a Scam?
My Daily Choice is NOT a scam, but it's also not recommended for beginners and those that don't know how to recruit others.

The risk-reward ratio is just too close for comfort, and with the number of legit opportunities, that are out there, there's really no need to get involved with something you're not comfortable with. 
With that being said, I do believe that some "affiliates" can go to extreme extents to try and get others to join.

They can use misleading tactics, to lure them in by presenting this opportunity as something that it's not.

This can lead to negative user experience and a loss of money for some.
You should remember that My Daily Choice does not have direct control of what it's affiliates do, and say when promoting this MLM company. 
In other words, you should not fall for shiny promises, and claims that sound too good to be true, and you will be okay.
In order to even consider becoming an affiliate of this MLM, you should know what you're really getting into beforehand.
How Much Do People Make With My Daily Choice?
According to their income disclosure, the average annual income for My Daily Choice affiliates was $592.62, with the median annual income being $0.

Out of 84,613 affiliates, only 21,866 were still active by the end of 2019. Out of all of them, 72,118 DID NOT receive any income whatsoever.

Considering the monthly spendings that they had to maintain to keep their affiliate status active, this means that all of these people have lost a lot of money, trying to make some.
In other words, most people do not make money in their first year with My Daily Choice and end up losing a lot. 
The odds are stacked against your favor, but as I said already if you're experienced and comfortable with recruiting others into the system, then you should see success with this MLM company.

If not, then you should see this alternative, which is much less risky and cost-effective.
My Daily Choice Product Line
My Daily Choice consists of a product line with oral sprays that have various benefits to people.

According to their website, all of their products have been clinically tested, and proven to be safe.

Below are some of the products that you can promote as an affiliate of this MLM company.
– Shield. PH-Balance Nutrition Spray
– Peak. Dear Antler Nutritional Spray
– Boost. Energy Increasing Spray
– Trim365. Weight Loss Spray
– Sleep. Sleep Improvement Spray
– Brain. Cognitive Enhancing Spray
Each bottle has approximately 33 servings and will last you for about a month.

In order to achieve active status as an affiliate, and be eligible to earn from your referrals, you need to buy at least one "pack" a month.

The cheapest pack comes with a $69 price tag plus $20 for shipping and handling.
My Daily Choice Compensation Plan
My Daily Choice has a compensation plan that shows you exactly how much you can expect to be making with them. 
Let's do a breakdown and see what it all means below.
Retail Commissions
You can earn a percentage of everything that you sell that's part of My Daily Choice's product line. The commissions that you can earn vary a lot. For example, you can refer to the screenshot below.
Jump Start Bonus
This is for all the affiliates of My Daily Choice that recruit others into their system.

The fastest way to earn money like that is by taking advantage of the Jump Start Bonus, which is paid weekly.

In order to be eligible for this bonus, you need to adhere to some rules.

For example, when you invite someone, and they become a paying member, they will most likely try and invite others as well.

When they do that, you can earn a small percentage of the overall profits that your referrals make. This is how it looks like.
Preferred Customers
These are the people who get a completely free, done for you website, with all the products of My Daily Choice inside.

The earning potential is limited with this plan, but it basically offers you a free product for every 3 people that you refer, and get them to become Preferred Customers, to promote and distribute the product line of this MLM company.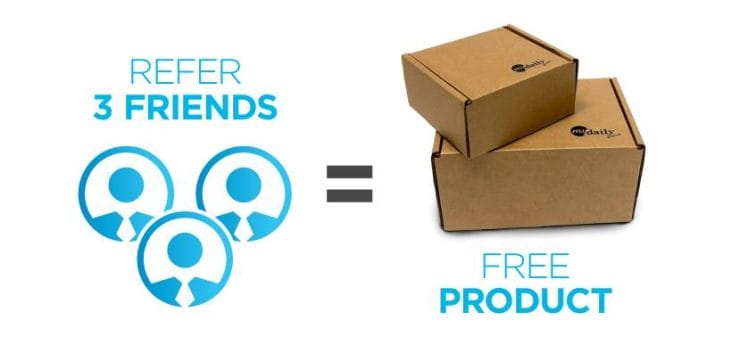 Binary Commissions
You can earn monthly commissions based on your BV (Business Volume) points generated by recruiting others into the system, and from Preferred Customers commissions as well.

To qualify for these commissions, you need to have accumulated at least 40 PV (Personal Volume) points and 90 BV points.
Leadership Check Matching
Affiliates can earn even more commissions with this bonus.

This is a flat percentage match of every binary commission that your referrals make, meaning that you will earn even more money, as you get others to join.

To qualify you need at least 40 PV points.
Global Bonus Pool
This is where you can earn profits based on the total Business Volume points of the whole company.

They will set aside 2% of their company business value for the Global Bonus Pool.  Affiliates can earn shares of this bonus by referring at least 4 Preferred Customers or Affiliates that have made a product order.
Rank Incentives & Bonuses
The Rank Incentives and Bonuses reward successful affiliates for their hard work. The more people you recruit, and the more money you end up making, the higher your bonuses will be here.
VIP Auto Club
With this one, you can earn a monthly car allowance for keeping and maintaining your higher affiliate rankings. Depending on your rank, you can earn a set amount of allowance.
– 5K Affiliate Rank equals $150/month
– 10K Affiliate equals $250/month
– 25K Affiliate equals $500/month
– 50K Affiliate equals $1000/month
Elite Expense Accounts
The Elite Expense Account is a bonus type of payment for all successful affiliates. They can use this pay toward their business travel expenses, or keep them as commissions. Here's what you can earn.
– 100K Affiliate equals $2000/month
– 250K Affiliate equals $5000/month
– 500K Affiliate equals $10000/month
– Super Affiliate equals $20000/month
– Master Affiliate equals $1000000/month
What I Like About  My Daily Choice
1. My Daily Choice Has Been Around For a While. This is definitely a good thing because most MLM companies fail the test of time and get closed down either by their lack of funding to maintain the business model or by other third-party organizations like the FTC.

The fact that My daily Choice is here for more than 5+ years, means that they will probably stay here for a while.

2. There Are Many Bonuses. The more money you make, the more bonuses you get, which means even more money for you.

My Daily Choice rewards it's successful affiliates generously so that they can keep their drive to continue promoting this company.
What I Don't Like About My Daily Choice
1. It's Expensive. Considering the fact that if you want to earn commissions you need to maintain your affiliate status as active, which translates to making monthly payments.

The minimum amount that you can spend each month is $69.

In other words, if you aren't quick to start profiting from this business venture, you risk losing a lot of money.

2. The Stats Are Against You. According to statistics, MOST people that get involved with My Daily Choice end up not making anything in their first year, which means that they give up, and lose a lot of money at the same time.

If you don't want to end up like that, then you need to know what you're getting into before you commit yourself to any kind of paid memberships, otherwise, you can just waste your time, energy, and money.
Do I Recommend My Daily Choice?
Not really, and here's why. My Daily Choice is a legit MLM company that does pay its members.

The problem is that this is an extremely competitive field with no room for newbies, and inexperienced people.

Only those that are really good at recruiting others, and making commission sales, can truly benefit from this company from the start.

Otherwise, it can take a while, and the risk of losing a lot of money is far higher than the actual earnings that you can accumulate.
Having said that, I do believe that it is possible for inexperienced people to make a considerable amount of money online, but not with My Daily Choice. 
If making a full-time passive income while doing the things you love sounds interesting, then you should see how these people are banking profits using a simple yet incredibly effective blueprint that so many neglect and lose out on that opportunity forever.