Welcome to my KT Hustles review. Can you really grow your own Amazon business from nothing to $5K – $10K a month in the next 90 days?
If you join his Lightning Reselling program, you are GUARANTEED to achieve that.

That's what the sales video claims.
Here's what you need to know. This is a high-ticket training program with a hidden price tag.

The only way to find out how much it costs is by going through the form on the KT Hustles website and by scheduling a sales call with one of the closers of the program. 
Can you really trust this guy, and is this course going to help you achieve financial success?

You're about to find out.
KT Hustles Review Summary
Product Name: Lightning Reselling

Product Owner: KT Hustles

Product Type: Amazon FBA Training Program

Product Price: $297 – $4,000+

Overall Score: 65/100

Recommended: Not For Everyone

Summary: KT Hustles is an expert Amazon seller. He wants to teach you his secrets in exchange for a small payment fee of up to a few thousand dollars.

His content is divided into 2 categories. Beginners and established sellers. You can also sign up for personal support and coaching from the main man himself.

KT Hustle's courses will teach you everything you need to know about selling on Amazon. Keep in mind that the FBA business model is very expensive. You would need about $5K just to get started.

This will cover your cost of buying goods, ads, etc. This is a very risky and difficult way to start an online business.

I think that there are better, cost-effective, and much less risky alternatives to starting a wildly profitable online business.
What is KT Hustles?
KT Hustles is Kwadwo Tuffour's pseudonym and company name. He is the owner of Lightning Reselling, an internet marketer, an Amazon seller, and a course owner.
As a member of his flagship program, you get access to a 1-ON-1 onboarding call to map out your current situation and lay out a step-by-step personalized game plan, so you can hit $10k/month in 60 days or less. 
As an addition, you will get KT Hustles' exact scripts that he used to win over 100 brands/distributors and open wholesale accounts with them. 
Next, you will learn​ exclusive sourcing techniques for finding extremely profitable premier products.

For even further support, you get 4 weekly live "Acceleration" calls with 6 & 7-figure sellers, so you can solve any problem you face in no-time, plus access to a private Discord group of all other members of this program. 
This will allow you to network and connect with like-minded people and business owners on the same journey as you. You can get access to 1,300+ Amazon sellers.
And a detailed walkthrough on how to eventually outsource your business with VA's and employees to become a business owner. Finally, you get 3 wholesale training calls every month showing how to find your first distributor.
Is KT Hustles a Scam?
KT Hustles is not a scam. He is a legit internet marketer, business owner, and course creator. He has 2+ years of experience in making money online and teaching others how to achieve success.
On the other hand, the sales video and marketing content from KT sounds way too unrealistic. Beginners and inexperienced people can easily think that it's very easy to start making money online with his help.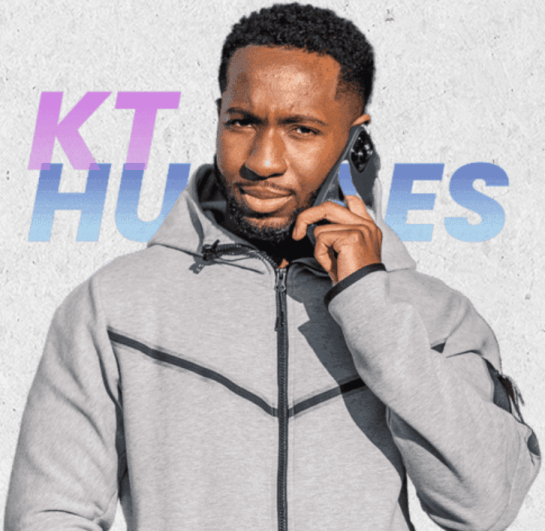 In reality, most businesses end up failing. While the guarantee offers to refund your money if you don't make more than what you've spent on this program within 90 days, the cash that you will spend on ads will not be refundable. 
This means that you can easily end up losing thousands of dollars without getting them back. If you prefer to avoid risking that much upfront, see this cost-effective alternative below.

Alternative: The Simple System I'm Using to Make Up to $1K Per SINGLE Sale Using Other People's Products & Services
How Much Does KT Hustles Cost?
KT Hustles has various training programs he sells. His beginner course called, The FBA Profit Path, costs a one-time fee of $297. This is a generic course on creating an online business on Amazon.
If you want personal mentorship and one on one support, you will have to sign up for the Lightning Reselling course. The price tag is hidden and most likely personalized for each potential client.
When you hop on a call with one of the representatives, they will say that, to get access to this program, you would need at least $4K. 
Then, you have to spend at least $5K more on ads and inventory.
Can You Get a Refund?
It looks like there is a refund policy in place. You have 90 days to make at least as much money as the course cost, or you will get your money back.
That's provided you give them proof that you've followed the training and gone through every single step inside.
What I Like About KT Hustles
1. KT Hustles Net Worth is At Least $2M. That's mostly from his online business ventures.

2. Different Price Packs. You can choose the level of training you get and the appropriate price to pay.

3. Legit Business Model. Amazon FBA is a REAL business model that a lot of people are using to earn revenue.
What I Don't Like About KT Hustles
1. Not A Lot of People Talk About KT Hustles. He is NOT that well-known online. It's still difficult to say how customers react to his programs.

2. It Can Be Very Expensive. If you want to increase your odds of success with Amazon FBA, you would probably have to invest a few thousand dollars into KT's training program.

Add a few thousand more for business expenses, and you are looking at investing over $10K for something that may NOT even work.

3. Not The Best Alternative For Beginners. I think that there is a better way for beginners to start making money online.

On the next page, I will show you the simple system I'm using to bank up to $1K per SINGLE sale using other people's products and services. Without spending thousands of dollars to get started.