Welcome to my Private Label mastery review. Can you really create a profitable online business selling on Amazon with the help of this training course?
Here's what you need to know. I got access to the program to show you exactly what you can expect as a member.

I experienced the onboarding calls firsthand, went through the entire training content, and got a feel of the community inside.
By the time you're done here, you will know exactly what you're getting into, without any hype or exaggerated income claims.
Ready? Let's get started…
Private Label Mastery Review Summary
Product Name: Private Label Mastery

Product Owner: Ashley Kinkead

Product Type: Amazon FBA Training Program

Overall Score: 90/100

Summary: Private Label Mastery is an in-depth training course with a community and unique support system designed to maximize student success rate. 

This is your blueprint to dominate the e-commerce scene on Amazon. While big-name brands have set up shop on Amazon, there's still so much room for the small guys, especially those armed with the right strategy.

Why? Because consumers are tired of generic products and poor seller transparency. They are craving unique, quality products, and that's where private labels come into play.

Think of Private Label Mastery as your secret sauce in the vast world of Amazon selling. 

Under the guidance of Ashley Kinkead and her team of Amazon experts, this program is set to shift you from $0 monthly earnings to potentially banking $5,000 or $10,000 each month or even more. Just by selling simple products that people actually want.
What is Private Label Mastery?
Private Label Mastery was founded in 2017 by CEO Ashley Kinkead. It's a comprehensive online course and coaching program tailored for new and experienced Amazon FBA entrepreneurs alike.
It stands out as the industry's FIRST and LARGEST 1-on-1 coaching program for Amazon sellers.
Ashley Kinkead's journey is impressive, as she managed to build a successful Amazon store using her credit card, enabling her to transition from her corporate job to a full-time e-commerce entrepreneur.
After starting and scaling her Amazon business to 7 figures, Ashley established her flagship program to share her success secrets with aspiring entrepreneurs.
Ashley noticed a demand for her expertise in launching products, leading to the creation of the initial Private Label Mastery version 1.0, which amassed an impressive 700 registrants.
Today, the program boasts a dedicated team of over 30 Amazon FBA experts and coaches, recognized for their extensive experience and commitment.

They were very successful sellers and decided to switch gears to coach students directly in this program.
Ashley Kinkead has achieved the distinction of assembling the largest and most experienced Amazon seller coaching staff in the industry.
Her team's collective knowledge has positively impacted over 5,000 Amazon businesses and stores, solidifying their reputation as leaders in the field.
Furthermore, she hosts the highly regarded Private Label Mastery Podcast, ranking among the top 1%.
In addition to her coaching endeavors, Ashley Kinkead has authored two best-selling books specifically tailored for entrepreneurs, further establishing her authority in the world of e-commerce and Amazon FBA.
You can find them on the world's largest retail website under the following names: "Million Dollar e-Com Secrets" and "Unstoppable: 10 Women Rewriting the Playbook on Amazon FBA"
Who is The Founder of Private Label Mastery?
Ashley Kinkead. Over the span of six years (2017-2023), she has achieved remarkable success, generating a substantial $2.2 million in revenue through her Amazon.com ventures.
Her extensive portfolio comprises an impressive 15,000 listings on that same website. This vast catalog showcases her versatility and ability to manage a wide range of products.
Ashley has achieved top-tier rankings on the "Amazon Best Sellers List" for multiple products. This accomplishment signifies her knack for identifying and promoting products that resonate with consumers, resulting in high sales and visibility.
Furthermore, her expertise extends across various facets of e-commerce, including arbitrage, used books, and private-label products.
Her diverse experience underscores her adaptability and proficiency in navigating different strategies and product categories within the Amazon marketplace.
What's Inside Private Label Mastery?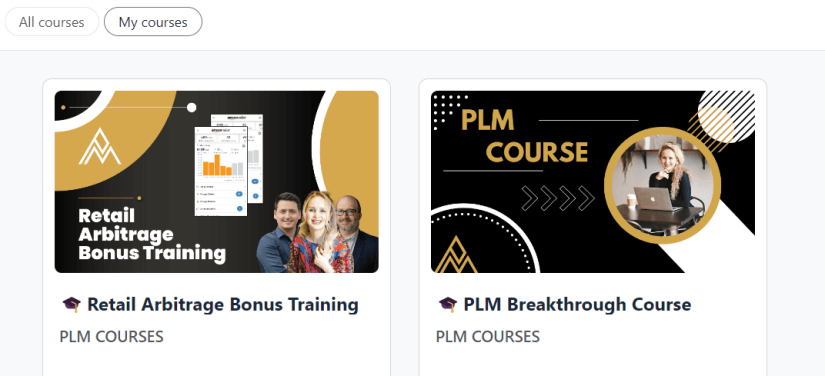 As soon as you become a member of Private Label Mastery, you will receive an invitation to schedule a quick "kick-off" call with one of the experts inside the program.
I had the pleasure of speaking with Frank DeMaria. He's one of the very successful ex-Amazon sellers who now teaches students inside the program.
He wanted to know my level of experience, goals, and aspirations, and together, we created a plan that was best suited for me and my own personal requirements.
There are a total of eight one-on-one coaching calls that you will experience as a new member. This is all part of the foundation of Private Label Mastery.
The goal of these coaching calls is to help personalize your experience and give you the best odds of creating a profitable online business as an Amazon seller. From my own personal point of view, it looks like they truly care about their students' success rate.
The main course is called the PLM Breakthrough Course. It consists of over 100+ lessons on absolutely everything you need to know about the business model.
Introduction & Groundwork
Welcome to PLM!: Kick things off by getting familiar with the course's foundation and agenda.

Mandatory Steps: Before delving in, ensure you've filled out the intake form and followed the early instructions. This sets the stage for smooth sailing.

CEO's Touch: A personal welcome from the top brass to get you inspired.

Our Ethos: Discover the 4 core values and code of conduct every student should embody.
Module 1 – Amazon Basics
Step-by-step guides on setting up your seller account, understanding the magic of private labeling, introducing yourself to Amazon FBA, and more.

A walkthrough of Seller Central, ensuring you know the platform like the back of your hand.
Module 2 – Product Research
Dive deep into the essentials like the Buy Box, installing and utilizing Helium 10 for product research, and how to cherry-pick lucrative niches.

Follow a systematic approach to product research, from idea generation to validation, assessing demand and competition, and ensuring you're not stepping on patent toes.
Module 3 – Sourcing
Learn the ropes of sourcing, from getting quotes to calculating profits and the golden key to making your first sale.

Understand the significance of each action and step in the sourcing journey, along with coaching support.
Module 4 – DIY Sourcing
Here's where you master sourcing. Explore platforms like Alibaba, learn about its alternatives, and delve into sourcing from diverse regions like the USA and India.

Get familiar with aspects like shipping, negotiations, product inspections, and managing your sourcing agents.
Module 5 – Launch
Learn the art of branding and launch preparation. Understand keyword research, curate impeccable product listings, and set the right price.

Master the nuances of FBA settings, listings, feedback management, and essential tools like Helium 10.
Module 6 – PPC (Pay-Per-Click)
The PPC module promises mastery over advertisements. Learn how to set up, optimize, and manage your campaigns for maximum reach and profitability.
Module 7 – Relaunch and Scaling Your Business
Dive into the details of relaunching your product with enhancements.

Understand advanced aspects like GS1 Barcodes, quality imaging, inventory management, and leveraging Amazon's A+ Content. By the end of this module, you will know exactly what it takes to scale your business.
Regular Coaching Touchpoints
Throughout the course, there are scheduled coaching calls ensuring personalized guidance. From "Jumpstart" and "Product Discovery" in the early stages to "Relaunch" and "Empowered" sessions later on, you're never alone in this journey.
Retail Arbitrage Bonus Training
This concise module with 4 lessons offers a solid introduction in just 14 minutes.
Arbitrage Overview: Get the 101 on what retail arbitrage is all about and why it's a buzzword in the e-commerce space.

Arbitrage Cheat Guide & Checklist: Before diving deep, you can grab a cheat guide and checklist to ensure you're fully prepared and not missing any crucial steps.

Arbitrage Sourcing Training With Coach Frank: Ever wondered where to source your products for arbitrage? Coach Frank is here with detailed training, breaking down the best strategies to find profitable items.

Arbitrage Shipping Training with Coach Frank: After sourcing, it's all about getting those products to Amazon's warehouses without a hitch. Dive into this 10-minute session with Coach Frank to understand the intricacies of shipping for arbitrage.
This module is perfect for those looking to quickly understand retail arbitrage and implement strategies effectively. Whether you're a newbie or someone looking to refine their retail arbitrage techniques, these lessons offer value-packed insights.
Member Center
Here's a quick breakdown of what you'll find inside the Member Center:
 Student Stories: Discover inspiring tales from fellow students. Learn from their journey, their challenges, and their successes. A great spot to gain motivation and insights.

 Celebrations: 31 threads of victory! Here's where students celebrate milestones, big or small. Whether you made your first sale or hit a landmark figure, it's all about the joy of achievement.

 Announcements: Stay updated! With 1 current announcement, this is your go-to for all essential updates, changes, or news related to the course or the community.

 Start Here!: Before you dive in, begin your journey here. This section provides a roadmap, ensuring you take the course in a structured manner for maximum benefit.

 Introduce Yourself: Here, you can connect with other members of the program. Drop a line, introduce yourself, and connect with fellow students. Building a network starts with a simple 'hi'.

 Course Updates: The course is ever-evolving, and this section ensures you're up-to-speed with the latest content, modules, or changes introduced.

 FAQ & Contact Support: Got questions? Get answers. This section provides a comprehensive FAQ to address common queries and a direct line to the support team for any specific concerns or technical issues.
Navigating the Member Center is easy, and each section is curated to offer you the best experience. Dive in, engage, learn, and most importantly, have fun on your Amazon FBA journey!
PLM Student Support
Here's what you can expect at the Student Support portal:
Contact My Coach: Direct line to your mentor. Whether you have specific questions, need guidance, or simply wish to share progress, your coach is just a message away.

 Getting Started (Newbies!): Embarking on the Amazon journey for the first time? This section is tailored for beginners, offering foundational guidance to set you on the right path.

 Product Research and Sourcing: Dive into the core of e-commerce. With 12 active discussions, explore the nuances of product selection, and insights on sourcing, and learn from shared experiences.

 General Discussion: Engage in rich conversations. With 85 threads, discuss varied topics, share insights, or simply chat about anything under the e-commerce sun.

Launch Pad: Ready to take off? This space is dedicated to launching products, sharing strategies, and seeking feedback. Dive into 7 current discussions to ensure a successful product launch.

 Arbitrage: Focus on the art of buying low and selling high. Explore 2 threads that delve deep into retail arbitrage, its techniques, and profitability.

 I wish PLM could…: A space for feedback and suggestions. What would you love to see in the course? Share your thoughts and help shape the future of PLM. Yep, they DO listen to their students.

PPC: Delve into the world of Pay-Per-Click. Learn strategies, discuss campaigns, and optimize your advertising for the best ROI.
Knowledge Base
Welcome to the PLM Knowledge Base! Whether you're a newbie or a seasoned Amazon seller, this platform is teeming with resources tailored to your needs. Here's a sneak peek into what each section holds:
 Getting Started on Amazon: This part talks about the different ways you can fund your new business
.
Recommended Partners: PLM's Recommended Partners is a curated resource for Amazon sellers. Exclusive rates and special deals have been negotiated for PLM students. Each partner is tried and tested, ensuring top-notch service. The list is dynamic, reflecting the latest and best in the business.

 Jing Sourcing FAQs: Intrigued about sourcing from Jing? Here's your go-to spot. Address all your questions and clarify doubts about partnering with Jing for your product sourcing needs.
Amazon Hacks: Eager to get an edge in the competitive Amazon marketplace? Unlock that one masterstroke, the hack that could redefine your selling strategy.

Product Research: Product is king! Hone your skills in spotting the next big product that could top the Amazon charts. Dive deep into market trends, niche identification, and demand analysis.

Sourcing: Beyond just Jing, delve into the world of sourcing. Find suppliers, understand the dynamics of overseas partnerships, and secure the best products for your brand.

PPC (Pay Per Click): Amp up your visibility on Amazon. Check out the PPC section that hosts that crucial piece of content to optimize your ad spend and drive traffic to your listings.
 Listing Development: An art and a science. Understand the elements of crafting the perfect Amazon listing. Dive into that special content piece which could be the game-changer for your product visibility.

 Mindset Corner: Selling on Amazon is not just about tactics and strategies; it's a mindset game! With 5 pieces of content, immerse yourself in personal development, overcome challenges, and maintain a winning mentality.

 Arbitrage Hacks: A world of opportunities with retail arbitrage. Discover strategies, insights, and hacks that can make your arbitrage business profitable and scalable.
Events & Recordings
This is where you can find all upcoming events. Weekly live meetings are being held here. You can experience live video events and connect with the coaches inside PLM. You can also access replays from guest speakers and past recordings.
In Conclusion
Private Label Mastery, founded by the remarkable Ashley Kinkead, offers an unparalleled opportunity for both budding and experienced Amazon sellers.

With a proven track record of fostering successful entrepreneurs in the e-commerce landscape, the course stands out not just for its content, but also for its personalized coaching approach.
Each module of the course meticulously guides students through every facet of selling on Amazon, from product research to launch strategies.
Ashley Kinkead's journey and accomplishments further cement the credibility of the program, evidenced by her extensive Amazon portfolio and top-tier rankings.
The program's unique offerings, such as 1-on-1 coaching sessions, a comprehensive members center, and a constantly evolving course structure, demonstrate its commitment to student success.
For anyone aspiring to dominate the e-commerce scene on Amazon and especially those looking to delve into the world of private labels, Private Label Mastery seems like the perfect gateway.
Its comprehensive nature, seasoned experts, and personalized approach make it a prime choice for those serious about making their mark on Amazon.